When the weather starts to cool down, a lot of people start thinking about leather jackets. Are leather jackets warm? This is a question that a lot of people have, and the answer isn't always straightforward. In this article, we will take a look at some of the factors that affect how warm a leather jacket is, as well as some tips on how to choose the right one for you.
Why the Warmth of a Leather Jacket is an Important Consideration to Some?
Leather jackets have been a fashion staple for decades, and they show no signs of losing their popularity. Leather is a luxury material in general and leather jackets are no exception. It is a durable material with a timeless style that can be dressed up or down, making leather jackets both stylish and practical.
The durability of leather makes it an excellent choice for jackets because it can stand up to everyday wear and tear better than other materials like cotton. This means that you won't have to replace your jacket as often, which saves money in the long run.
Leather is soft and supple, making it comfortable to wear all year round. It also breathes well, which means it won't trap sweat or make you too hot in the summer. And although leather is not waterproof, it does offer some protection from stains and scratches.
But most importantly, leather jackets are stylish! Leather jackets come in a variety of styles and colors, so it's easy to find one that fits your style perfectly. You can dress it up or down depending on the occasion, making it extremely versatile. Whether you prefer a classic biker jacket or want something more modern, there's a leather jacket out there to meet your needs.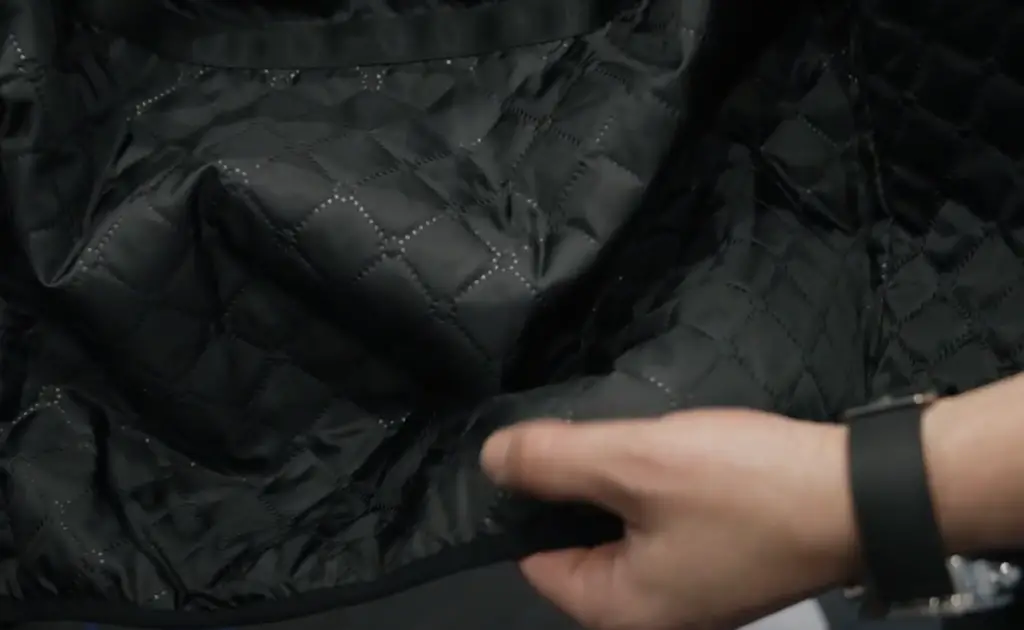 However many people wonder whether leather jackets are actually warm. The answer is yes, leather jackets can be quite warm and even water-resistant depending on the type of leather used. But it's important to understand that not all leather jackets are created equal when it comes to keeping you warm. There are various types of leather and some are definitely better at insulating than others.
For those who plan their wardrobe for cold temperatures, this factor matters the most. After all, you don't want to be freezing in wintertime with a thin, unlined leather jacket. That's why it is important to look for a good-quality leather jacket that will keep you warm when the temperatures drop. [1] [2] [3]
Are Leather Jackets Even Suitable for Winter?
While with Fall the answer is pretty simple, you might wonder if leather jackets are suitable for winter as well. The answer is yes, a good-quality leather jacket can keep you warm and comfortable in cold weather. First of all, leather is a natural material that traps warmth. The higher the oil content, the more insulation it provides. This makes leather jackets particularly suitable for cold climates and winter weather.
A quality full-length leather jacket will provide protection from wind chill as well. The dense fibers of the leather trap air between them, providing an extra layer to keep you warm and prevent any extra heat loss due to windy conditions. [1] [2] [3]
What Does a Warmth Level of a Leather Jacket Depend on?
Still, there's much more to consider when it comes to the warmth level of a leather jacket. In this section, we will discuss the criteria you should consider when looking for a warm leather jacket.
Type of leather
The type of leather and its quality are key factors in the warmth level of a leather jacket. All leather jackets can be split into two leather types: real leather or faux leather. Real leather jackets are made from animal hides, usually cowhide or lambskin. Faux leather on other hand is made from synthetic materials and is often vegan.
For the most warmth, you should choose a real leather jacket with high-quality full-grain leather such as cowhide or lambskin. This type of leather has been minimally processed and remains in its natural state for maximum durability and insulation against wind and rain.
It's worth noting that this type of leather is usually pricier because it requires more time to produce compared to faux leather which can be mass-produced quickly. Plastic-based faux leather jackets will provide some insulation, but not as much as real leather. It's also important to check for the type of lining in a faux leather jacket.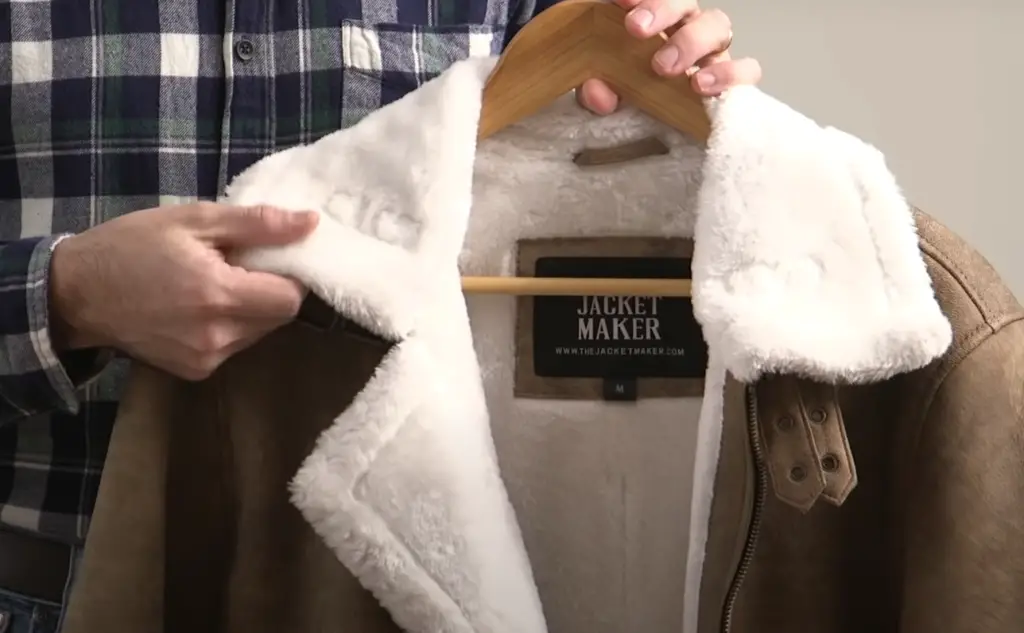 Lining
This brings us to another factor. Just like with any other winter piece of clothing, the lining is key in determining how warm a leather jacket will be. A good lining should offer warmth without compromising breathability.
When it comes to staying warm in cold weather, the lining of your leather jacket plays a key role. A quality lining will help keep you warmer by trapping air near your skin and providing an extra layer of insulation. The type of material used for the lining will also have an impact on its insulating properties.
Cotton is another popular choice and an effective insulator. For maximum warmth and comfort, you should look for leather jackets with a combination of linings to provide the perfect balance of insulation and breathability in cold weather conditions.
No matter which type of fabric you choose for your lining, make sure that it fits comfortably around the edges of your jacket so that there are no gaps or cold spots. Also, be sure to check the care instructions before washing – some linings may need dry cleaning instead of machine washing.
It's also a good thing to consider whether or not your jacket has room for layering. If you plan to wear multiple layers beneath your coat, make sure it has enough room for them without feeling too bulky.
Insulation layer
In addition to the lining, some leather jackets have an additional insulating layer. This layer is usually made from either cotton or down insulation and can range from lightweight (suitable for cooler temperatures) to heavyweight (ideal for cold winter days). The type of insulation will depend on the climate you live in and your own personal preference.
We've already covered cotton insulation, which is an affordable and breathable option that provides good warmth without the bulk so let's discuss and its benefits.
Down insulation is a type of thermal insulation made from the soft, fluffy undercoating of waterfowl such as ducks and geese. Down has long been valued for its lightweight warmth and compressibility. It can be found in many insulating garments such as jackets, sleeping bags, blankets, pillows, and comforters.
Down is composed of clusters of fine feathers that form into small air pockets when compressed. It is these air pockets that trap air and create a barrier between your body's warmth and the cold outside air – keeping you warm even in extreme temperatures. The more down clusters present in an item's insulation layer (measured by fill power), the greater the ability to resist cold temperatures while still remaining lightweight and breathable.
Down has many advantages over synthetic insulation materials. It is naturally softer, more compressible, and better at trapping air than synthetics – making it the ideal choice for cold-weather clothing or camping gear. Additionally, down insulation does not absorb moisture as synthetic fibers do, so it retains its insulating properties when wet. For these reasons, down is often more expensive than other types of insulation used in outdoor apparel and equipment.
When choosing between these two types of insulation, it's important to consider the level of warmth you need as well as how often you plan on wearing the jacket. If you're looking for a jacket that can be used year-round, down insulation may be a better choice since it can provide extra warmth in cold winter months. However, if you're only looking for something to wear during milder weather, cotton might be a better option since it won't make you too hot in warmer temperatures.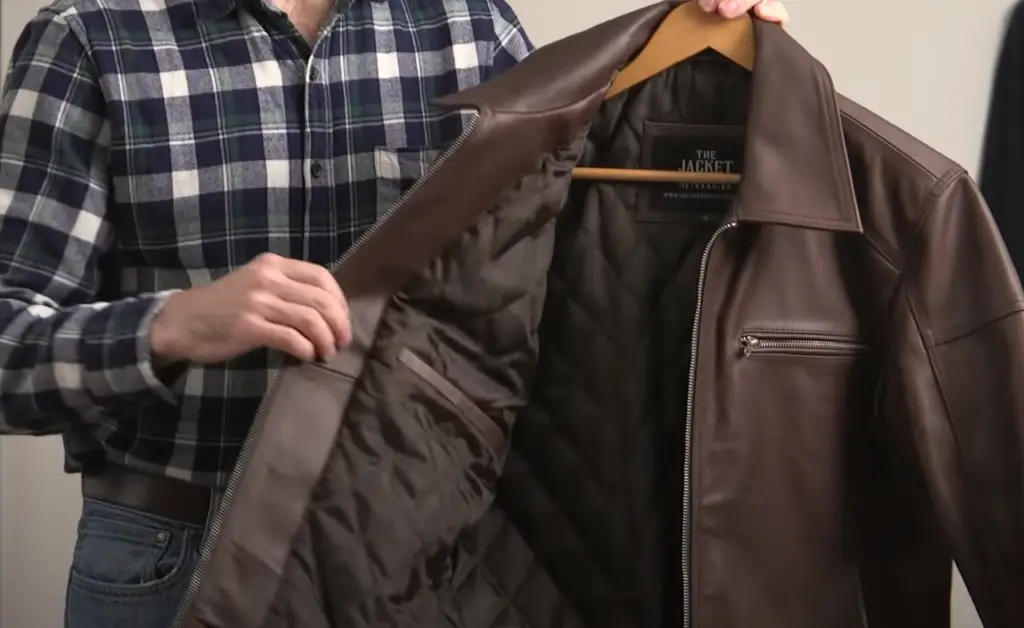 Either type of insulation should be easy to care for so make sure your jacket has a removable liner or other easy-care instructions. Additionally, make sure that the insulation is well-distributed throughout the jacket and not just concentrated in one area so you will be warm all over.
When choosing a leather jacket with an insulating layer, look for models that are treated with water-resistant finishes to keep you dry during cold and wet weather. And of course, always check whether the fit is comfortable before making your purchase.
Style of the jacket
This might come down as a matter of personal preference, but there are certain styles that can provide more warmth than others. The most popular styles for winter include bombers, aviators, and parkas – all of which come with insulation and typically have hoods for added protection against the cold.
For instance, longer jackets are great for providing maximum warmth, as the length of the jacket provides extra coverage from head to toe. In addition, look for models with adjustable cuffs and hems to help keep cold air out and warm air in.
Quilted leather jackets can also offer a great level of insulation, as the quilting acts like a layer of air pockets to trap warmth. These types of jackets come with heavier insulation and will provide maximum protection from cold weather.
It's also worth checking out models with hoods, as these will provide extra coverage for the head and neck, helping to keep you warm during chilly winter days.
In terms of color, black is typically associated with warmth since it absorbs more heat from the sun than lighter shades. However, other colors may also be suitable if you're looking for something a bit more stylish.
Jackets with fur trims or linings are also popular choices for winter, as they offer an extra layer of insulation and can look quite stylish. However, if you live in a colder climate, it's best to opt for a jacket with thicker fur trim or lining since the fur won't provide the same level of warmth as down does.
Maintenance
Not only the original state of the jacket but also its maintenance is a key factor in determining how warm it will be.
It's also important to make sure that you re-apply water-repellent coatings every couple of months, as this will help keep water from soaking into the material and reduce the risk of mold or mildew building up on the lining. Additionally, be sure to condition your leather regularly with an appropriate product in order to protect it from cracking and drying out.
Proper storage plays a huge role in preserving the condition of your leather jacket. If you plan on storing it for extended periods of time, make sure to hang it up in a cool, dry place free from direct sunlight. This will help keep the leather looking good and prevent fading or cracking.
Remember that you need to take care of both the jacket inside and out in order to ensure maximum warmth. If you follow these steps, you should have no problem keeping your leather jacket warm for many seasons to come.
Finally, always check the care instructions provided by the manufacturer before attempting to clean or waterproof your leather jacket. Doing so will ensure that you take proper care of your jacket and keep it looking as good as new for many years. With proper maintenance, your leather jacket should last you a long time and keep you warm all year round. [1] [2] [3]
---
FAQ
Are leather jackets ok in the snow?
Leather jackets may not be the best choice for a day in the snow. Leather is water-resistant, but not waterproof. If you get caught in a heavy storm or fall into a big puddle, your leather jacket will likely become wet and cold. This could leave you feeling uncomfortable and put you at risk of hypothermia.
Still, if you apply waterproofing to your leather jacket, it can help protect against the elements. Applying a good waterproofing spray to the outside of the jacket will create an extra barrier of protection from rain and snow. Furthermore, you could also layer up with a warm sweater and insulating coat underneath for added warmth.
Is a leather jacket warm enough for winter?
Yes, a leather jacket can be warm enough for winter. Depending on the thickness of the leather and the lining, it may provide adequate insulation against cold temperatures. Thicker leathers are usually more desirable for warmth as they provide better insulation, but lighter-weight types may also retain heat if lined properly. If you're looking for extra warmth, try a style with an attached hood or fur collar to help keep your head and neck snug in cold weather. Additionally, look for jackets with additional pockets which can be used to store hand-warmers or even small heat packs to stay warm during extended periods outdoors.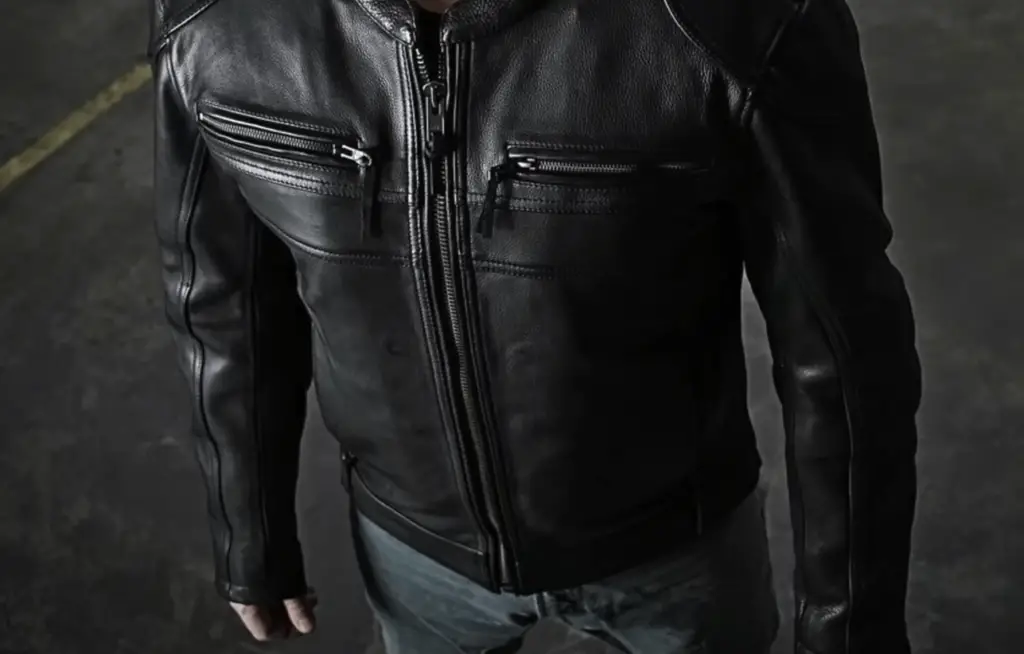 Why are leather jackets not warm?
Leather jackets are not warm because they are made from a thin hide of animal skin and often come without any sort of insulation. This material, while able to trap heat, doesn't provide insulation like other fabrics such as wool or down, making leather jackets less suitable for colder climates. For example, the coldest temperatures require heavy-weight materials which are able to block out wind and trap heat more easily than a light leather jacket can.
However, this does not mean that you cannot keep warm when wearing a leather jacket. Layering underneath with multiple pieces of clothing can help increase warmth by providing additional insulation. Wearing an inner layer of thermals or thicker tops under your leather jacket can help retain much-needed body heat in cold weather. Additionally, opting for a jacket lined with shearling or faux fur is a great way to increase the warmth of your leather jacket.
For those who live in colder climates, investing in a heavy-weight leather jacket can provide you with more warmth and comfort than an unlined one. Heavier weight jackets are made from thicker hides which trap heat better and often come with inner linings that add further insulation to the garment. Alternatively, opting for synthetic materials such as nylon or polyester can also be a good option for keeping warm in winter weather.
What temperature is a leather jacket good for?
A leather jacket is a great option for those looking to stay warm in cooler weather. Depending on its thickness and insulation, it can be suitable for temperatures down to about 45 degrees Fahrenheit. Thicker jackets may even be able to keep you warmer at lower temperatures, while thinner jackets may allow some cold air through at the same range of temperatures.
However, if you go for a model with insulation like lining or a hood, you can be sure to have more warmth in any weather. Also, layering items like thermal shirts, sweaters, and vests under your jacket can help keep you warm even in colder temperatures.
Is a leather jacket acceptable for winter?
A leather jacket is acceptable for winter, as it can provide an excellent layer of insulation against the cold. Leather jackets are made from a variety of materials including cowhide and lambskin, which create a barrier to keep cold air out while allowing heat to stay trapped inside. The thickness of the leather is also important when it comes to insulation – the thicker the better!
In addition, many leather jackets come with extra padding or lining in them to provide even more warmth. Generally speaking, you should expect a good quality leather jacket to last you for at least two seasons of cold weather wear.
Useful Video: Wear Your Leather Motorcycle Jacket All Year Round
Conclusion
Leather jackets are stylish and versatile garments, but the question still remains: are they warm? Generally, leather jackets are a great choice for spring or fall. Still, if you plan to wear it during winter, the answer can be a bit more nuanced.
Genuine leather jackets are warm and insulated, with natural properties that make them ideal for keeping the heat in. However, faux leather jackets may not provide as much warmth or insulation despite their chic look.
When buying a leather jacket specifically for the Winter season, you should take into account the material, thickness, and insulation it provides. Thicker leather jackets are generally warmer, so make sure to check the details before making a purchase. When in doubt, opt for genuine leather; not only will it offer more warmth and insulation, but it also looks stylish and can last you for years. Hoodies can also be a great option for keeping warm in cold weather, but if the temperature really drops, leather jackets are the way to go.
The size of the jacket is also important; opt for a fit that is snug, but won't restrict your movement. Finally, you can also layer your leather jacket with other pieces of clothing like a thick sweater or scarf to help keep you warm and cozy.
Finally, remember that layering is essential when dressing for cold weather – no matter what kind of jacket you wear. Add thermal underwear and a scarf or hat to keep your body warm during winter days and nights.
With proper care and attention to detail, a leather jacket can be an excellent choice for staying warm during chilly days. Thanks for reading our Epic Guide to Are Leather Jackets Warm, and we hope you now have a better understanding of what kind of leather jacket best suits your needs. Happy shopping!
---
References:
https://leatherninja.com/are-leather-jackets-warm/
https://www.palaleather.com/blogs/leather-tips/are-leather-jackets-warm-enough-for-winter
https://favoredleather.com/are-leather-jackets-warm/