Leather crafting is a fun and rewarding hobby that anyone can learn. There are several projects that you can undertake using basic tools and materials, whether you're a beginner or want to improve your leatherworking skills. From wallets and keychains to bracelets and journals, here are some easy leather projects for beginners that will help you hone your craftsmanship in no time.
Real Leather Bow Cuff Crafts
Making real leather bow cuffs is an easy project suitable for beginners that can be done using a few basic tools. To create the project, gather leather, scissors, a ruler, an awl or punch tool, needle and thread, and optionally, rivets. Start by measuring out and cutting two equal strips of your chosen leather.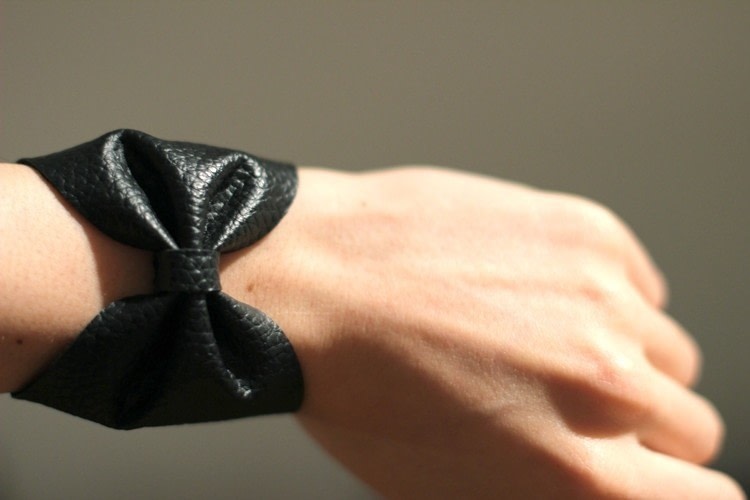 Snip a few notches along the edges to create your bow shape. Use the awl or punch tool to make holes for stitching, then use your needle and thread to stitch them together in an X-shape. Finally, add rivets for extra durability and you're all set!
Cool DIY Leather Camera Strap
Would you like to learn how to make a stylish camera strap out of leather through a DIY project?
This project is great for beginners. You'll be able to make a fashionable and attractive camera strap quickly. With just a few basic leather crafting tools, some colorful fabric scraps, and a handful of simple supplies, you can get started right away.
First, you'll need to measure the length of your camera and cut the leather strips accordingly. You can use scissors or a sharp knife for this step. You may also want to pre-punch holes in the leather if it is too thick. Once you've got the strips cut, sew them together by looping the thread through the holes and pulling it tight with a stitching awl.
Next, attach your fabric scraps to one side of the strap using a combination of hand-sewing and glue. Be sure to use strong adhesive so that the fabric won't come off easily! Once you have attached all of your fabric pieces, use a leather-crafting tool to burnish and add texture. You can also paint or stamp the leather for extra flair!
Finally, attach the straps to your camera using rivets or Chicago screws. This will ensure that your DIY camera strap is securely attached and ready for use. With some basic tools and supplies, you can create a stylish, personalized look for your camera in no time.
Please attempt it now. This simple project makes it easy for you to create a custom leather camera strap.
With just some basic supplies and tools, you can create an eye-catching piece of art that will add style to any camera. [1]
Keychain Leather Tassel Crafts
Creating a leather tassel keychain is a great way to practice working with leather for beginners. To make it, you only require simple materials including leather, scissors, thread, and a punch. To begin, extract two strips of leather of your preferred size from the leather sheet. After cutting out the pieces, use the hole punch to create two holes in each of them.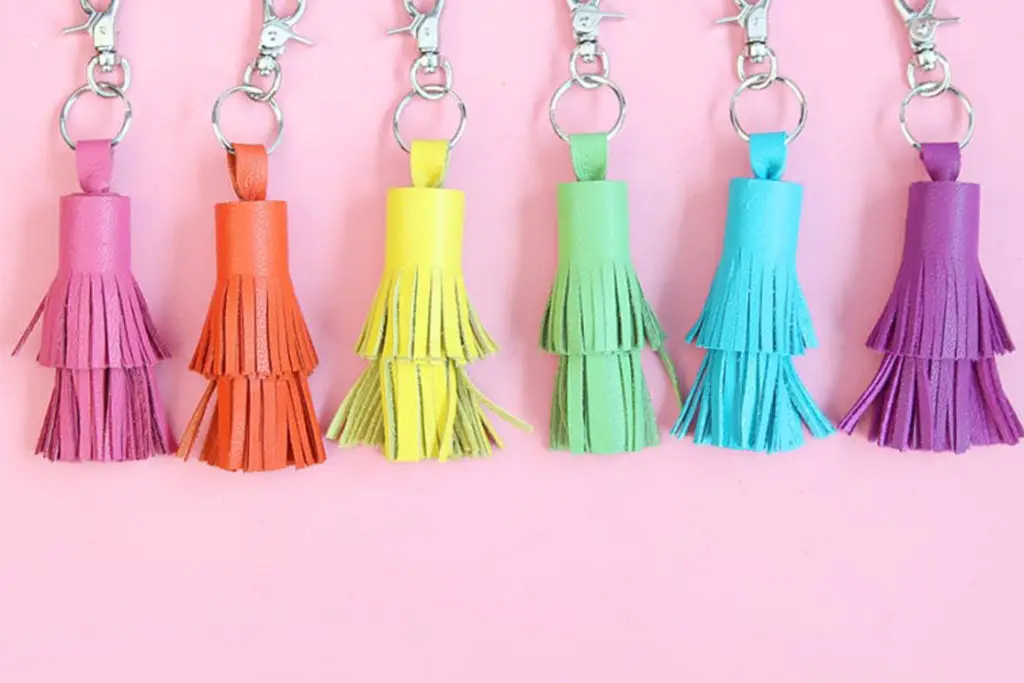 Thread your tassel through the holes and tie a knot at the end of each one. Now you can attach them to a keyring or another accessory of your choice! Your leather tassel keychain is ready to take on all your keys, cards, and other small items you need to keep handy. With some practice and creative flair, you can make interesting designs with leather tassels!
Remember, tassel keychains are an excellent gift option for your loved ones and friends. Give your leatherworking skills a try and see what kind of cool designs you come up with!
DIY Blue Scrap Leather Laptop Case
If you want to safeguard your laptop in a distinctive way, try making your own laptop case using scrap blue leather. The project is surprisingly easy and lets you repurpose old scrap leather or fabric into something new and stylish. To get started, gather the following supplies:
Scrap leather or fabric
Sewing machine
Thread and scissors
Laptop for measuring purposes
To start, cut two pieces of either scrap leather or fabric to the size of your laptop, using it as a guide for measurement. Sew the two pieces together along the sides and bottom, leaving an opening at the top so you can slide your laptop in easily.
Once your two pieces are sewn together, turn the laptop case right side out.
Finish off the project by topstitching or adding decorative details like leather tassels or buttons.
With just a few simple steps, you've created a stylish and practical laptop case that will protect your device from everyday wear and tear. [2]
Upcycled Leather Bag With Paint And Print
This is a great project for the more adventurous beginner. You can use paint and fabric to upcycle an old leather bag and make it one-of-a-kind! Start by selecting which bag you'd like to upcycle – it could be a vintage purse or an old satchel from your closet. Then, choose some canvas fabric that you'd like to use for the project.
To continue, you will require a brush that is in good condition and some paints specifically made for leather. Start painting the bag with your desired design and color combinations, such as polka dots or stripes. Once it is dry, measure and cut out fabric shapes that will fit onto each side of the bag. You can use a glue gun to secure them in place.
Finally, add some additional touches such as lace or buttons to complete the look. Once all your embellishments are on and dry, you have a totally unique upcycled leather bag!
Leather Woven Storage Basket Projects
One of the most versatile and enjoyable leather projects is creating storage baskets woven from leather. They can be used to store almost anything, from small items such as jewelry to larger items like magazines or books.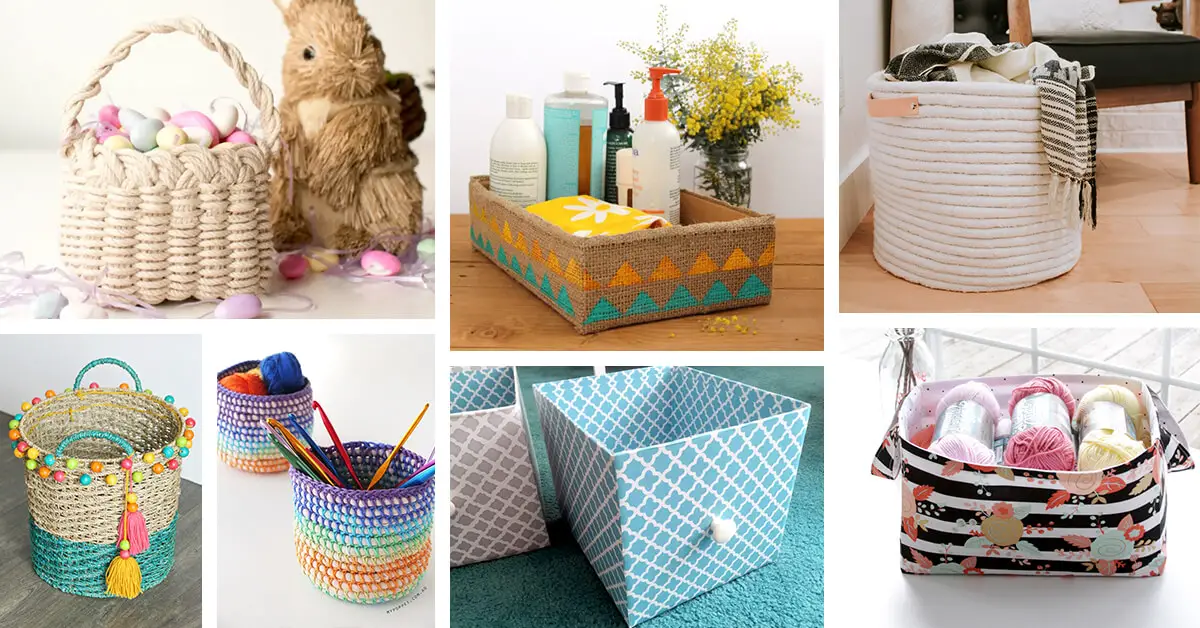 Plus, the weaving pattern gives your finished project a unique look that's both stylish and functional. To make one of these projects, start by measuring and cutting your leather into four identical strips.
Then, weave the strips together one at a time to create an interlocking pattern. Secure your weave with rivets or stitching to hold it in place, and then finish off the edges with a decorative border of contrasting color leather or suede.
Easy DIY Hanging Organizer For Beginners
What You'll Need:
Leather scrap (about two square feet)
Awl or hole punch
Hammer
Scissors
Ruler
Stitching thread and needle
5 Metal rings or clasps
Instructions:
Begin by laying out your leather scrap and using a ruler and the awl or hole punch to measure, then mark five evenly spaced holes down the center of one side of the leather sheet.
Working from the back side of the leather sheet, use a hammer to gently hammer each of the marked holes until they are punched through, making sure that your hammer strikes are even to ensure uniformity.
Next, fold the leather sheet in half with the holes now facing inward and aligning. Use scissors to cut a thin strip from each side of the folded leather sheet to create two long strips for binding.
Take one of the binding strips and thread it through the five punched holes, making sure to align them in the same order going through. Once you have pulled the strip through, you can secure each end with a simple knot before moving onto the next step.
Now that your binding strip is threaded, it's time to attach the metal rings or clasps. Taking a second binding strip, fold it into two sections and thread it through each of the five punched holes in the same order as before. You should now have two separate strips with ends on both sides of your leather sheet. Take one end from each strip and tie them together around the metal ring or clasp, again making sure to keep the same hole order. Repeat this step with the other four rings.
Now you're ready to hang your organizer! All that remains is to create a loop on one end of the leather sheet by threading it through just one of your metal rings or clasps and tying the ends together. [3]
Color Blocked Leather Keychain Craft
If you're new to crafting, creating a keychain out of leather with color blocking is a great project to start with. This fun craft combines two colors of leather to create a simple, yet stylish accessory.
To begin this simple leather project, you must gather all the necessary supplies. You'll need two different colors of leather (3-4 oz), a rotary cutter, metal keyring, scissors, a ruler and some leather adhesive.
To begin, obtain all the necessary materials and then proceed with cutting two strips of leather into the desired shape. For this project, we recommend using a 1/2 inch x 2 inch rectangle. You can then cut the second piece slightly shorter or longer, to create an overlapping effect with the two pieces.
Next, you'll need to attach the two pieces together. You can use a leather adhesive for this step, which will give a strong hold and won't damage the leather. After that, add your metal keyring at one end of the strips and secure it using a leather punch.
Finally, you can add any additional embellishments like rivets or eyelets. This is optional but it can give your keychain an extra touch of style.
Faux Leather Succulent Wreath Crafts
Crafting a faux leather succulent wreath is a fun way to bring personality into a room, and this particular wreath is no exception. Using faux leather, some simple embroidery stitches, and a few simple supplies, you can make this wreath in just one afternoon. With minimal sewing skills and materials required, it's an easy project for beginners.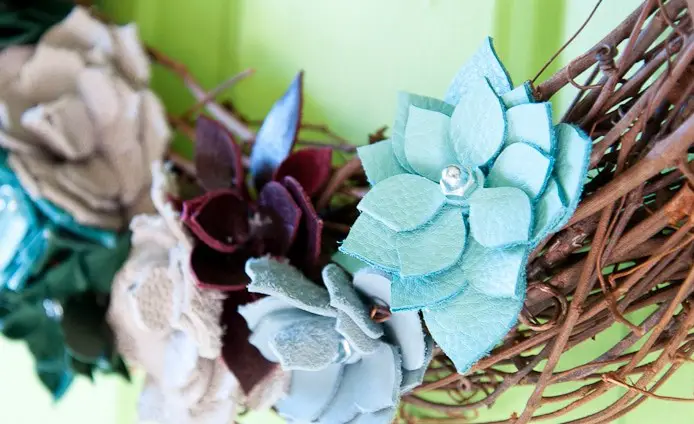 To begin, gather different colors and patterns of faux leather sheets. These can be easily obtained from craft stores or online. Then, choose the embroidery stitches that work best for your design. We recommend running stitches, backstitches, and blanket stitches — all of which are simple enough for a beginner. [4]
How To Make Leather Tassel Earrings
Materials Needed:
Leather scraps or strips
Leather hole punch tool and screwdriver
Scissors
Jump rings and earring hooks
Needle and thread
Instructions:
Start by cutting your leather strips into tassel shapes. You can use any width or length you like for the tassels, but aim to make them similar in size so that they match up when finished.
To create a small hole at the top of each tassel shape, use the leather hole punch tool and screwdriver. Make sure that your holes are even, so that they match up when you attach them to the earring hooks.
Attach jump rings to one end of your earring hooks.
Thread a length of needle and thread through the holes in the top of each tassel shape. Make sure to tie off the ends of your threads securely so that they don't come undone while you're working.
Slip the jump rings onto one end of your threads, then tie the other end of your threads around the earring hooks. Make sure that your thread is tight and secure so that the tassels don't come apart or slip off.
After trimming any excess thread, take a moment to appreciate your gorgeous leather tassel earrings!
DIY Glasses Case With A Free Template
This project is designed to guide beginners in making a fashionable glasses case, and it comes with a free template. With the right tools and supplies, it won't take more than an hour to give your glasses some extra protection in style.
To get started on this DIY project, here is what you need:
A piece of leather
Sewing thread and needle
Scissors
Pen or marker
Ruler
Leather punch
Hammer
Using the free template provided, transfer the shapes onto your leather and use a ruler to draw the straight lines. To create holes in your leather, use a leather punch on all of the markings. Note that the small dots indicate where to start sewing, while bigger marks are for perforations.
Next, use a ruler and marker to sketch out two triangle shapes and cut them out with scissors. Place one of the triangles onto the other and stitch them together. This will form as the flap closure for your glasses case. [5]
FAQ
What can you make with small pieces of leather?
Small pieces of leather can be used for a wide variety of projects, from simple keychains and bracelets to more complex items such as wallets, bags and even hats. Beginners may want to start out with simpler projects such as coasters, bookmarks and cell phone cases that require minimal tools and supplies. With a few basic tools, some imagination and patience, it's possible to create beautiful pieces from small pieces of leather.
How do I start a leather hobby?
If you're interested in starting a leatherworking hobby, the first step is to become familiar with the tools and materials you will need. Leatherworking requires a few basic tools such as an awl, scissors, edge bevelers, needles, punches, and rotary cutters. You also need some specialty items such as stamps, tools, dyes, and dye applicators. Leather comes in a variety of colors and textures.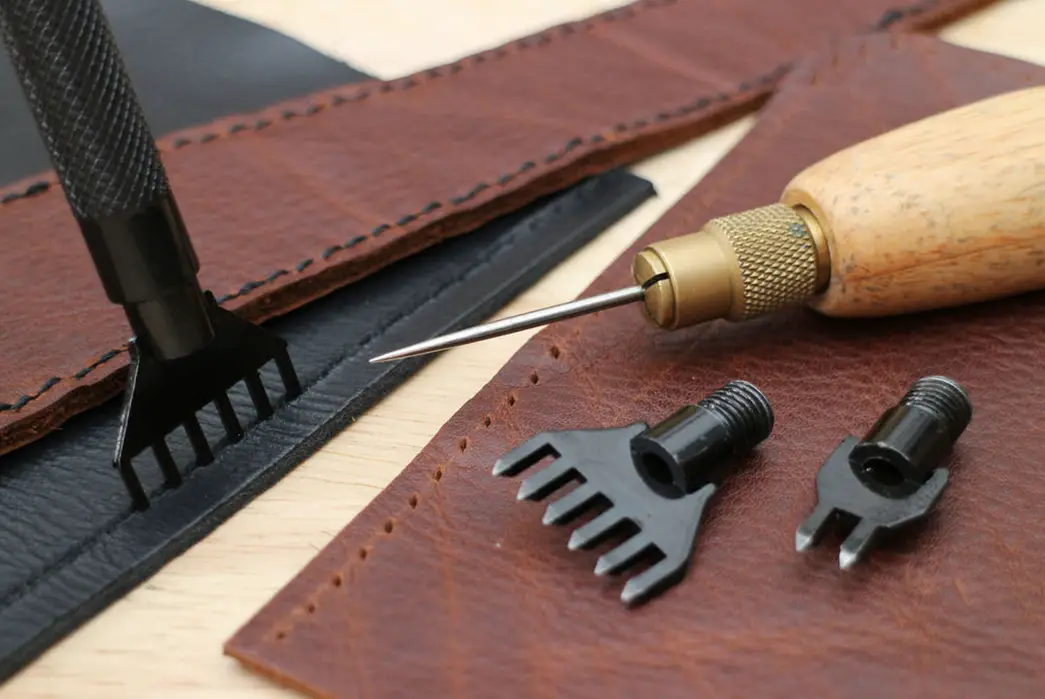 You can purchase pre-cut pieces or buy a whole hide to make custom pieces.It's also important to understand the basic processes involved in leatherworking such as cutting, sewing/stitching, tooling (adding texture), and dyeing.
Is leather making profitable?
Leather crafting has become increasingly popular in recent years, and many are beginning to explore the possibilities of turning it into a profitable venture. While it can be difficult to create a sustainable business out of leather crafting, with creativity, dedication, and hard work you may be able to make some money off this craft!
Does leather look better with age?
Yes! Leather is a material that gets better with age. Over time, the color and texture of the leather deepen due to its natural patina. Over time, the fibers in your leather goods degrade, causing them to feel softer and develop an aged appearance. By taking good care of your leather belongings, you can make them last for several years.
What are 10 things made of leather?
Shoes – Leather shoes come in a variety of styles, from dress shoes to casual sneakers. They are also available in many colors and textures.
Bags – Leather bags can range from large travel bags to small clutches, and they make a great accessory for any outfit.
Belts – Adding leather belts to your wardrobe can enhance your outfit options and versatility. They are suitable for various occasions, both formal and casual.
Jackets – A leather jacket is a classic item that will always be fashionable and is available in different styles, sizes, and shades.
Wallets – Quality wallets made with genuine leather last longer than other types of materials and add an element of sophistication to your look.
Furniture – Leather furniture is a luxurious home staple that adds sophistication to any room.
Hats – Whether you're looking for a stylish fedora or a classic baseball cap, a leather hat will never go out of fashion.
Baseball gloves – A genuine leather mitt is the perfect choice for all levels of baseball players and can be used for years with proper care.
Keychains – Personalize your keychain with a unique design and make sure it stands the test of time with a leather construction.
Card holders – Keep your cards organized in style with a sleek leather card holder that fits easily into your pocket or bag.
What not to do with leather?
When working with leather, it's crucial to take proper care even though it's a durable material that can last for years. Here are several tips for what not to do when working on leather projects:
Don't use harsh chemicals such as bleach or solvents on your leather project. This could damage the material and leave behind unsightly stains.
Don't use glue as it can damage the leather and make it brittle.
Avoid stretching or tugging on the leather as this can cause it to tear or fray.
Do not leave unfinished projects out in direct sunlight for extended periods of time, as this could cause them to crack and dry out.
What can be crafted with leather?
Leather can be used to create a variety of projects. From wallets, purses and keychains to coasters and even jewelry, the possibilities are endless! With the right tools (which you can find easily online), anyone can get started with leather crafting. For beginners, leather is an excellent material to work with because it is durable, long-lasting, and easy to manipulate.
What are five things that can be made from leather?
Leather Wallet: For a simple yet stylish wallet, leather is an ideal material to use!
Leather Bag: Whether you're aiming for a rugged messenger bag or a sleek clutch, leather bags are timeless accessories that can be crafted with minimal effort.
Leather Belt: Belts are not only a great way to keep your pants from falling down, but they can also be stylish accents to any outfit!
Leather Keychain: Personalize your keychain with a unique design made of leather! After all, it's the little things that make a big difference.
Leather Bracelet: For a fashionable and fun accessory, leather bracelets are easy to make with the right materials.
What is leather with holes called?
When it comes to leatherworking, one of the most common techniques used is called "punching" or "stitching". This technique uses a specialized tool to create holes in leather for threading and finishing details. Leather with holes punched through it is commonly known as "punched leather".
Punched leather can be a good material for beginners to use in their leatherworking projects, as long as they have the appropriate tools and materials.
Can you make leather out of anything?
No, not all materials are suitable for making leather. Leather is typically created from animal hides, particularly those of cows and pigs. The hides must be tanned before they can be formed into leather; tanning is the process by which natural proteins in the hide are turned into a durable material. While some synthetic materials can be used to create leather-like materials, these are not true leather and don't carry the same properties or longevity.
Useful Video: The BEST Easy Beginner Leather Project!
Conclusion
Leather projects may seem intimidating to the novice, but they can be incredibly fun and rewarding.
Leather art and useful accessories can be made by anyone with simple tools and materials. Before starting any project, you should read up on the basics of working with leather and understand the types of materials and techniques that go into crafting it. Once you have a basic understanding, you can start small with some simple projects and work your way up to more complex designs. Whether you're making leather goods for yourself or as gifts for others, there's no limit to the possibilities of what you can create!
---
References
https://craftulate.com/leather-crafts/
https://tinkerstoolbox.com/ten-easy-leather-projects-for-beginners/
https://bigdiyideas.com/37-beautiful-diy-leather-projects/
https://wonderfuldiy.com/diy-leather-crafts/
https://www.pillarboxblue.com/easy-leather-craft-ideas/