If you're like most people, you probably wear white leather tennis shoes quite often. They are a classic look and they go with just about everything. But what do you do when they start to get dirty? In this article, we will teach you how to clean shoes using simple, easy-to-follow steps. We'll also recommend some of the best products to use for the job. So whether your shoes are just a little bit dirty or they're covered in mud and grass stains, we've got you covered!
Before You Begin
A few things to keep in mind before you start cleaning your white leather tennis shoes. First of all, always read the care instructions on the label of your shoes before attempting to clean them. If the label states that they should only be cleaned with professional products or tools, follow that advice.
Additionally, it's important to think about what type of cleaning solution you would like to use. You can choose from several natural cleaning solutions such as baking soda, vinegar, or lemon juice. Alternatively, you could purchase a specialized cleaner for shoes at most retail stores or online retailers.
Lastly, it is helpful to remove any dirt or debris from the shoe before beginning the actual cleaning process. This can be done by using a soft-bristle brush, damp cloth, or vacuum. Once you have the dirt and debris removed, you are ready to start cleaning your shoes!
How Often to Clean White Leather Tennis Shoes
Keep your white leather tennis shoes looking pristine with a regular cleaning regimen tailored to how often you break them out for the court. Give yourself peace of mind knowing that your kicks are always feeling and looking their best.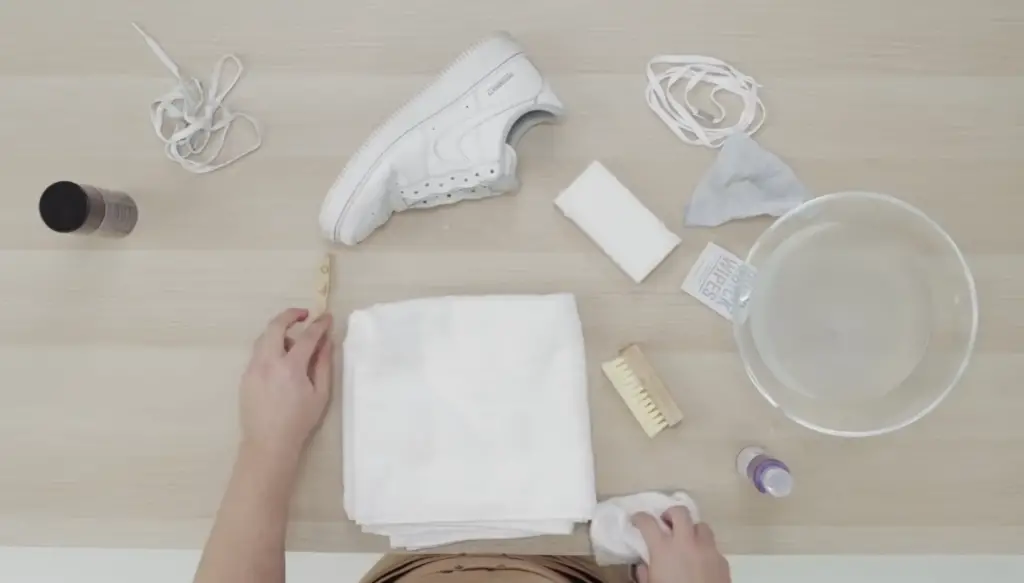 What You'll Need
When it comes to cleaning white leather tennis shoes, there are some basic supplies that you should have on hand. These include:
Soft cloths (cotton or microfiber);
Leather cleaner and conditioner;
A soft brush;
White vinegar or baking soda [1];
These items will help ensure the best results when cleaning tennis shoes.
Effective methods that should get rid of all types of dirt
This article answers the most common questions related to cleaning and maintaining white leather tennis shoes, such as what type of products to use, how to prevent future staining and more. Moreover, reviews of the best product solutions for cleaning white leather are included for your convenience.
Use A Dedicate Leather Shoe Cleaner
Leather shoes need special care and attention to look their best. Using a dedicated leather shoe cleaner is the safest option for cleaning white leather tennis shoes. These cleaners are made with mild, non-abrasive detergents that will help remove dirt and grime without damaging the delicate material of your shoes. Look for leather shoe cleaners specifically designed for use on white leather as they are formulated to be gentle enough not to discolor the fabric or damage it in any way. Always rinse your shoes off after using the cleaner and let them air dry in a location that is not exposed to direct sunlight or heat sources.
Use An Eraser Sponge
For stubborn dirt or tough stains on the leather, it is best to use an eraser sponge. An eraser sponge is a special type of cleaning tool that works by removing dirt and debris from the surface of your shoes with minimal effort. Simply wet the sponge and lightly scrub away at any dirt or scuff marks until they are removed. Always use enough water so that the leather will not be damaged. Before using it on the entirety of the piece, test it in a small, discreet area to make sure there is no risk of damage.
Use A Vinegar & Olive Oil Mixture 
One of the best ways to clean white leather tennis shoes is with a mixture of vinegar and olive oil. Vinegar has natural antibacterial properties, which help to destroy dirt and grime that accumulates on the surface of your shoes. Combine vinegar and olive oil in even measures to create this cleaning solution. Then use a soft cloth or sponge to dip into the mixture and wipe down your shoes. Rinse off with water when finished, then let air dry.
This method works best for light soiling or scuffs, as it can be difficult to remove heavy staining without harsher products like shoe cleaners or polish. However, for light cleaning jobs, you can't beat the combination of vinegar and olive oil – it's both natural and effective.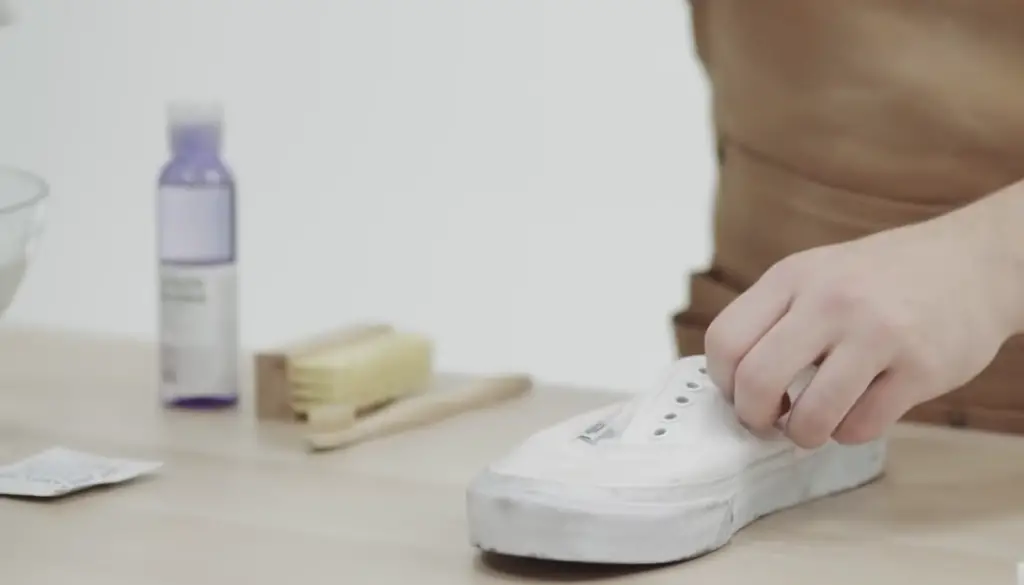 Use A Baking Soda & Olive Oil Mixture
Use a soft cloth or sponge to apply the polish paste to your shoes. Gently buff the paste into the shoes in circular motions and let it sit for up to 30 minutes before rinsing with warm water. This gentle cleaning solution is great at removing dirt and restoring the color of your shoes without damaging them – it's well worth the time! [2]
Tips to Keep Your White Shoes Clean Longer
Here are some tips to help keep your white shoes in good condition longer.
Keep the Shoes Dry: White leather is prone to staining, so avoid wearing your white shoes in wet or snowy weather. If they do get wet, dry them out as soon as possible. Stuff them with newspaper or a cloth towel and let them air-dry away from direct heat sources overnight;
Use Polish: Apply shoe polish on a regular basis to protect the leather from dirt buildup and environmental damage like UV rays and salt water. Look for products that contain natural oils such as mink oil, neatsfoot oil, or lanolin;
Avoid Discoloration: As soon as you notice dirt or scuff marks on your white shoes, take a few minutes to clean them off. Regularly inspect the leather for signs of discoloration and use a mild cleaner to clean them before they become permanent;
Use a Waterproofing Spray: To keep your white leather shoes looking their best, apply a waterproofing spray once or twice per year. This will help repel water stains while still allowing the shoe to breathe;
Clean Gently: When it's time to give your shoes a deep clean, use a soft cloth and gentle soap-free cleanser formulated specifically for leather. Work the cleaner into the shoes with a circular motion and let it sit for five minutes before wiping it off with a damp cloth [3];
Preventing Stains on Your Shoes
The best way to keep your white leather tennis shoes looking pristine is to prevent stains in the first place. It's easier said than done, but with some knowledge and care, you can make sure your shoes stay clean for longer. Here are a few tips on how to avoid getting your white leather tennis shoes dirty: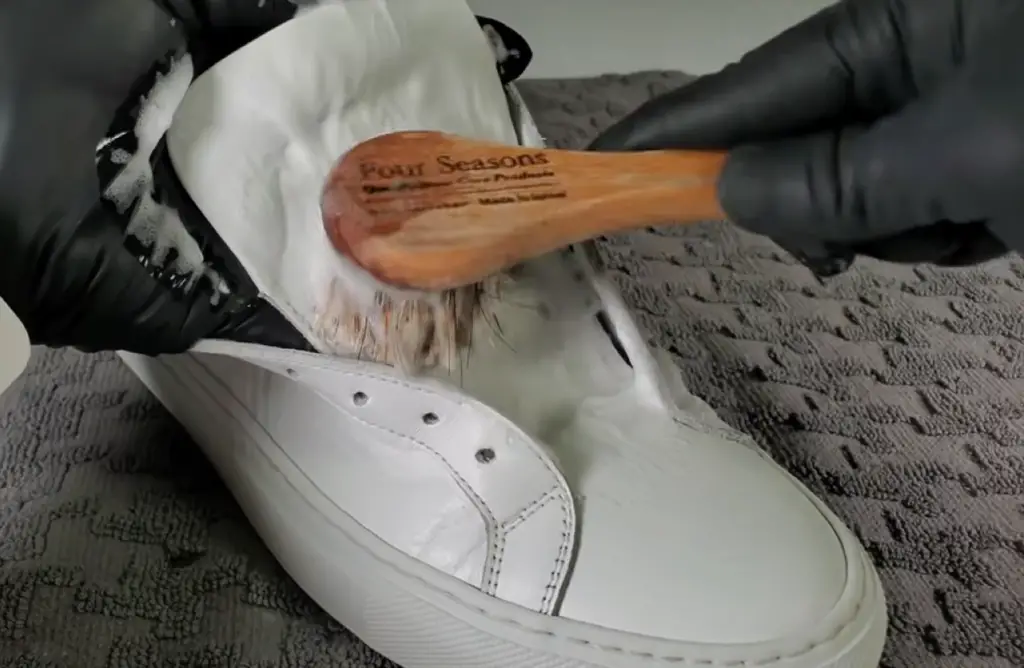 Choose shoes that have been treated with a waterproofing spray or solution. This will help protect them from dirt and moisture;
Keep your feet dry – try wearing socks that wick away sweat, or change into another pair of footwear if your feet get too hot or sweaty during the day;
Avoid walking through puddles and muddy areas as much as possible;
Be aware of the materials and conditions around you. If your shoes are in a dusty environment, consider wearing shoe covers to protect them;
When not in use, store your white leather tennis shoes in a dry place away from direct sunlight. This will help prevent discoloration and fading [4];
---
FAQ
How can I get my white tennis shoes white again?
Make your white tennis shoe sparkle again with a simple cleaning routine! Mix a bit of mild soap, and warm water, and use a soft-bristled brush to get rid of any dirt or debris. With this easy technique, you can bring those sneakers back to their original gleam. Then make a paste out of the soap and water and apply it to the leather with the brush. After applying the paste to your shoes, use gentle circular motions before rinsing it off with clean water. Make sure you place your shoes in a well-ventilated area so they can air dry.
How do you get white leather white again?
Spruce up your white leather tennis shoes with a few simple steps. Use warm water, mild soap or detergent and a soft cloth to keep them sparkling clean. Gently wipe the outside of the shoes to rid them of dirt and grime for beautiful footwear all year round. You may need to use some elbow grease for tougher stains, but do not scrub too hard as this can damage the leather.
To keep your shoes looking their best, give them a gentle scrub with warm soapy water and watch as the dirt is washed away. After rinsing off any remaining soap residue, finish up by drying them with a clean towel to get that fresh-out-of-the-box shine.
Are white leather sneakers easier to clean?
People tend to think that cleaning white leather tennis shoes is simple compared to other types of shoes, but that's not the case. While white can be more forgiving when it comes to dirt and scuffs, there are still a few tips and tricks you should follow in order to keep shoes looking their best.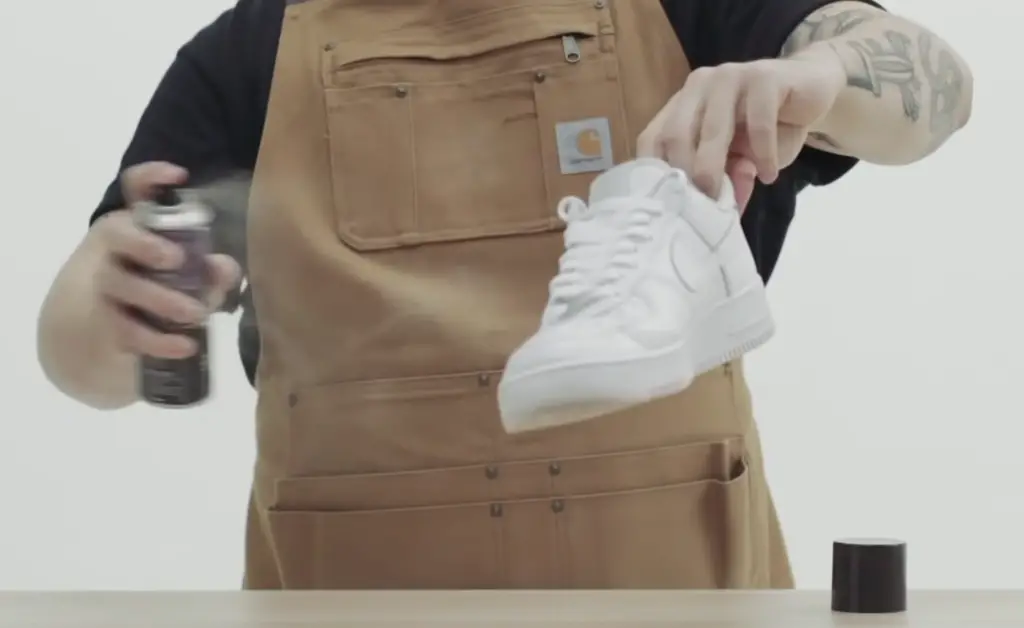 How do you restore white leather shoes?
Step 1: Clean the surface using a soft cloth and warm water. To remove dirt from crevices, use a soft-bristled toothbrush.
Step 2: Combine warm water with gentle dish soap or baby shampoo to create your cleaning solution. Dip the cloth into the solution and rub it over the surface of your shoes. Then use the toothbrush to get into hard-to-reach areas.
Step 3: Use a clean cloth to wipe the shoes down with warm water.
Step 4: Use a soft cloth to blot them dry, and let them air out until they are completely dried.
Step 5: Once the shoes are dry, you can condition the leather with a leather-specific product. Apply the conditioner with a soft cloth, and then buff it off with another clean cloth.
Step 6: Finally, protect your shoes with a waterproofing spray to keep them looking white and fresh for longer.
Does baking soda make white shoes white again?
Baking soda can be a good option for removing stains and brightening the surface of white leather tennis shoes. To use baking soda to clean your sneakers, make a paste with it and water. Revive your stained surfaces in no time with this simple paste solution! Generously apply to discolored areas, let it work its magic for up to an hour, then wipe off with a damp cloth.
Repeat as needed and watch those stains disappear like never before. Additionally, baking soda can be used as a natural deodorizer – just sprinkle some inside your shoes and let them sit overnight before wiping them away with a dry cloth.
How do you use a Magic Eraser on white shoes?
What cleans white leather the best?
When it comes to cleaning white leather tennis shoes, the best products for the job are ones specifically designed for cleaning leather. To clean your shoes effectively and safely, look for a product that has been formulated specifically for leather and is free of harsh chemicals such as solvents. A good example of this type of product is saddle soap; it is safe to use on leather and will help you clean your shoes without damaging the material.
How do you clean real white leather?
Real white leather is an investment, and it needs to be treated as such in order to maintain its condition and prolong its lifespan. The first step is cleaning the surface with a soft, damp cloth. Use a mild soap and water solution to create a lather on the cloth and gently rub it across the surface of the leather. Avoid scrubbing it too hard, as this can damage the leather's finish. Once you've finished cleaning the surface of the leather, buff it with a dry cloth to remove any remaining soap and water.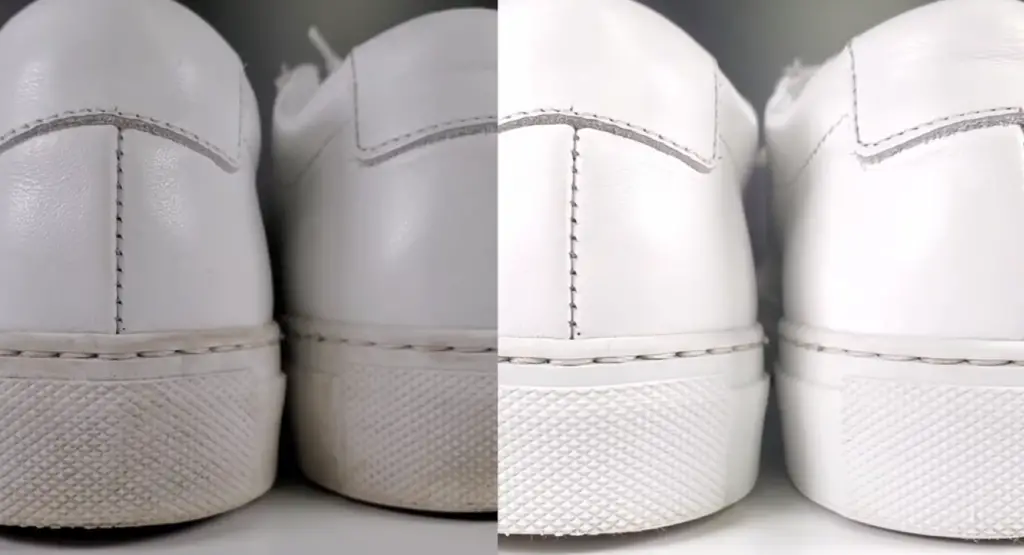 What household items can I use to clean leather shoes?
Leather shoes can be easily cleaned with household items like white vinegar and baking soda. White vinegar is a helpful way to clean leather shoes since it eliminates dirt and grime. Baking soda can keep shoes smelling fresh naturally. Other useful items for cleaning leather shoes include a soft cloth and a brush with gentle bristles. These items can be combined to create an effective cleaning solution for leather shoes.
Does toothpaste help make shoes white again?
Yes, toothpaste can help make your white leather tennis shoes look whiter. Toothpaste is mildly abrasive and helps to remove scuff marks and dirt from the leather on the shoes. Be sure to use a non-gel whitening toothpaste and apply it with a cloth in small, circular motions for best results. Allow the toothpaste to sit on the shoes for a few minutes before wiping it off with a damp cloth. It might take several applications, but toothpaste is an effective, low-cost way of removing dirt and discoloration from white leather tennis shoes.
Useful Video: HOW TO EASILY CLEAN TENNIS SHOES
Conclusion
No matter how dirty your white leather tennis shoes might become, with the right products and care, you can restore them to like-new condition. Use a mixture of gentle detergent and water, followed by a leather conditioner to keep the material soft and strong. And for a more thorough cleaning, you can even treat them with a specialized leather cleaner and polish.
---
References:
https://www.thespruce.com/how-to-clean-white-shoes-4769230
https://www.leatherskill.com/how-to-clean-white-leather-tennis-shoes/
https://www.fountainof30.com/how-to-clean-white-leather-shoes-and-sneakers/
https://www.wikihow.com/Clean-White-Leather-Shoes