Leather is a valuable material, often used in high-end items. If you're lucky enough to have some leather pieces in your wardrobe, you'll want to take care of them so they last as long as possible. So, is neatsfoot oil good for leather? The answer is complicated. In this article, we'll explore the pros and cons of using neatsfoot oil on leather and provide some tips on how to get the most out of this product.
What is Neatsfoot Oil?
Leather is often a preferred material for furniture, clothing, accessories, and more because of its durability and aesthetic appeal. But caring for leather can be tricky — it's often a delicate balance between keeping the material clean and maintaining its original luster. This is why many people wonder what the best treatment for leather is — and some may consider using neatsfoot oil.
But is neatsfoot oil good for leather? To answer this question, let's take a closer look at what neatsfoot oil actually is and how it can affect leather goods.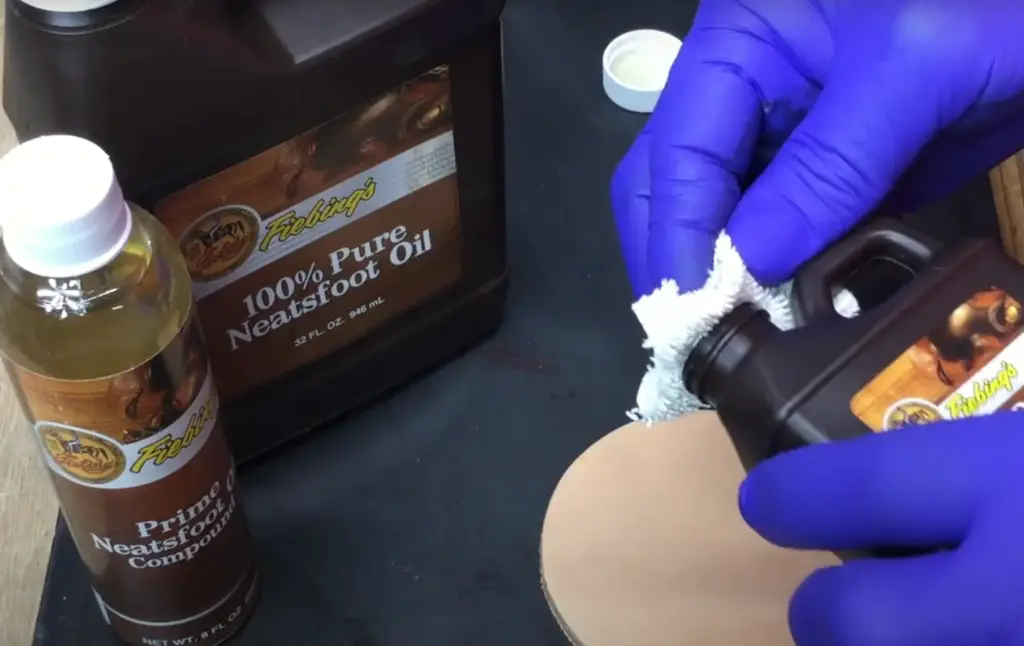 Neatsfoot oil is a natural product derived from the feet of cattle. It is made up of fatty acids and has been used for centuries to condition and protect leather goods, such as saddles, boots, and belts. Because it is made up of natural ingredients, neatsfoot oil may also be referred to as "natural" or "organic". Neatsfoot oil can come in either liquid or paste form. [1] [2] [3] [4]
Is Neatsfoot Oil Safe for Leather?
So, is neatsfoot oil good for leather? In short, the answer is maybe. It definitely is safe to use in certain situations and can be beneficial when used correctly.
In the next few sections, we will discuss a few of the pros and cons associated with using neatsfoot oil to condition leather goods.
The Pros of Using Neatsfoot Oil
We shall begin with the answer to whether neatsfoot oil is good for leather: yes, it absolutely can be. So, let's dive deeper and discuss the benefits of using neatsfoot oil on leather.
It's a great leather softener
Leather is a soft and supple material, but this doesn't last long. It's no surprise that some types of leather can become dry, cracked, and brittle over time. That's where neatsfoot oil comes in; it helps to soften the leather fibers back up again.
Even the stiffest leather items can benefit from neatsfoot oil, as the natural ingredients will help to break down any existing stiffness. This makes it great for jackets, shoes, and other stiff leather goods that may be difficult to maintain.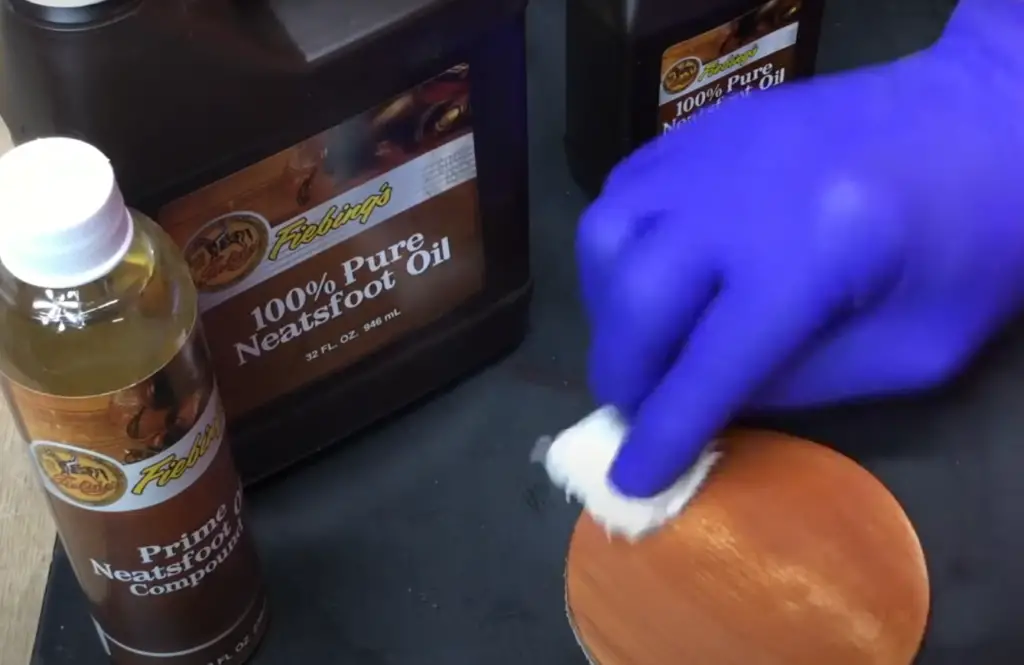 It can protect your leather from moisture damage
Neatsfoot oil is also a great agent to use when waterproofing and protecting your leather goods. It can help to create an effective barrier against water, dirt, and other environmental pollutants. Neatsfoot oil contains waxes which are known to be effective at preventing moisture absorption. This means that the leather item will remain safe from the elements while still retaining its wonderful texture and appearance.
In addition, neatsfoot oil can help protect the leather from minor scratches and scrapes by creating a protective coating over the surface of the material. This helps to prevent any further damage and keeps the leather looking great for longer periods of time.
It can give the leather a nice sheen
This is a great benefit of using neatsfoot oil on leather. Not only can it help protect the material, but it can also give it a nice sheen and gloss. The waxes in the neatsfoot oil help to add an attractive, glossy finish which effectively enhances the look of your leather item.
It can give your leather a vintage look
Finally, neatsfoot oil is also a great choice for those who want to give their leather items an aged, vintage look. This can help give your item that old-fashioned charm without having to worry about it becoming damaged or faded over time. [1] [3]
Cons of Neatsfoot Oil
Unfortunately, neatsfoot oil has more drawbacks than advantages. These are something you should be aware of before using this product on your leather items. Let's discuss these in detail.
It can harm the stitching
One of the biggest drawbacks of using neatsfoot oil on leather is that it can damage the stitching. Neatsfoot oil can easily degrade and weaken the thread used to stitch leather items together, causing it to become frayed or torn over time. This means you risk having to replace or repair your item if you use this product on it.
The reason for that is the acidic nature of neatsfoot oil. The oil seeps into the fibers of the thread, causing them to break down. This makes it a poor choice for items that need strong stitching or that use delicate threading.
It can discolor the leather
Many people have heard that neatsfoot oil can be used to darken and condition leather. This has raised concerns about the risk of discoloration when using neatsfoot oil on light-colored items, such as white or cream-colored leather. And unfortunately, it is true that neatsfoot oil can cause discoloration due to its darkening properties.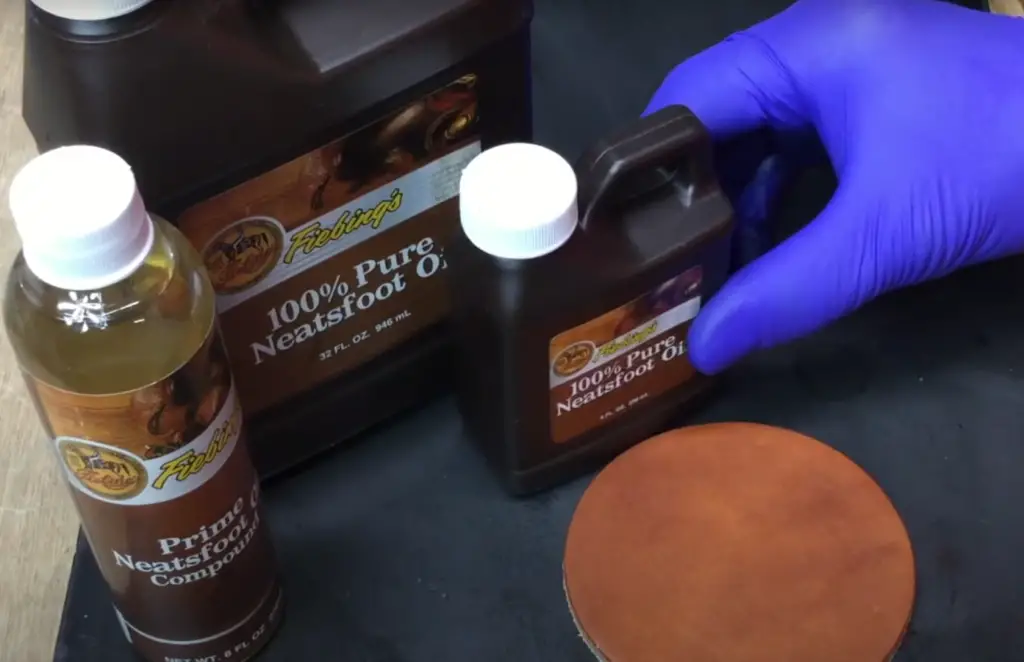 So if you're using it on light leather items, make sure to do a spot test first and take extra caution. While darker colors may benefit from neatsfoot oil, the effects can be detrimental to lighter shades.
It can clog the pores of the leather
Leather is a durable material, but it's also susceptible to degradation over time, as the natural oils in its pores evaporate and are exposed to outside elements. The process of leather breaking down from these lost oils is called "drying out".
When the pores become clogged with dirt, dust, and other bits of debris that build up over time, the natural oils that leather needs to stay healthy and supple are prevented from evaporating, leading to a breakdown in the leather.
Unfortunately, neatsfoot oil has a tendency to block the pores of the leather and prevent it from getting the essential oils it needs. This eventually can cause drying, cracking, and other damage to the material.
It can attract dust
Another one of the big drawbacks of neatsfoot oil is that it can actually attract dust and dirt particles. The coating of oil can be a magnet for dust and other particles, leading to an unsightly build-up on your leather item over time.
To avoid this issue, make sure to clean your leather item off with a damp cloth after using neatsfoot oil to remove any excess residue that could attract dust.
It can form a waxy film in cold weather
Another issue with neatsfoot oil is that, in cold weather, it can form a waxy film on the leather. It's white in color and can cause the leather to look dull and dry. This film is difficult to remove, so you may need to purchase a special leather cleaner or conditioner in order to get rid of it.
So if you live in an area with cold winters, it's best to avoid using neatsfoot oil on your leather items for this reason.
It oxidizes and can make leather brittle
The huge problem with neatsfoot oil is that it oxidizes, which causes leather to become brittle and cracked. Oxidation occurs when neatsfoot oil is exposed to air for too long. This causes the oil to darken and form a film on the surface of the leather, which in turn can cause it to become brittle over time. This means that over time the oil can actually cause damage to the leather rather than preserve it. [1] [2] [3] [4]
Neatsfoot Oil Alternatives for Leather
So while neatsfoot oil might seem like an attractive option for conditioning your leather items, it's important to remember these potential drawbacks before you use it on your items. Ultimately, there are much better products out there that will provide more lasting protection with less risk of damage.
Commercial leather conditioner
While neatsfoot oil is widely available and relatively easy to use, it may not be the best option for protecting your leather items. Commercial leather conditioners contain a blend of ingredients that are specially formulated to keep leather soft and supple while protecting it from dirt, water, grime, and other environmental damage.
These products also typically contain UV inhibitors to prevent fading and discoloration. Furthermore, they often include ingredients like waxes or oils that form a protective barrier on the surface of the leather, helping to repel moisture and protect against future wear and tear.
Leather balms
If you're looking for an alternative to neatsfoot oil that can provide protection and conditioning, leather balms are a good option. These products usually contain natural or synthetic waxes and oils that help to nourish and protect the leather while also providing it with a subtle shine.
Unlike neatsfoot oil, which is primarily just oil, leather balms often contain other ingredients like lanolin that condition the leather without causing damage. Furthermore, some balms also include water-resistance agents that can help protect your leather from moisture, dirt, and other environmental damage.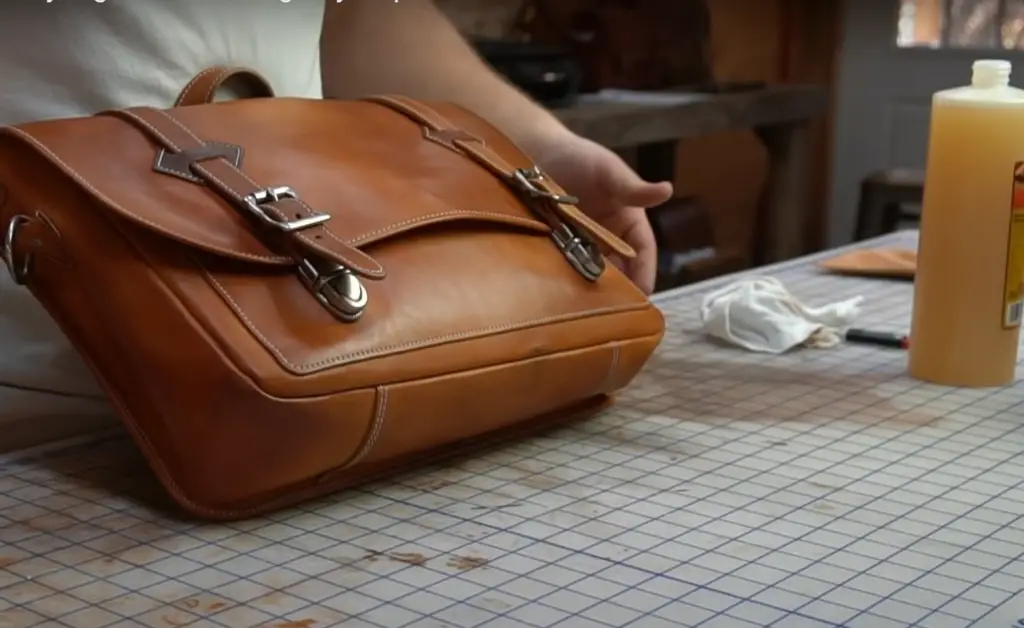 Just be sure that whatever product you choose is specifically designed for your type of leather. Different leather items require different types of care, so it's important to find one that is formulated for the type of leather you have.
Mink oil
If you are still considering a natural oil alternative to neatsfoot oil, mink oil is a good option. It has many of the same benefits as neatsfoot oil, but without some of the drawbacks.
Mink oil can help to soften and condition leather, while also providing it with a protective layer that repels dirt and moisture. Unlike neatsfoot oil, though, mink oil does not oxidize. This makes it a much better choice for leather care and protection.
Still, as it goes for all-natural oils, mink oil too can darken leather, so you should test it out on a small spot first before using it on your item.
Spray protector
Finally, if you really want to make sure your leather items last for years and remain in good condition, a spray protector is a great option. These are specially formulated products that form an invisible barrier on the surface of the leather, helping to repel dirt and moisture while protecting it from wear and tear.
They're also incredibly easy to use; just spray them on the item and let them dry before wearing or using them again. The only downside is that they typically won't provide any conditioning benefits like other products will, so you still may want to consider one of the other options listed above. [2] [3] [4]
---
FAQ
How to protect the leather from moisture?
One of the most effective ways to protect the leather from moisture is by using a silica gel. This type of product is formulated to draw moisture out of the leather and keep it dry.
Spray protectants are also a thing. These products are designed to form a protective layer on the surface of the leather, which helps repel moisture and dirt.
When should I use neatsfoot oil on leather?
Neatsfoot oil is commonly used to soften, preserve, and protect leather goods. It can be used on new items as a preventative measure, or on older items to restore their original suppleness and color.
However while it can protect the leather from water and stains, it has a whole load of drawbacks. In some cases, it can cause the leather to darken and stiffen, and deteriorate the stitching.
So, instead of using neatsfoot oil, consider replacing it with a leather conditioner. These are specifically made for leather and won't cause any of the issues that neatsfoot oil can.
Does neatsfoot oil dry out leather?
Neatsfoot oil is a natural preservative used to condition and protect the leather. It has been used in the tanning process for hundreds of years, so it is safe to say that neatsfoot oil will not dry out leather. In fact, it helps keep it from drying out by providing a protective layer on the surface of the leather.
However, we don't recommend using too much neatsfoot oil on your leather as it can make the leather darker than it actually is. This can cause dirt or dust to stick to the surface of the leather, which will make it harder to clean in the future. It is best to apply a thin layer of neatsfoot oil, just enough so that you see a slight sheen on the leather after it has dried.
Which oil is best for leather?
When used properly, neatsfoot oil can temporarily soften up dried-out leather. But because it contains animal fats that may not be good for the material, we don't recommend using it on a regular basis. If you apply too much of it to your leather goods, the excess oil could cause discoloration or crack.
Is pure neatsfoot oil good for leather?
No, pure neatsfoot oil is not the best choice for leather. Neatsfoot oil on its own can darken and soften leather, making it more prone to stretching and cracking over time. It also can oxidize and turn your leather darker color, ruining its appearance. The best way to care for your leather is to use a specialized leather conditioner (containing neatsfoot oil) designed specifically for the type of product you are looking to treat.
For these reasons, professionals generally do not recommend using pure neatsfoot oil on fine leather goods such as jackets, saddles, shoes, belts, bags, wallets, etc. Instead, they suggest using products that are specifically designed for leather care such as creams or conditioners which provide superior protection against dirt and water while helping to preserve the natural look and feel of the material.
Useful Video: How to Condition & Apply Neatsfoot Oil on Leather
Conclusion
Taking proper care of the leather is really important, and it should never be overlooked. Neatsfoot oil is a possible way to restore the leather's suppleness and shine after long-time use. It also can restore the natural sheen of the leather, as well as help protect it from cracking. Nevertheless, neatsfoot oil should be used very carefully and sparingly.
Yes, there are certain precautions to be taken while applying the oil – too much oil can cause the leather to become greasy and lose its breathability.
In fact, we don't recommend using neatsfoot oil, because it has plenty of drawbacks. For one, it can clog the pores of the leather. This means that the oil won't be able to penetrate into the material and nourish it from within. In addition, neatsfoot oil can darken the leather and make it brittle after a certain period of time without proper maintenance.
And it can oxidize, which means that it will cause the leather to deteriorate. So, if you want your leather items to last for a long time, we recommend opting for other materials such as beeswax, mink oil or commercial leather conditioners. These offer better protection of the material while still allowing it to breathe.
As you can see, while neatsfoot oil does indeed have some benefits, there are several drawbacks that make it a less-than-ideal choice for leather care. So, if you want to keep your leather items in good shape for a long time and have them looking nice and shiny, it's better to opt for other materials instead of neatsfoot oil. Thanks for reading! We hope this article has been helpful in answering the question: is neatsfoot oil good for leather?
---
References:
https://favoredleather.com/is-neatsfoot-oil-bad-for-leather-2/
https://www.carlfriedrik.com/int/magazine/best-oil-for-leather#coconut-oil-on-leather
https://www.libertyleathergoods.com/neatsfoot-oil/
https://preservation-solutions.com/blogs/news/why-you-should-avoid-using-neatsfoot-oil-on-leather