Leather shorts make a bold and versatile fashion statement, combining sophistication with an edgy vibe. While the shorts themselves play a crucial role in your outfit, the choice of footwear can greatly enhance or diminish your overall look. Selecting the perfect shoes to complement your leather shorts is an art form, and this guide is here to assist you in navigating this stylish path effortlessly and confidently.
What Are Leather Shorts?
Leather shorts are a versatile and essential addition to any wardrobe, allowing you to effortlessly create a stylish and edgy look. Crafted from genuine leather, these shorts are meticulously treated with wax or oil, ensuring both protection and durability. There are several popular styles of leather shorts to choose from, including pleated, biker, cargo, and chino, each offering its own unique charm. Depending on the style you opt for, you have the freedom to pair your leather shorts with a wide range of shoes, allowing you to effortlessly stay on-trend and create a fashion-forward ensemble.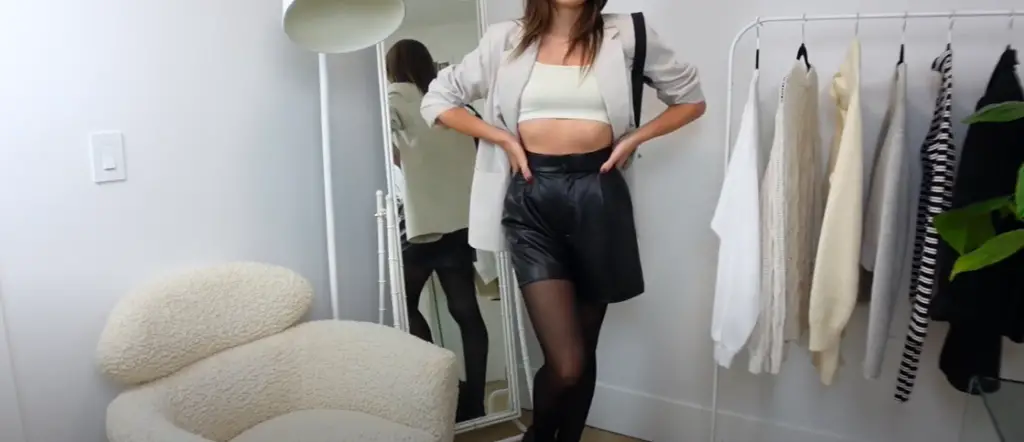 What Shoes to Wear With Leather Shorts?
To achieve an edgy yet chic appearance, combine leather shorts with high-heeled ankle boots and a classic white t-shirt. Ankle boots are available in various styles, from heeled to flat, that perfectly complement leather shorts. For an added cool factor, choose black ankle boots with buckles or studs. Alternatively, for a more casual look, pair leather shorts with sneakers. White trainers will lend a crisp and minimalist touch to your ensemble.
Leather shorts offer versatile styling options, effortlessly transitioning from casual to dressy when paired with ballet flats and a blouse. Not only are ballet flats incredibly comfortable for all-day wear, but they also add a sophisticated touch to your ensemble. To elevate your style, opt for ballet flats in a vibrant color that adds an extra pop of flair.
Regardless of the shoe style you opt for, it's crucial to ensure they harmonize with your leather shorts and overall ensemble. By selecting the perfect pair of shoes, you can effortlessly craft fashionable and sophisticated looks with your leather shorts! [1]
Why Choose Leather Shorts in the First Place?
Not only are leather shorts fashionable, but they also offer exceptional durability and quality. Genuine leather is renowned for its long-lasting nature and superior resistance to wear and tear compared to other fabrics. Additionally, leather possesses inherent water-resistance properties that shield you from the elements and provide warmth during colder weather. While leather shorts may come with a higher price tag initially, they are a worthwhile investment due to their extended lifespan when compared to conventional shorts.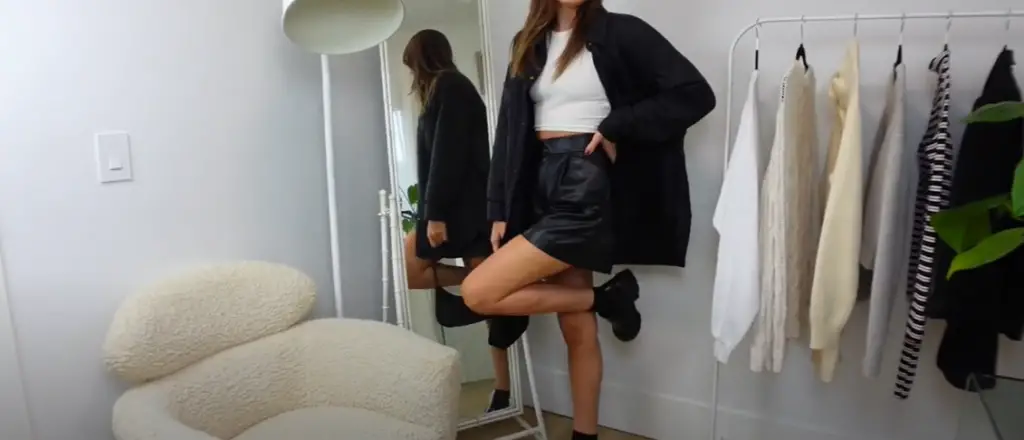 Tips for Choosing the Right Pair of Shoes
When selecting the perfect footwear to pair with leather shorts, it's crucial to keep a few key tips in mind. First and foremost, ensure that your shoes complement the overall color scheme. Black leather shorts can be flawlessly paired with brown or tan shoes, while white leather shorts tend to look best with black or grey footwear. Additionally, consider the style of shoes that you opt for. Loafers or oxfords can lend a touch of sophistication for a more formal appearance, whereas sneakers or sandals can contribute to a relaxed and casual vibe. Lastly, don't forget to prioritize proper fit and maintenance to guarantee that your shoes are both comfortable and well-kept.
Are Leather Shorts Too Hot For Summer?
Contrary to popular belief, leather shorts can actually be a stylish and refreshing choice for staying cool during the summer. However, it's important to select the right type of leather for optimal comfort. Lightweight, breathable, and natural leather materials are ideal for creating a comfortable and fashionable look. To complete the ensemble, consider pairing your leather shorts with open-toed sandals or airy shoes like Vans for a trendy and relaxed vibe. For a more daring and versatile outfit, leather boots or flip flops can be excellent additions, allowing you to effortlessly elevate or tone down your style. [2]
Are There Any Other Options For Footwear?
Absolutely! While leather shorts may be the go-to option during the summer, there is a plethora of footwear alternatives that can effortlessly elevate your style while keeping you cool. Chunky sneakers, slides, and espadrilles are all fantastic choices that perfectly complement leather shorts for a more laid-back vibe. If you're aiming for a slightly more sophisticated look, wedges or heeled mules make excellent companions for leather shorts. Regardless of your footwear preference, prioritize breathability to ensure your feet remain cool and comfortable all day long.
What Are The Best Colors For Leather Shorts?
Leather shorts are available in a wide range of colors, allowing you to choose the perfect one that matches your personal style. Black leather shorts are a versatile option that can be easily dressed up or down, depending on the desired look. For a touch of vintage charm, consider brown leather shorts, which can be effortlessly paired with almost any type of footwear. If you're looking to stay cool in the heat, white and tan leather shorts are excellent choices. Remember to select a color that not only suits your style but also complements the rest of your ensemble.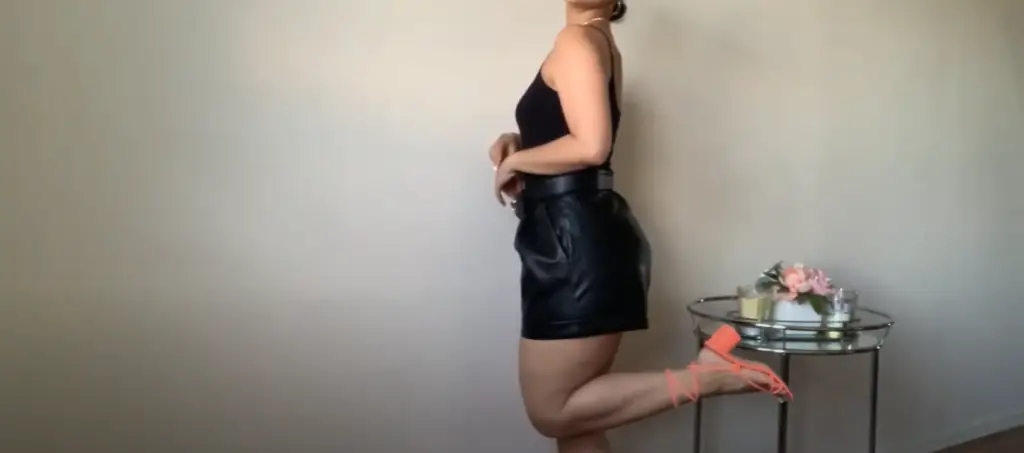 How Should I Care for My Leather Shorts?
Caring for your leather shorts is essential to maintain their longevity and appearance. These delicate garments require special attention and cleaning. To ensure they look their best for years to come, it is important to be mindful while wearing them. Here are some valuable tips to properly care for your leather shorts:
To maintain the pristine condition of your leather shorts, it is important to steer clear of moisture and avoid accidental spills. Any contact with liquids can lead to material damage, leaving unsightly spots and discoloration.
Use a professional leather cleaning product to keep them looking their best.
Stuff the shorts with tissues when storing them in order to maintain their shape.
Be aware of where you sit and how often you wear the shorts, as sitting down too frequently/for long periods of time can cause creasing in the leather material.
Hang the shorts and allow them to air out in between wears.
Polish the leather regularly using a soft cloth to help keep it looking its best for longer.
Take care when putting on and taking off your leather shorts so as not to pull or stretch the material and cause any damage.
Always store leather shorts away from direct sunlight in order to prevent fading.
Consider using a protective spray on your leather shorts as this will help protect them from dirt and stains.
If the shorts need more than just a light cleaning, consider taking them to a professional cleaner who specializes in leather garments. They will be able to provide more thorough care and advice for maintaining the quality of your shorts. [3]
What Accessories Can I Wear With Leather Shorts?
Leather shorts are a great way to add an edgy twist to an everyday outfit. They can be dressed up or down depending on the accessories you choose to pair them with.
Add a touch of color with bright patterned scarves and headwraps.
Wear bold jewelry pieces like statement necklaces and chunky rings.
Opt for an oversize denim jacket or moto jacket for a cool, casual look.
Pair them with graphic tees or tanks for a more casual vibe.
For a dressier look, wear a blouse and a pair of strappy heels or sandals.
Booties are also great for adding an interesting texture to the outfit.
Add a leather belt to complete the look and keep it polished yet edgy.
A classic pair of sunnies is a great way to complete any outfit.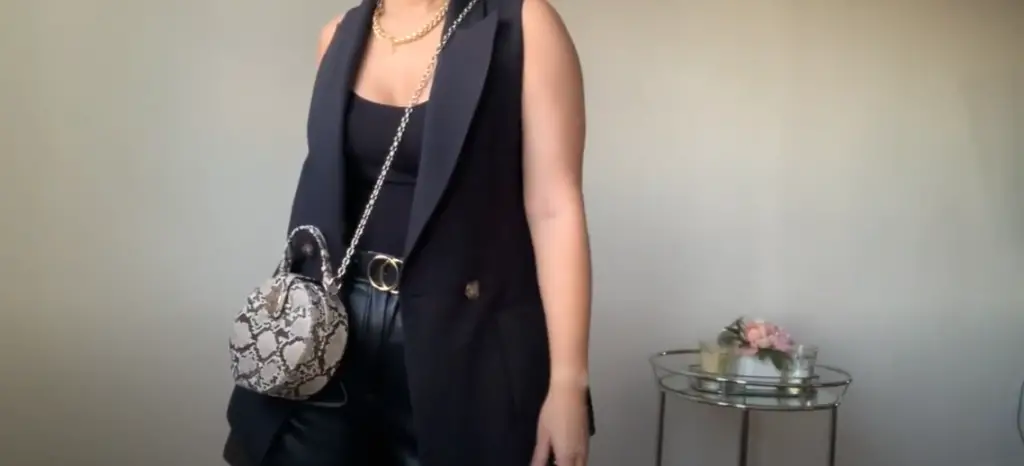 Can You Wear Tights With Leather Shorts?
Yes, you can definitely wear tights with leather shorts. The combination of the two textures makes for a really interesting look that is perfect for cooler months. Choose a pair in a neutral color such as black or brown to keep the outfit looking sleek and polished. You can also opt for patterned tights to add visual interest to your look. Wear them with ankle boots or a pair of sneakers for a more casual vibe, or pair them with strappy heels and a blouse for a dressier look. Whatever you choose, the tights will help keep your legs warm while allowing you to show off your favorite leather shorts. [4]
Should You Size Up In Leather Shorts?
When it comes to leather shorts, sizing can be tricky. Since leather is a natural material that gives and stretches over time, it's important to make sure you get the right fit when purchasing your shorts.
When pairing leather shorts with shoes, a good rule of thumb is that the shorter the shorts, the higher the shoe should be. Heels or wedges work great for dressier occasions while ankle boots and sneakers look great with casual outfits. For an edgy look, try pairing your leather shorts with combat boots or Chelsea boots.
No matter what style of shoe you choose, make sure it's comfortable and fits your unique style. Leather shorts can be dressed up or down depending on the shoes you pair them with, so have fun and experiment with different looks until you find one that works for you!
Can You Wear Black Leather Shoes With Shorts?
If you want to wear leather shoes with your shorts, black is a great option. Black makes a bold statement and goes well with almost any color of shorts. You can dress up an outfit by pairing black leather shoes with white or cream-colored shorts, or keep things casual by choosing darker colors like navy blue or charcoal gray.
For a more sophisticated look, try wearing black leather loafers, oxfords, or brogues with your shorts. The shoes should be fitted to your foot and not too tight. Also make sure the length of the pants falls just above the ankle for a modern, streamlined look. With a classic pair of black leather shoes and some smartly-chosen shorts, you can create an outfit that looks both stylish and put-together. [5]
FAQs
What style of shoes pairs well with leather shorts?
A good rule of thumb is to go for something that contrasts the look of the shorts. An edgy look can be achieved by pairing leather shorts with an ankle boot, while a more classic style could be paired with an oxford or loafer. For a casual look, sneakers are always a good option – you can even mix and match styles to create unique looks. If you're looking to add a touch of sophistication, try pairing your leather shorts with a heeled sandal or mule for an effortless yet stylish look.
What kind of accessories should I wear with leather shorts?
Accessorizing is the perfect way to complete any look and leather shorts are no exception. A wide belt can help define the waist and add a bit of texture, while statement jewelry can help draw attention to the look. A structured bag or clutch is an ideal accessory for leather shorts – it'll add a touch of sophistication and keep your essentials organized. For a more casual look, try adding a baseball cap or bandana for some style-savvy flair.
How do I keep leather shorts looking their best?
The key is to store your leather shorts away from direct sunlight, as this will preserve their color. If they get stained, make sure to treat them with a cleaner and conditioner specifically designed for leather. Also be sure to avoid wearing them during rain or snow – moisture can damage the structure of the fabric and cause it to weaken over time. Finally, be sure to hang them up when not in use – this will help keep their shape and keep them looking great for longer.
What other types of fabric can I wear with leather shorts?
Leather shorts look great when paired with other fabrics such as cotton, linen, and even velvet. For a more polished look try pairing your leather shorts with a silk top or blouse – the contrast between the two materials will create an eye-catching look. You can also play with textures like lace, chiffon, and tweed for a more daring look. The possibilities are endless!
Are leather shorts appropriate to wear in professional settings?
Leather shorts can be worn in the workplace, but it's important to keep the overall outfit conservative. Stick to neutral colors such as black or brown, and opt for tailored styles that hit just above the knee. Paired with a structured blazer and classic pumps, leather shorts can be an appropriate option for the office. However, it's always best to check with your company's dress code before wearing them to work.
Are there any styling tips I should keep in mind?
Yes! When wearing leather shorts, make sure to stick with neutral colors like black or brown. Also make sure the shorts are fitted – the last thing you want is loose fabric bunching up around your legs. Finally, keep any other pieces in your outfit simple – a few well-chosen accessories can help elevate the look without going overboard.
Can I wear heels with leather shorts?
Absolutely! Heels can be a great way to add some height and sophistication to your outfit. Just make sure the heel isn't too high – you don't want it to overpower the look of the shorts. Ankle boots or block heels are always a safe option, but if you're feeling daring you can opt for a stiletto or wedge. Just make sure the shoes are comfortable enough to wear all day!
What type of shoes should I avoid with leather shorts?
The most important thing to keep in mind when pairing shoes with leather shorts is to make sure they don't overpower the look. Thigh-high boots or clunky sneakers are a definite no-no, as these will take away from the sleek silhouette of the shorts. Avoid wearing sandals or flip flops, as this can make the outfit appear sloppy and unfinished. Stick with classic styles that will show off the shape of your leather shorts and you'll be sure to look your best!
Useful Video: One Shorts Five Ways!- styling faux leather shorts 5ways
Conclusion
When it comes to deciding what shoes to wear with leather shorts, there are a variety of options available. Oxfords, loafers, sandals, and sneakers all look great when paired with leather shorts. When selecting which style to go for, think about the occasion and your personal taste. For a smart-casual event opt for oxfords or loafers, while for a more laid-back look sneakers are always a good option. Accessorizing is also key to completing any look – add a wide belt or statement jewelry to elevate the outfit and make it your own. Lastly, make sure that whatever you choose is comfortable enough to wear all day! With these tips in mind, you'll be ready to rock the leather shorts look in no time.
References:
https://www.thewardrobeconsultant.com/blog/what-shoes-do-you-wear-with-leather-pants
https://thegraydetails.com/what-to-wear-with-leather-shorts/
https://www.buyandslay.com/what-to-wear-with-leather-shorts/
https://leathershorts.net/what-shoes-to-wear-with-leather-shorts/
https://sewingfeed.com/what-shoes-to-wear-with-leather-shorts/