Leather jackets are a great way to stay warm and look stylish at the same time. But when is the right time to wear one? And how can you make sure you're wearing it in the most flattering way possible? In this article, we will answer all your questions about leather jackets! We'll discuss when is the best time to wear one, what style of jacket works best for your body type, and how to accessorize your outfit. So read on for all the information you need to know about rocking a leather jacket with style!
Women's Black Leather Jacket
When it comes to leather jackets, the classic black leather jacket is a timeless wardrobe staple. It's versatile enough to be worn with almost any outfit, and adds an edgy feel that sets you apart from the crowd. To make sure your look stays polished, choose a style that fits your body shape.

For petite frames, opt for an A-line design with cropped sleeves and a nipped in waist. If you have a fuller figure, try an oversized style or one with added details like zippers up the sides for more definition. [1]
Men's Black Leather Jacket with Hood
For men, a black leather jacket with a hood is an easy way to make a statement. The hood adds a touch of mystery and creates a cool, casual vibe that's perfect for any occasion. Choose one that fits your body shape and shows off your features – for broad shoulders, opt for one with slimmer sleeves and a drawstring waist; if you have narrow shoulders or shorter arms, choose one with wider sleeves. To complete the look, pair it with dark jeans or chinos and boots or sneakers.
Bristol Black Men Leather Car Coat
For a more formal look, try a Bristol black leather car coat. This timeless style is perfect for winter evenings and special occasions. It's tailored to fit and looks great with dress pants or trousers and a button-down shirt. For an extra touch of sophistication, add a tie or pocket square in a contrasting color.
Women Brown Asymmetrical Leather Jacket
For a more modern take on leather, try a brown asymmetrical jacket. This style has a cool edge to it and looks great with almost any outfit. To make sure you look your best, choose one that's fitted at the waist and flares out slightly at the bottom for a flattering silhouette. Team it with skinny jeans and ankle boots for an effortless, day-to-night look. [2]
Black Cafe Racer Leather Jacket
If you want to add a classic motorcycle vibe to your wardrobe, try a black cafe racer jacket. This style looks best with dark denim and boots or loafers for an edgy-yet-elegant ensemble. Make sure it fits snugly across the chest and arms for maximum comfort and style.
8 Occasions That are Perfect To wear a Leather Jacket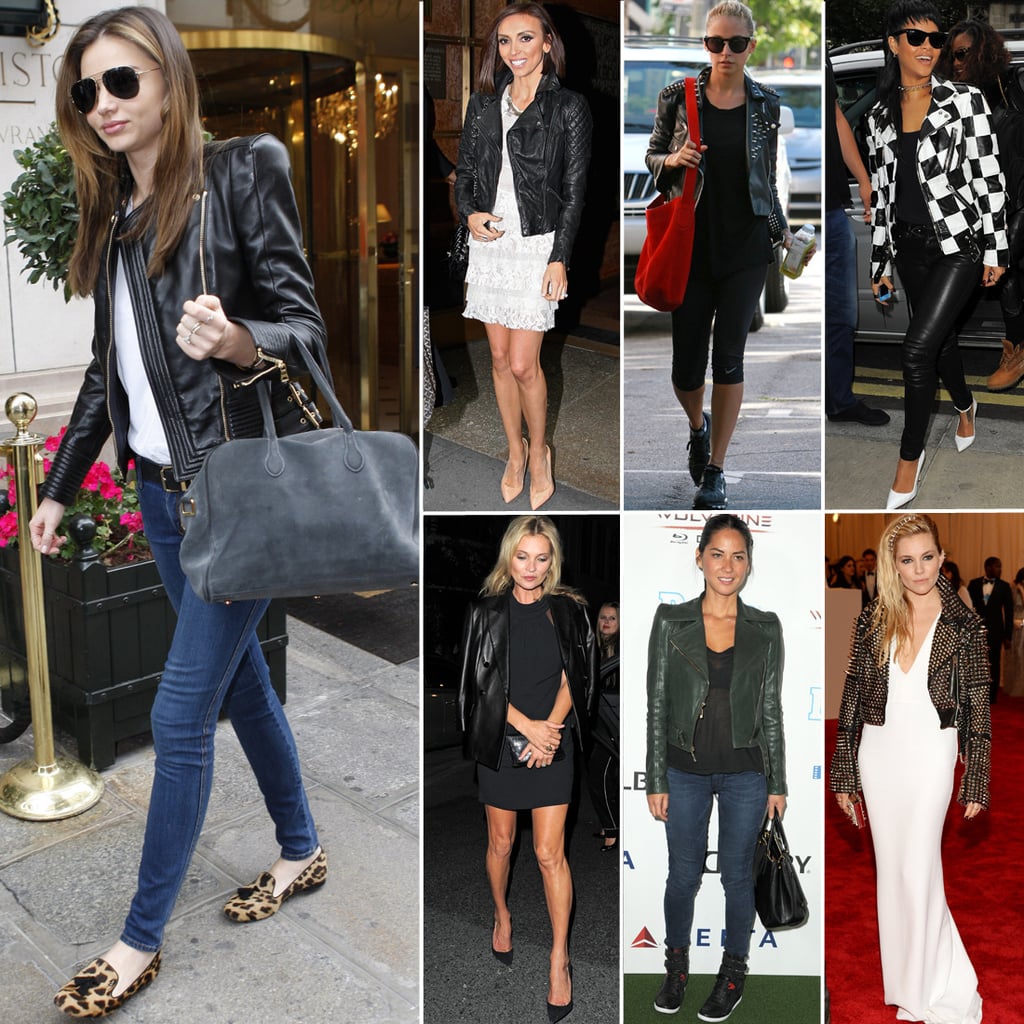 No matter what style you choose, the leather jacket is a versatile piece that can instantly upgrade any outfit. Here are 8 occasions when it's perfect to wear one.
1. While riding a bike
A leather jacket is a perfect choice for a bike ride. It will keep you warm and protected and won't get in your way while riding.
2. For a casual look
A leather jacket can be dressed down for a casual everyday look. Pair it with jeans, a t-shirt, and sneakers for a stylish weekend outfit.
3. When you feel cold
If you're feeling cold, a leather jacket is a perfect way to stay warm. It's cozy and fashionable at the same time!
4. 9 to 5
A leather jacket can give a sophisticated edge to any work outfit. Wear it with trousers and a button-down shirt for a polished 9 to 5 look.
5. For a formal appearance
When you want to look chic and put-together, a leather jacket can give you the perfect balance of casual and formal. Wear it with your favorite dress for an evening out.
6. When you are in a hurry
If you're in a hurry and need to look put-together quickly, reach for your leather jacket. It adds instant style with minimal effort.
7. For party wear
A leather jacket can add an instant edge to a party outfit. Wear it with a statement mini-dress for an unforgettable look.
8. For college or uni
A leather jacket is a great way to look stylish and cool during lectures or parties. Wear it with jeans and sneakers, or over a hoodie for a more casual vibe.
FAQ
What occasion should I wear a leather jacket on?
A leather jacket is a versatile piece that can be worn on many occasions. It looks great for casual everyday wear, dressed up with trousers and a blouse for workwear, or paired with a mini-dress and heels for an evening out.
When can you wear a leather coat?
A leather coat is a classic, timeless style that can be worn almost anywhere. It's perfect for winter evenings and special occasions, as well as for more formal looks. For a more casual vibe, pair it with jeans and boots or sneakers.
Are leather jackets for winter or summer?
Leather jackets can be worn all year round, depending on the style. Heavy leather coats are better suited for winter, whereas lighter jackets and bombers work well in summer. They are also a great way to add a layer of warmth without the bulkiness of a coat.[4]
Does a leather jacket belong to smart casual?
Yes, a leather jacket can be a great addition to a smart casual look. Wear it with trousers and a button-down shirt for an effortless and stylish outfit. For more formal occasions, choose a classic black style and dress it up with accessories.
Useful Video: How To Style A Leather Jacket As An Adult Man
Conclusion
In conclusion, a leather jacket can be a surprisingly versatile item in any wardrobe. Whether you plan to wear it all day as a fashion piece or keep it handy for evening looks, having the right kind of leather jacket is key. With so many styles and cuts to choose from, you won't have any trouble finding something that suits your style. Wearing a leather jacket offers an added layer of protection should you ever find yourself in an unexpected situation. Finally, wearing a leather jacket is an easy way to elevate any look and add dimension to your wardrobe! So if you're looking to make a bold statement, why not try wearing one today? From moto-inspired motorcycle jackets to classic pea coats, get creative and explore all the possible ways that wearing a leather jacket can enhance your look!
---
References
https://www.fjackets.com/blog/leather-jacket-women-style-guide/
https://www.pinterest.com/golfchick1/leather-asymmetrical-leather-jacket/
https://www.indoindians.com/your-guide-to-leather-jackets-styles-occasions-and-outfit-combinations/
https://curatedtaste.com/2022/10/how-to-wear-a-leather-jacket-in-the-summer.html