Baseball, a sport deeply ingrained in American culture, has intrigued fans for over a century with its intricate details and nuances. Among the most common curiosities is the composition of its primary tool – the baseball. Specifically, many wonder if baseballs are made of leather. This article seeks to unravel the answer to this question, delving into the manufacturing process of baseballs, and exploring the materials used in its construction.
What are Baseballs Made Of?
Baseballs are made from a variety of materials, but the most popular choice is leather. Leather has been used since baseballs first began to be produced in the late 19th century and continues to be used today. The exterior of the baseball is made from cowhide or horsehide while the interior is usually filled with cork or rubber. It's then stitched together with thread made of cotton or nylon.
The material used to make baseballs is not the only factor that affects the performance of a ball, however. The stitching pattern and circumference also have an effect on how a ball performs. For instance, balls with more raised seams will create more drag and spin than balls with smoother stitching. Additionally, baseballs are typically 9 inches in circumference and weigh 5 ounces.
In summary, baseballs are made of leather due to the fact that it offers superior gripping properties over other materials. The stitching pattern and circumference of the ball also affects how it performs when thrown, and breaking in a ball can help increase its longevity and make it more flexible. [1]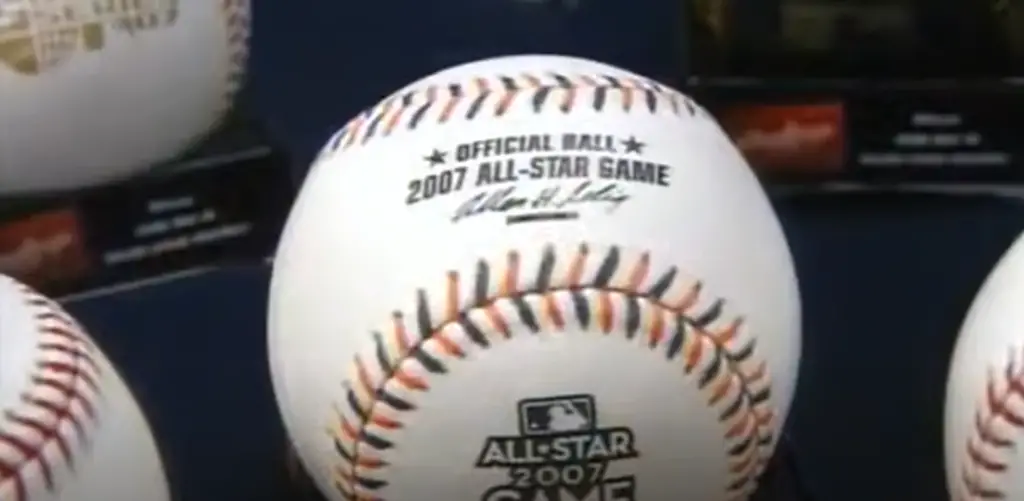 Benefits of Using Leather in Baseballs
Using leather in baseballs gives players a number of different advantages. It is an extremely durable and flexible material that allows players to control the ball better than with many other materials. Leather also has superior grip characteristics, allowing for greater accuracy when throwing or batting. The natural properties of leather also help to reduce vibration upon impact, which can help to reduce the chances of injury to both pitchers and batters alike. Lastly, leather is resistant to weather conditions which helps to maintain the integrity of the ball over a longer period of time.
In addition, using leather in baseballs also has environmental benefits. Leather is a natural material that will biodegrade much faster than synthetic materials like plastic or rubber. This makes it an excellent choice for those looking to reduce their environmental impact. Furthermore, leather baseballs are also significantly more affordable than balls made from other materials, making them an attractive option for budget-conscious players.
The History of Leather in the Sport of Baseball
Baseball has been a sport that has been popular since its invention in the mid-1800s. The game and equipment have evolved significantly over the years but one constant remains – leather. Baseballs have historically utilized leather for their construction, and it is still used today.
The earliest balls were made of pure leather with no additional material or stitching. This type of ball was not only extremely durable, but also provided a great grip for the players that would help them throw with accuracy and power. Over time, other materials were added to the mix such as yarn or rubber, but these components never fully replaced leather in baseballs.
Today's modern baseballs are made from a combination of cowhide leather and other materials such as cork, rubber, and yarn. This combination provides the perfect balance of durability, grip, and weight that is needed for the sport. [2]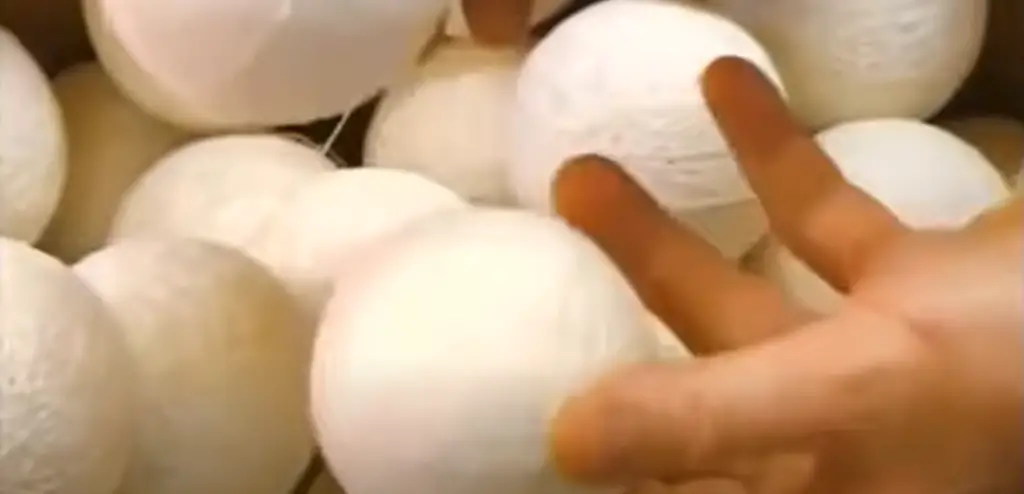 How Are Baseballs Constructed and Stitched Together?
Baseballs are usually made from cowhide leather, which is hand-stitched around a cork core. The stitching requires special machines to ensure it's tight and strong, allowing the ball to travel faster and farther when hit. After the stitching is complete, the baseball is then covered with two layers of wool yarn that are wound in opposite directions. The layers of yarn give the baseball an even shape, and protect it from tearing or splitting.
Each major league baseball is made with a raised white stitch line around its circumference to ensure that it can be seen clearly against any background color. For minor league and amateur games, the slightly softer balls are sometimes made with red stitching instead of white.
In addition to cow hide leather and stitching, baseballs also have several other components. The cork core, the wool yarn, and the rubberized substance are all important elements of the baseball construction process. Without these components, a baseball would be nothing more than a plain piece of leather.
The quality of each component is just as important as its construction. High-end balls use better materials and tighter stitching to achieve greater durability and performance. [3]
In addition to the construction of the baseball, there are a few other elements to consider when discussing the quality of a ball. The choice of leather used is key; higher-end models may use "full grain" leather which has been treated for strength and water resistance, while lesser quality balls may use split or top grain leather. Additionally, the choice of wool used in the ball's cover can affect its performance and durability; some wools are softer and more pliable than others, while other fabrics may be tougher and heavier.
So when it comes to baseballs, it's important to consider not just the construction, but also the materials that go into making a ball. Quality materials and careful construction are the key to making sure that your baseballs perform well and last for many seasons.
How Does Leather Impact Performance and Durability?
The quality of the leather used in a baseball greatly affects its performance and durability. It is important to use high-quality, full grain leather if you want your ball to be able to handle more wear and tear without compromising its playability. Full grain leather has been treated for strength and water resistance, making it less likely to crack or tear over time.
Split and top grain leathers are often used in lower quality baseballs because they are cheaper to manufacture. While these leathers can be just as durable as full grain, they may not last as long or provide the same level of performance.
The stitching on a baseball is also important; if the stitches are too loose, the ball will be less durable and more likely to come apart. And if the stitching is too tight, it can affect the ball's performance by creating a harder surface that won't allow for as much spin or movement when hit.
Finally, the quality of the wool used in a baseball's cover will also have an impact on its performance and durability. Higher-end wool fabrics are more pliable and less likely to absorb moisture, which can help reduce the risk of mold or mildew. On the other hand, some wools may be tougher and heavier, resulting in a harder surface that won't allow for as much spin or movement when hit. [4]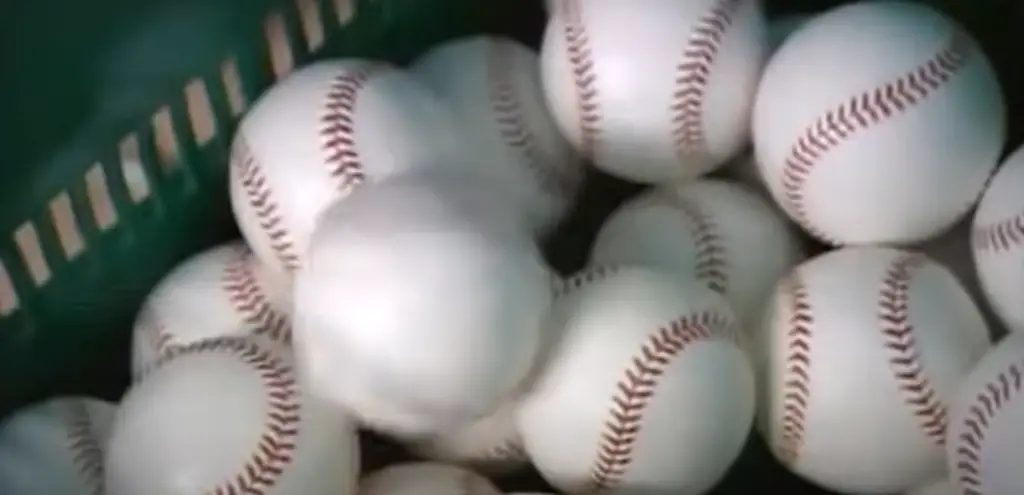 Manufacturers and Suppliers of Baseballs
When it comes to baseballs, there are many manufacturers and suppliers out there. Most notably, Rawlings is the official supplier of Major League Baseball (MLB) balls. But other companies such as Wilson, Spaulding, Diamond, and Worth also make quality baseballs for recreational use. All of these companies have a long history in the sport, with some having been around since the 1800s.
Different Types of Baseballs
When it comes to the materials used in baseballs, there are several different types. The most commonly used materials include cowhide leather, synthetic polyurethane, and rubber.
Cowhide leather is an ideal material for a baseball because of its durability and ability to absorb moisture from the air. This helps to ensure that the ball does not get too hard when it is used in humid climates. Additionally, cowhide leather is very easy to work with and can be made into a variety of shapes and sizes.
Synthetic polyurethane is another popular material for baseballs. This type of material is lightweight and durable, making it perfect for use in outdoor games. The synthetic polyurethane also has a superior grip, allowing the ball to be held more securely.
Rubber is also occasionally used to make baseballs. It is lighter than leather and synthetic polyurethane, but it still provides a reliable amount of power when thrown. Rubber baseballs are perfect for younger players who need something more lightweight and durable than regular-sized baseballs.
Regardless of the material used, all baseballs are designed to be highly durable and long-lasting. When it comes to choosing a ball for your game, make sure to consider the type of material used in order to ensure that you get the best performance out of your ball! [5]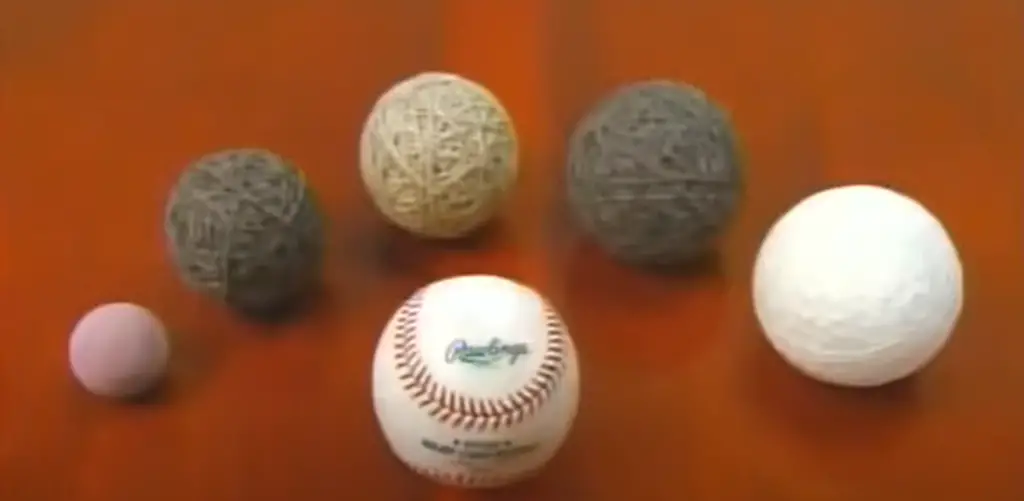 Care and Maintenance for Baseballs
Proper care and maintenance of your baseballs is essential for ensuring that they continue to perform their best. To keep your balls in top shape, it's important to regularly clean them using a gentle detergent and warm water, then dry them thoroughly afterwards. Additionally, store the balls away from direct sunlight when not in use, as this can damage the material over time.
If you plan on using your baseballs in wet or humid conditions, it's important to give them extra attention. Before and after each use, make sure to wipe the ball down with a clean towel to prevent dirt and grime from building up on the surface of the ball. Additionally, try to keep your balls away from moisture for extended periods of time, as this can cause the material to break down.
By following these simple care instructions, you can help ensure that your baseballs will remain in top condition for many years to come!
FAQs
What is a baseball made of?
A baseball is typically made of cowhide leather, synthetic polyurethane, or rubber. The material used depends on the type of ball and its intended purpose.
How often should I clean my baseballs?
You should clean your baseballs after each use with a gentle detergent and warm water. Dry them thoroughly afterwards, and store them away from direct sunlight when not in use.
How do I know which material to choose for my baseballs?
When selecting a material for your baseballs, consider the type of ball you will be using and the environment in which it will be used. Cowhide leather is ideal for humid climates due to its ability to absorb moisture, while synthetic leathers are perfect for dry climates because they don't absorb as much water. Synthetic materials also tend to be more durable and offer greater resistance against dirt and other damages. In addition, the type of game you are playing will influence the material you select, as some games require a softer ball than others.
The most important thing to consider is the quality of the material. The best baseballs are made of high-quality materials that will provide superior performance and durability, even in challenging environments. Be sure to check labels and choose reputable brands for your baseballs to ensure you get the most out of them.
Finally, it's worth noting that aside from cowhide leather and synthetic leather, baseballs can also be made of other materials such as rubber and cork. All three materials have their advantages and should be chosen based on the type of game being played. Rubber baseballs are often used in batting cages because they provide a soft, low-impact surface for practice swings. Cork is popular in youth leagues due to its flexibility, while leather is ideal for professional or college games.
What maintenance do I need to do on my baseballs?
Regardless of the material used, all baseballs require some maintenance to stay in top condition. Use a soft cloth and gentle soap to clean off dirt and other debris after every use. If the ball is made of leather, use a conditioning cream or oil occasionally to keep the material supple and prevent cracking. For synthetic balls, avoid cleaning agents that contain harsh chemicals or abrasives, as this can damage the surface.
Finally, be sure to store your baseballs properly when not in use. Leather balls should be kept in a cool and dry place, while synthetic balls should be stored in a dark room with low humidity levels. This will help ensure that your baseballs stay in good condition for years to come.
How do I know which baseballs are right for me?
The best way to choose the right baseballs for your game is to consult with a knowledgeable team sports retailer. They will be able to provide you with advice on the best materials for your particular environment and sport, as well as information about maintenance and proper storage of your baseballs. With their expert guidance, you can make an informed decision and get the most out of your baseballs!
Is the covering of a baseball made from real leather?
Yes, the covering of a baseball is typically made from cowhide leather. This material provides excellent grip and durability, and is ideal for humid climates due to its ability to absorb moisture. To ensure you get the highest quality, be sure to choose your baseballs from reputable brands. In addition, use a conditioning cream or oil occasionally to keep the material supple and prevent cracking. With proper care, cowhide leather can provide superior performance and durability for many years.
What determines the quality of a baseball?
The quality of a baseball is determined by the material it is made from as well as the craftsmanship involved in its construction. Higher quality baseballs are typically constructed from premium materials such as cowhide leather, which provides excellent grip and durability. In addition, they are often hand-stitched together to ensure the seams won't come apart over time. Finally, reputable brands typically use quality control measures to ensure the baseballs meet industry standards. Choosing a high-quality baseball will help you get the most out of your game!
Useful Video: How It's Made Baseballs
Conclusion
When selecting baseballs, consider the type of ball you will be using, the environment in which it will be used and the quality of the material. Cowhide leather is ideal for humid climates due to its ability to absorb moisture, while synthetic leathers are perfect for dry climates because they don't absorb as much water. In addition, make sure to store your baseballs properly when not in use and use a soft cloth and gentle soap to clean off dirt and other debris after every use. With the right baseballs, you can enjoy superior performance for many years to come!
References:
https://ecosports.com/blogs/vegan-athletes/what-are-baseballs-made-of
https://www.cargill.com/connections/play-ball/
https://wonderopolis.org/wonder/what-are-baseballs-made-of
https://99baseballs.com/equipment/which-is-better-leather-baseball-or-synthetic-baseball/
https://www.sportsrec.com/341132-what-materials-are-baseballs-made-of.html