Brahmin bags – a symbol of sophistication and timeless style – have always been a subject of interest for fashion-conscious individuals. However, a question that often arises among potential buyers is whether these luxury bags are made of real leather. This article aims to address this concern and provide a comprehensive insight into the materials used in the crafting of Brahmin bags.
What is Real Leather?
Genuine leather is a premium material crafted from animal hides. Through tanning and conditioning, it gains enhanced durability. The strength, flexibility, and innate beauty of real leather make it a popular choice for crafting exquisite items such as bags, wallets, and shoes.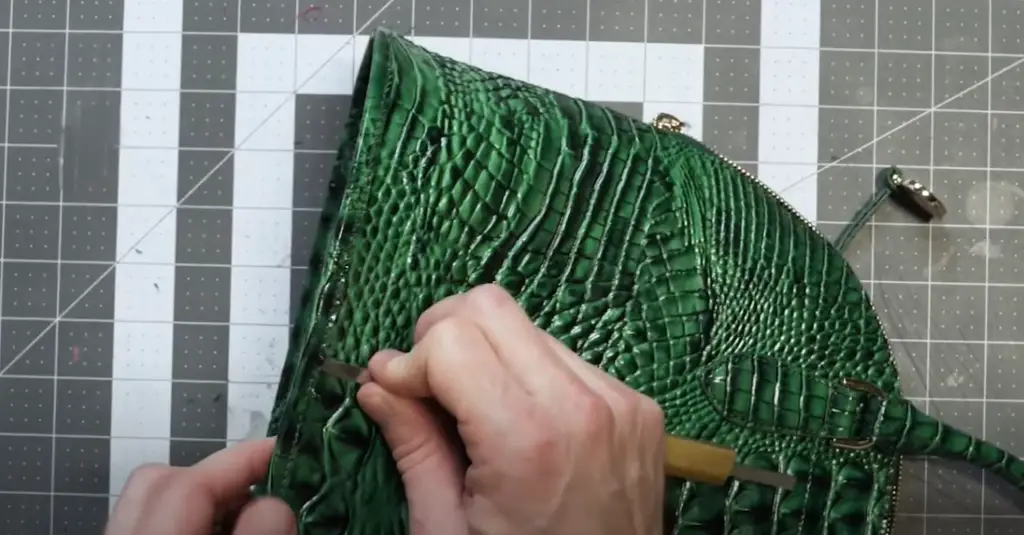 Understanding Leather Used in Brahmin Bags
Leather stands as one of the most sought-after materials for Brahmin bags. Renowned for its durability and elegance, it encompasses the very qualities bag enthusiasts desire. But what type of leather does Brahmin use?
Brahmin remains steadfast in their commitment to crafting bags solely from the finest full-grain leathers. This type of leather stands as the epitome of excellence, possessing unparalleled strength and durability. By preserving the natural grain without any sanding, buffing, or snuffing, it embodies a luxurious aesthetic and tactile sensation.
So, when you buy a Brahmin bag, you can be sure that you're getting a product made from real leather that's sourced responsibly and will last you for years to come. [1]
How Does Full-Grain Leather Compare To Other Types?
Full-grain leather represents the pinnacle of leather quality, yet various other types of leather find their way into bags. Some brands opt for top-grain or corrected grain leathers, which are of lower grade and undergo buffing or sanding to enhance their appearance.
While top-grain and corrected grain leathers might be more affordable to manufacture, they lack the durability of full-grain leathers. They are prone to cracking and wearing out quickly, which is precisely why Brahmin exclusively employs the finest quality leather for their bags.
It is worth mentioning that certain bags may be crafted using synthetic leather, a material created by humans. While it may resemble genuine leather in appearance and texture, it lacks the same durability and resilience. If you are seeking a bag that will withstand the passage of time, opting for full-grain leather is undoubtedly the ideal choice.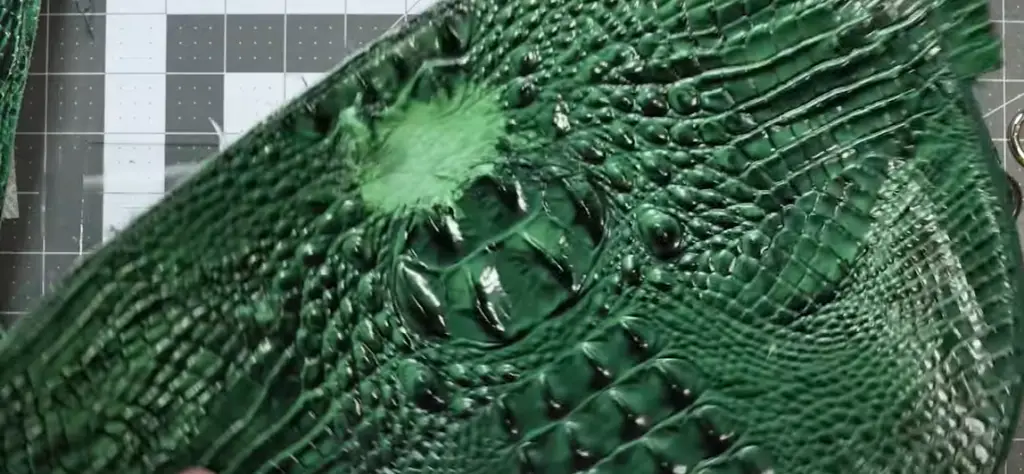 Types of Leather Used by Brahmin
Brahmin is renowned for its exceptional use of genuine leather in crafting their bags, wallets, and accessories. With an unwavering commitment to the highest quality standards, Brahmin meticulously selects the finest leathers available to create their products with unparalleled attention to detail.
The predominant leather type cherished by Brahmin is full-grain leather. Derived from the finest hides, full-grain leather exhibits a natural grain pattern that defines its character. It undergoes minimal buffing and sanding to preserve its distinctive texture and innate qualities. This type of leather boasts remarkable durability and gracefully ages over time, making it an ideal choice for those seeking a timeless aesthetic.
Brahmin incorporates top-grain leather in their bags, which undergoes a meticulous process of buffing and sanding to eliminate any flaws or imperfections. A protective coating is then applied, enhancing its durability and safeguarding it from the elements. While not as rugged as full-grain leather, top-grain leather exudes a timeless charm that endures for years.
Moreover, Brahmin employs genuine suede in their bags and wallets. Suede originates from lower-grade leather hides, split to achieve a softer texture. It possesses a delicate nature compared to full-grain or top-grain leather, necessitating special care when cleaning or storing your Brahmin products.
No matter what type of leather you choose, Brahmin is committed to delivering the highest quality products that are sure to stand the test of time. When shopping for your next bag or wallet, be sure to look for the Brahmin logo as a sign of superior craftsmanship and real leather construction. [2]
The Benefits of Real Leather Products
Real leather products like those made by Brahmin are not only stylish, they also come with a host of benefits that synthetic materials simply can't match.
First and foremost, genuine leather is exceptionally resilient and will endure for years with proper maintenance. This makes it an excellent option when seeking bags or wallets that can withstand the test of time. Additionally, the material develops a unique patina over time, imbuing your accessories with a distinct character that synthetic fabric simply cannot replicate.
Real leather is also breathable and comfortable against the skin, making it an ideal choice for bags and wallets you will be carrying with you all day. And because Leather absorbs moisture, spills won't ruin your bag or wallet as easily as with synthetic materials.
Finally, real leather is a sustainable and eco-friendly choice for those who want to make an ethical fashion statement. Leather is a natural material that won't contribute to the negative environmental impact of plastic pollutants like synthetic fabrics do.
With so many benefits, it's easy to see why Brahmin and other high-end fashion brands use real leather for their products. Investing in a quality, real leather product guarantees that you will be getting a stylish and timeless accessory that will last for many years to come.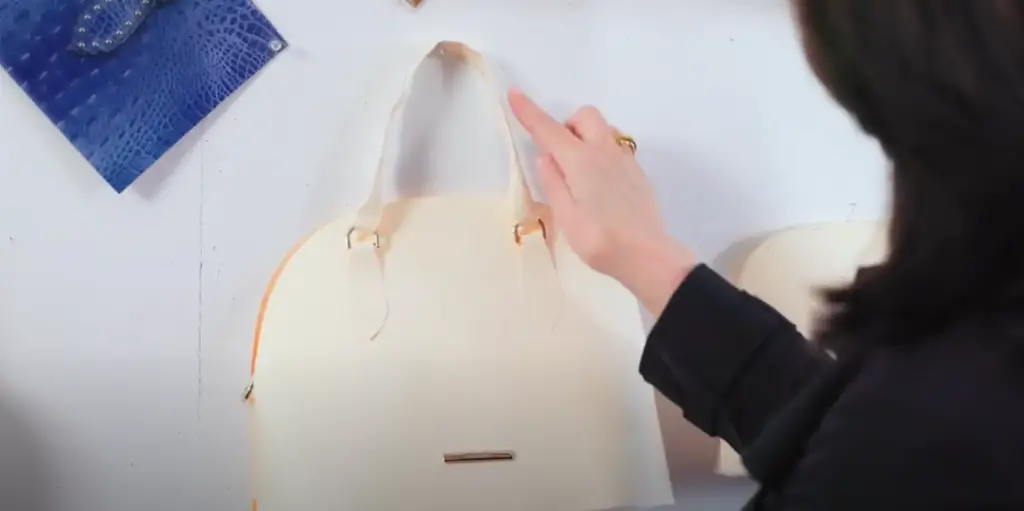 What Makes Genuine Leather Different from Faux Leather?
When shopping for a leather bag, it is important to know the difference between genuine leather and faux (or fake) leather. Genuine leather is made from real hides, while faux leather is made from synthetic materials such as polyurethane or polyvinyl chloride.
Genuine leather has unique characteristics that make it superior to faux options. For starters, it is incredibly durable and will last for years when properly cared for. It also has a unique patina which develops over time as you use it, giving your accessories a distinct character that no synthetic fabric can match.
While faux leather may cost less than genuine leather, it will not be able to hold up over time like real leather can. For a long-lasting bag or wallet that you can rely on, choose a genuine leather option from Brahmin. [3]
Caring for Your Genuine Leather Accessories
With proper care and attention, genuine leather products like those made by Brahmin will last for many years. Here are some tips to help you keep your bags and wallets looking their best:
Store your leather accessories in a cool, dry place, away from direct sunlight.
Clean leather accessories with a soft cloth and mild soap solution. Avoid harsh chemicals or abrasive cleaners that could damage the leather.
Condition your leather to protect it against contaminants and extend its lifespan. Use a natural oil-based conditioner designed for use on genuine leather products.
By caring for your genuine leather products properly, you can ensure that they will last for many years to come. Invest in a quality product from Brahmin and enjoy the timeless style and lasting durability of real leather. [4]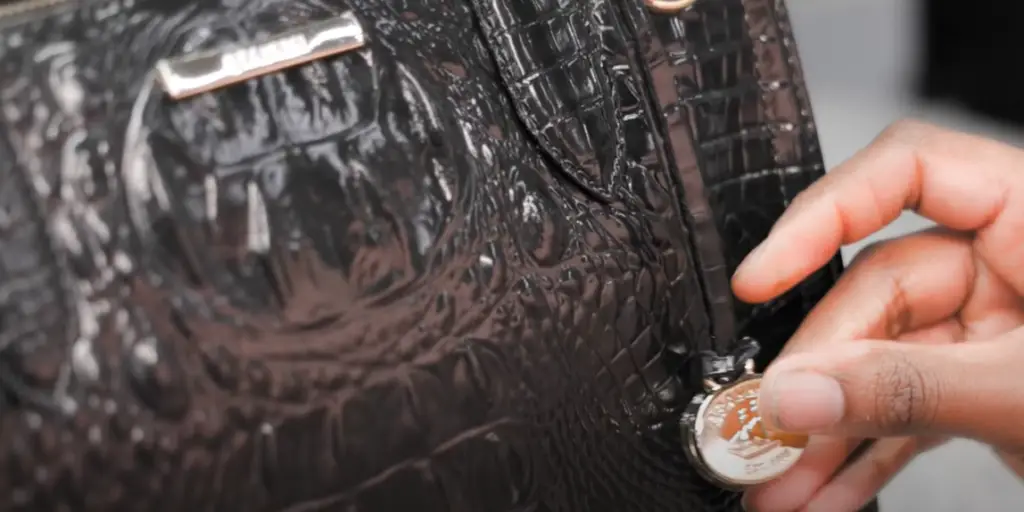 Benefits of Owning a Brahmin Bag
When you invest in a genuine leather bag from Brahmin, you'll benefit from an accessory that is both stylish and timeless. Not only will it look great, but its superior craftsmanship also guarantees lasting quality that will stand the test of time. With proper care, your Brahmin bag can become a treasured possession that you take with you anywhere and everywhere.
The classic design of Brahmin bags also makes them incredibly versatile and suitable for any occasion, from work to play. You can choose from a variety of styles and colors to find the perfect accessory that fits your individual style. Whether you're looking for something professional or casual, you'll be sure to find the perfect bag in the Brahmin collection.
So if you're looking for an accessory that is both stylish and practical, look no further than a genuine leather bag from Brahmin. Invest in quality and enjoy the benefits of owning a timelessly classic piece of fashion that will last for years to come. [5]
Are All Leather Bags Durable?
The durability of a leather bag depends on the type of leather used in its construction. Full-grain, top-grain and genuine leather are all incredibly durable materials that can withstand regular use and provide years of service when properly cared for.
In contrast, faux leather is made from plastic-based materials which lack the same level of durability and longevity as genuine leather. Faux leather can become brittle over time, making it an impractical choice for carrying items all day.
When shopping for a leather bag or wallet, be sure to look for the words 'genuine leather' or 'full-grain leather' on the tags. This will guarantee that you are getting a high-quality product that will last for years to come.
At Brahmin, we use only the finest full-grain or top-grain leather in our bags and wallets so you can be sure that you're getting a high-quality product. Invest in a genuine leather bag from Brahmin and enjoy the timeless style and lasting durability of real leather. [6]
FAQs
What are Brahmin bags made of?
Brahmin bags are made of genuine leather. Each bag is carefully crafted from the highest quality materials and inspected for quality assurance. The highest standard of craftsmanship is used in creating each one-of-a-kind piece, ensuring you get a product that will last for years to come.
How durable are Brahmin bags?
Brahmin bags are designed to be long-lasting and durable. Every bag is crafted using the finest quality leather, which ensures that your Brahmin bag will stand up against everyday wear and tear. The careful attention to detail in every piece of workmanship also helps extend the life of your bag.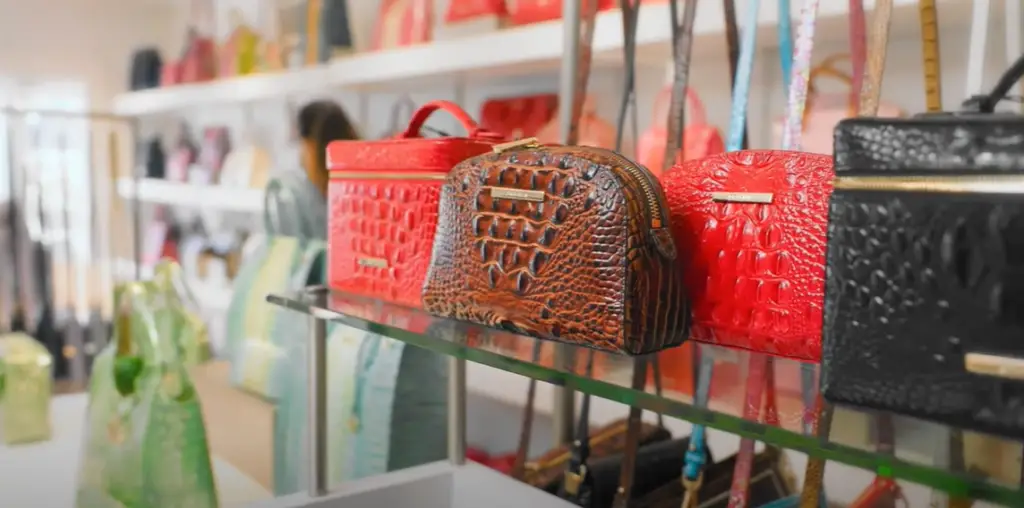 How do I care for my Brahmin bag?
To maintain the quality and longevity of your Brahmin bag, it's important to care for it properly. Be sure to regularly clean the leather with a damp cloth or leather cleaner. You should also condition the leather on a regular basis with a quality leather-care product. Additionally, store your bag in a cool and dry space away from direct sunlight and moisture.
Do Brahmin bags come in different sizes and colors?
Absolutely! Their collection of high-quality Brahmin bags come in a variety of sizes, shapes, and colors to fit any style.
The popular combinations include colorful patterns, vibrant spring hues, and classic neutrals. Many of their signature bags feature an array of tastefully-coordinated colors to choose from when selecting your new accessory.
Furthermore, you'll never fall short on options for the perfect size bag. Whether you're looking for a smaller day bag or an oversize duffle, you'll be able to find the ideal Brahmin bag for your needs.
Their selection of handbags includes everything from trendy crossbody bags and stylish satchels to timeless totes and must-have clutches. With their extensive variety, you can easily find a beautiful real leather bag that fits your style.
What is the best way to buy a Brahmin bag?
One of the most convenient ways to purchase your Brahmin bag is online. By shopping on their website, you can browse their entire selection and quickly find the perfect bag for your needs. Additionally, they often feature exclusive discounts and sales that make purchasing a Brahmin bag even more affordable.
You can also shop at a variety of retailers across the country that carry the entire Brahmin collection. This gives you an opportunity to touch and feel the bags before making your purchase, so you can be certain that you're getting exactly what you want.
No matter where or how you shop for a Brahmin bag, rest assured knowing that all of their handbags are made with authentic real leather.
Are there any special offers available on Brahmin bags?
Yes! Brahmin frequently offers special promotions and discounts for their customers. From seasonal sales to exclusive deals, you can find a variety of ways to save on your new bag.
For instance, they sometimes offer free shipping or reduced prices when you purchase multiple items at once. Make sure to check back often so that you don't miss out on any amazing offers.
They also have a points rewards program which allows you to earn points for every purchase. Then, you can use your accumulated points to get discounts on future orders.
When you shop with Brahmin, you're guaranteed authentic real leather bags at the best prices around. With their selection of discounts and sales, it's easy to find the perfect bag for your style at an unbeatable price.
Does Brahmin offer any warranties for their bags?
Absolutely! Brahmin stands behind their products and wants to make sure that customers are satisfied with their purchase. They offer a one-year limited warranty, which covers any material or craftsmanship defects on your bag.
If you experience any issues with your bag within this one year period, you can contact them for repairs or replacements free of charge.
Additionally, their warranty also covers any kind of accidental damage that your bag may experience. If it gets stained, scratched, or otherwise compromised, you can get in touch with them to take advantage of this valuable service.
How can I tell if my Brahmin bag is made of real leather?
Authentic Brahmin bags are crafted with genuine leather which ensures they are durable, resilient and last for years. You can easily identify the material of your Brahmin bag by looking at its texture and feel. Genuine leather is soft to the touch yet stiff in structure, while faux leather will feel more plasticky or rubbery.
You can also look for the Brahmin logo on the inside of your bag. All genuine Brahmin bags will include a signature logo as well as embossed details throughout to show its authenticity.
Are there any vegan or non-leather options available from Brahmin?
Yes! Brahmin also offers a range of stylish handbags crafted with vegan leather. With its modern designs and timeless appeal, you can enjoy the beauty of classic Brahmin bags without compromising your values.
These vegan styles may be made from polyurethane or microfiber materials that look and feel similar to genuine leather but are animal-friendly. Vegan Brahmin bags are specially designed to look as luxurious and timeless as the genuine leather styles.
What is the quality of the leather used in Brahmin bags?
The quality of the leather used in Brahmin bags is top notch. Every Brahmin bag is made with genuine full-grain leather, which is the finest quality you can find. This premium grade material offers durability and strength, as well as a luxurious feel and look that will keep your bag looking great for years to come. Full-grain leather is also water-resistant, so you don't have to worry about it getting ruined in wet weather.
Are Brahmin bags ethically sourced?
Yes! Brahmin bags are always ethically sourced from the finest tanneries around the world. The company stands behind its commitment to sustainability and humane work practices. Every hide used is a by-product of the food industry, meaning that it would otherwise go to waste. Furthermore, Brahmin's tannery partners are certified by the Livestock and Husbandry Association for animal welfare and environmental safety standards.
Useful Video: Real Crocodile Leather? Brahmin Leather Bag Review
Conclusion
Brahmin bags are an excellent choice for anyone looking for a quality leather product that is ethically sourced and made to last. If you're searching for a stylish, reliable bag, the Brahmin brand is definitely one to consider. Whether it's a classic handbag or a sleek briefcase, you can be sure that your purchase will stand the test of time.
No matter what kind of bag you're looking for, Brahmin has something that will fit your lifestyle and budget. With a wide selection of styles and colors, there is sure to be something perfect for every occasion. So, go ahead and treat yourself – you deserve it! Start searching for the perfect Brahmin bag today.
References:
https://www.brahmin.com/texture-guide.html
https://handbag.yournextshoes.com/brahmin/
https://www.leaf.tv/articles/how-to-determine-if-a-brahmin-bag-is-authentic/
https://www.janemarvel.com/where-are-brahmin-bags-made/
https://www.mychicobsession.com/brahmin-handbags-reviews/
https://www.honestbrandreviews.com/reviews/brahmin-review/