Leather dresses have established themselves as a cornerstone of contemporary fashion, straddling the line between edgy and sophisticated with remarkable elegance. Finding the ideal shoes to complement your leather dress can sometimes be a daunting task. Choosing the perfect footwear can enhance your outfit, adding a personal touch while maintaining overall harmony. This guide offers valuable insights and suggestions on pairing your leather dress with the ideal shoes, allowing you to make a stylish fashion statement on any occasion.
The Versatility of Leather Dresses
A leather dress is a timeless fashion staple that has been adored for decades. With its sleek and edgy appearance, it effortlessly adds a touch of sophistication to any ensemble. Leather dresses are available in a variety of styles, ranging from bodycon to A-line, ensuring suitability for all body types.
Now, the question arises: what shoes perfectly complement a leather dress? Here are some options to consider.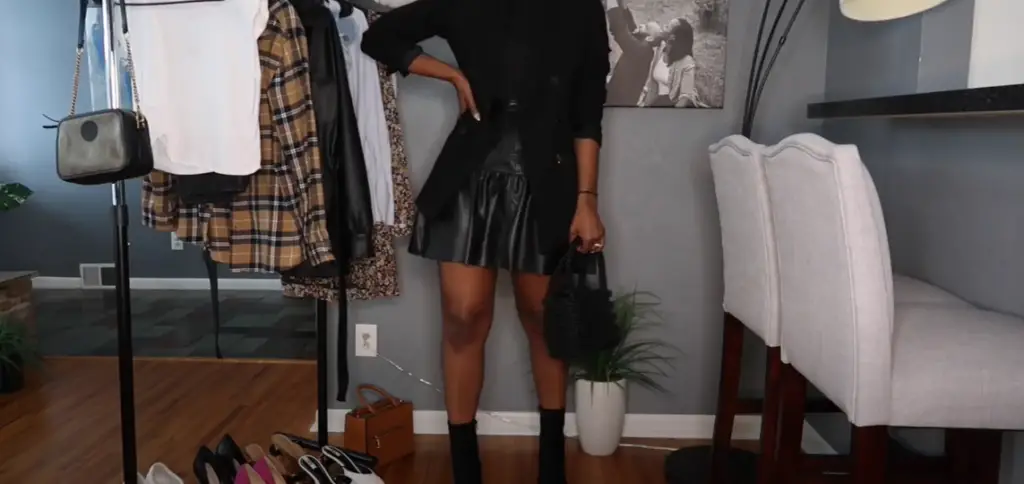 Choosing the Right Shoes for a Leather Dress
Classic Pump Heels
To achieve a timeless and elegant appearance, complement your leather dress with classic pump heels. These shoes not only provide added height, but also elongate your legs, making them a perfect choice for any occasion. For a sleek and chic outfit, opt for black pumps. Alternatively, you can add a pop of color by selecting bold shades like red or pink.
Ankle Boots
Ankle boots offer a versatile option for pairing with a leather dress. They inject a hint of edginess into the outfit and are ideal for cooler weather. Depending on the desired aesthetic, you can choose between chunky or stiletto heels. For a more relaxed vibe, opt for ankle boots made of suede or in a lighter shade such as tan. [1]
Strappy Sandals
To achieve a feminine and delicate aesthetic, complement your leather dress with elegant strappy sandals. They infuse a hint of glamour and are ideal for a romantic evening or any special event. Opt for heels in metallic tones such as gold or silver to impart a touch of brilliance to your ensemble.
Sneakers
Who says you can't pair sneakers with a leather dress? This unexpected combination is ideal for achieving a casual and effortless aesthetic. For a minimalist look, opt for white or black sneakers, or make a statement with bold colors and prints. Embrace the versatility of this ensemble and create a unique style that exudes confidence and individuality.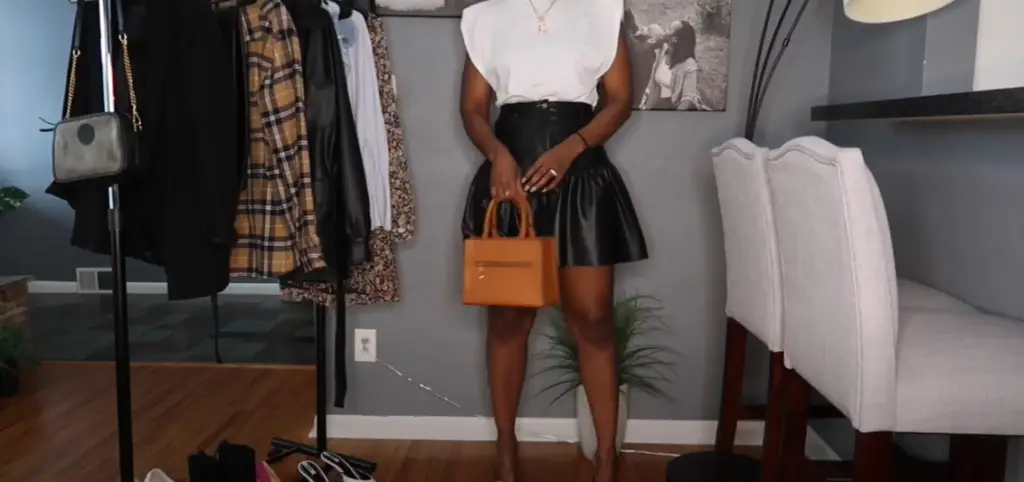 Styling Tips for Leather Dresses
When selecting footwear to pair with your leather dress, take into account the occasion and the desired overall style you wish to achieve.
To achieve a stylish and edgy appearance, consider pairing your leather dress with chunky boots or combat boots. This combination adds a touch of boldness and attitude to your outfit, creating a unique and fashionable look.
Enhance the texture and dimension of your outfit by combining a leather dress with suede or velvet shoes.
To achieve a relaxed and effortless style, complement your leather dress with flat sandals or espadrilles.
Embrace the art of mixing and matching styles fearlessly. A leather dress possesses the versatility to be both dressed up or dressed down, depending on the shoes you choose to complement it with. [2]
What Do You Wear With Brown Leather?
Brown leather is a timeless and versatile material that can be styled in various ways. From jackets to shoes, it adds a touch of warmth and richness to any outfit. But what should you wear with brown leather? Here are some styling ideas:
Neutral Colors
When wearing brown leather, stick to neutral colors like black, white, gray, or beige. These colors complement the warmth of brown leather and create a classic and timeless look.
Denim
Denim is another versatile material that pairs well with brown leather. A denim shirt or jacket paired with brown leather pants or boots creates a cool and casual look.
Earthy Tones
For a more bohemian vibe, pair your brown leather with earthy tones like olive green, mustard yellow, or burnt orange. These colors complement the richness of brown leather and create a warm and earthy look. [3]
Prints
Don't be afraid to add some prints and patterns to your outfit. A floral dress paired with a brown leather jacket creates an interesting contrast between feminine and edgy styles.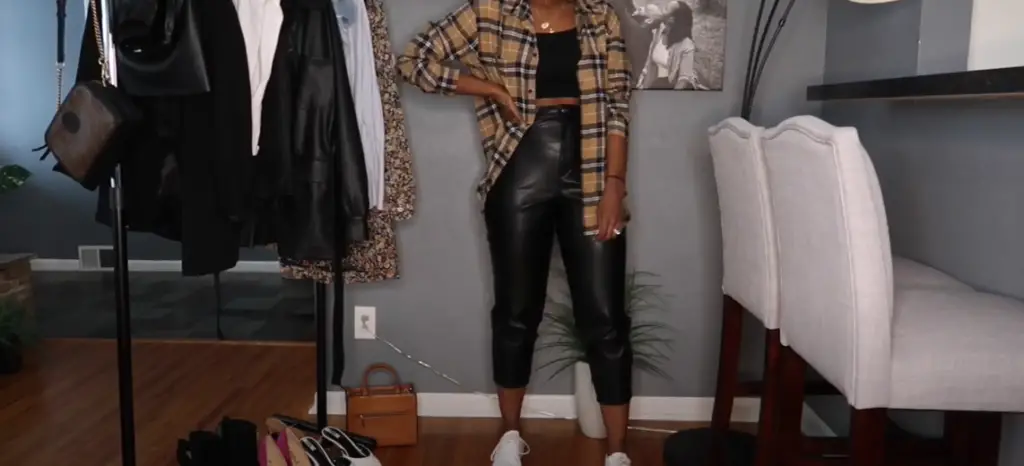 Tips for Styling Brown Leather
When wearing a brown leather jacket or pants, make sure to keep the rest of your outfit simple and let the leather be the statement piece.
Brown leather shoes can be paired with a variety of outfits, from jeans and t-shirts to dresses and skirts.
Don't be afraid to mix different shades of brown. A monochromatic look with different shades of brown creates a cohesive and sophisticated outfit.
Experiment with different textures and materials. Brown leather pairs well with suede, denim, and even lace.
What Color Looks Best On Leather?
Leather is a versatile material that comes in various shades and colors. However, some colors look better on leather than others. Here are some colors that complement leather:
Black
Black is a classic and timeless color that looks great on leather. It creates a sleek and edgy look and can be paired with almost any other color.
White
White is another versatile color that looks great on leather. It adds a touch of elegance and creates a crisp and clean look when paired with black or other neutral colors. [4]
Red
Red is a bold and vibrant color that looks stunning on leather. Whether it's a red leather jacket or pants, this color makes a statement and adds some excitement to any outfit.
Metallics
Metallic shades like gold, silver, and bronze look amazing on leather. They add some shine and glamour to the outfit and are perfect for special occasions or a night out.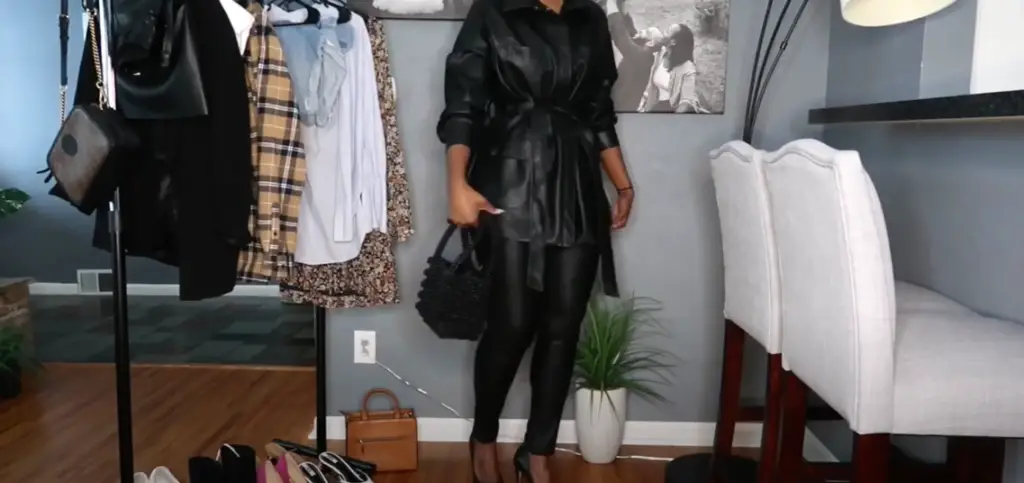 Styling Tips for Leather in Different Colors
When wearing colorful leather, keep the rest of your outfit simple to let the color be the focus.
Experiment with different shades of the same color. For example, a light pink leather jacket paired with a dark pink dress creates a monochromatic look.
Don't be afraid to mix and match colors. A colorful leather jacket can add some fun and personality to any outfit.
Consider the season when choosing the color of your leather piece. Bright colors are perfect for spring and summer, while darker shades work well for fall and winter.
Do You Need To Match Leather?
There is no rule that says you have to match your leather pieces. In fact, mixing and matching different textures, colors, and styles can create an interesting and unique look. However, there are some tips to keep in mind when wearing multiple leather pieces:
Stick to a color scheme: While it's not necessary to match the exact shade of leather, sticking to a cohesive color scheme can create a more polished and put-together look.
Experiment with textures: Mixing different textures, like smooth leather and suede, can add dimension to your outfit.
Balance proportions: If wearing multiple leather pieces, make sure to balance them out. For example, if you're wearing a fitted leather jacket, opt for looser leather pants or vice versa.
Consider the occasion: While mixing leather pieces can create a cool and edgy look, it may not be appropriate for every occasion. Consider the dress code and the event when styling your outfit. [5]
What Do You Wear With Leather?
Wearing a leather dress can be a bold and stylish fashion statement, but it can also leave you wondering what shoes to pair with such a unique piece. Leather is a versatile material that can be dressed up or down, so the options for shoe choices are endless. In this article, we will explore some of the best shoe options to wear with a leather dress.
How to Maintain a Leather Dress?
Since leather is a luxurious and high-quality material, it is important to properly maintain your leather dress to ensure its longevity. Here are some tips for keeping your leather dress looking its best:
Avoid exposing your leather dress to direct sunlight for long periods of time, as this can cause fading and damage.
Store your leather dress in a cool and dry place when not in use, and avoid hanging it in direct sunlight.
Avoid getting your leather dress wet, as this can cause discoloration and damage. If it does get wet, gently pat dry with a soft cloth and allow it to air dry.
Use a specialized leather conditioner or cleaner to keep your leather dress looking shiny and supple.
If your leather dress gets stained, it is important to act quickly and remove the stain as soon as possible. Use a gentle cleaner specifically made for leather and follow the instructions carefully.
By taking proper care of your leather dress, you can ensure that it remains a timeless and stylish piece in your wardrobe for years to come.
Pros and Cons of a Leather Dress
As with any fashion choice, there are both pros and cons to wearing a leather dress. Let's take a look at some of the benefits and drawbacks of this statement piece:
Pros:
Leather dresses are versatile and can be dressed up or down for different occasions.
They add a touch of edginess and sophistication to any outfit.
Leather is a durable material that can withstand wear and tear.
Leather dresses come in a variety of styles, colors, and lengths, making it easy to find one that suits your personal style.
Cons:
Leather dresses can be expensive compared to other materials.
They require special care and maintenance to keep them looking their best.
Some people may have ethical concerns about wearing real leather. In this case, faux leather alternatives can be a great option.
Overall, the pros of wearing a leather dress far outweigh the cons. It is a versatile and stylish choice that can elevate any outfit. [6]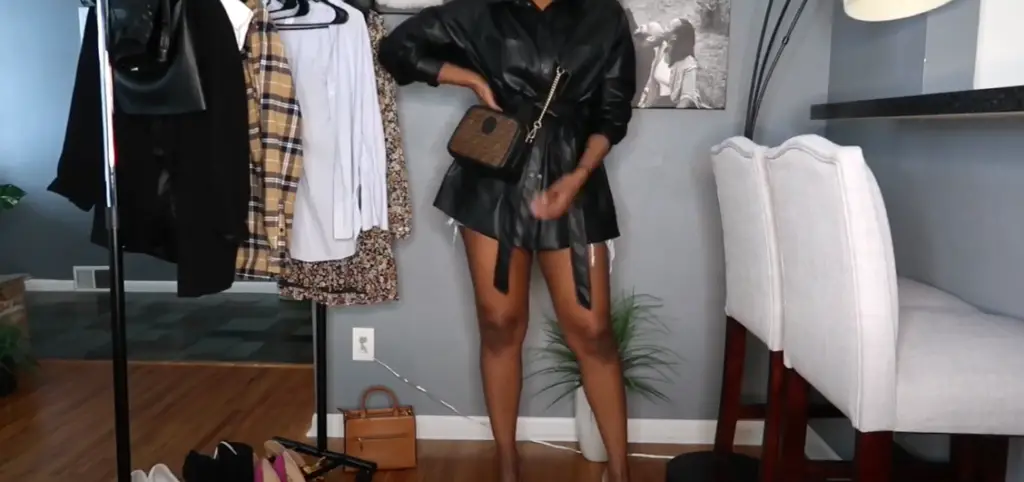 How to Clean a Leather Dress?
Cleaning a leather dress can seem intimidating, but it is actually quite simple with the right tools and techniques. Here are some steps to follow when cleaning your leather dress:
Start by brushing off any dirt or debris from the surface of the dress using a soft-bristled brush.
Mix a small amount of mild soap (such as baby shampoo) with warm water in a bowl.
Dip a soft cloth into the soapy water and gently scrub any stained areas on the leather dress.
Rinse the soap off with a clean, damp cloth and pat dry with a towel.
Use a specialized leather conditioner to restore moisture and shine to the leather.
Hang the dress in a well-ventilated area to air dry, away from direct sunlight or heat sources.
Accessories Complimenting Leather Dresses
To complete your leather dress look, consider adding some accessories that will enhance the outfit. Here are a few ideas to get you started:
A statement belt: Add a bold and eye-catching belt to cinch in your waist and add some definition to your silhouette.
Bold jewelry: Leather dresses can handle chunky and oversized jewelry, so don't be afraid to go for statement pieces.
A structured handbag: Pairing a leather dress with a structured and elegant handbag can add a touch of sophistication to your look.
Ankle boots or heels: To keep the edgy vibe of a leather dress, opt for ankle boots or stiletto heels as your shoe choice. Both options will elevate the outfit and add some height.
FAQs
What color shoes should I wear with a black leather dress?
Black is a versatile color that can be paired with several shoe colors. For a classic look, opt for black or nude shoes to complement the dress. If you want to add some contrast, consider pairing the dress with red or metallic shoes.
Can I wear sneakers with a leather dress?
Yes, you can! Leather dresses are no longer limited to formal events and can be dressed down with a pair of sneakers. Opt for white or black sneakers for a casual and comfortable look.
What kind of shoes should I wear with a leather midi dress?
Midi dresses are popularly paired with ankle boots, heels, or sandals. For a more edgy look, opt for chunky combat boots or platform heels. If you want to keep it simple, stick to classic pumps or strappy sandals.
Is it appropriate to wear flip-flops with a leather dress?
Flip-flops are generally considered too casual for a leather dress. However, if you're going for a bohemian or beachy vibe, you can opt for strappy leather sandals instead.
What about wearing boots with a leather dress?
Boots are a great option for colder months or when you want to add some edge to your look. Knee-high boots can complement a mini leather dress, while ankle boots can be paired with midi or maxi length dresses.
Can I wear colorful shoes with a leather dress?
Absolutely! Leather dresses are versatile and can be dressed up or down depending on the occasion. You can pair a black leather dress with colorful shoes to add a pop of color and personality to your outfit.
What type of shoes should I avoid with a leather dress?
Avoid wearing athletic or running shoes, as they can clash with the formal and edgy vibe of a leather dress. Also, avoid combining too many different textures such as suede or fur boots, which can make the outfit look busy and overwhelming. Instead, stick to classic or minimalist shoe styles for a more polished look.
Can I wear open-toe shoes with a leather dress?
Yes, you can! Open-toe shoes such as strappy sandals or peep-toe heels can be worn with a leather dress, especially during warmer months. Just make sure to keep your feet well-groomed and pedicured, as they will be on display. Remember to also consider the dress length and occasion when choosing open-toe shoes. For a more formal event, closed-toe shoes may be more appropriate.
Are there any specific shoe styles that pair well with a leather dress?
Some shoe styles that can elevate a leather dress outfit include stiletto heels, pointed-toe pumps, and ankle strap heels. These styles can add an elegant and sophisticated touch to your look. Also, consider incorporating some trendy shoe styles such as mules or block heels for a more fashion-forward look.
What accessories can I wear with a leather dress?
Besides shoes, you can also accessorize your leather dress with jewelry, belts, scarves, and handbags. For a statement look, opt for bold jewelry or a belt to cinch your waist. Scarves can add a pop of color and texture to the outfit, while a leather clutch or crossbody bag can complement the dress's material.
Useful Video: Leather Lookbook – How To Style Faux Leather Pieces || Titha Collins
Conclusion
When it comes to what shoes to wear with a leather dress, the options are endless. From classic pumps and sandals to trendy sneakers and boots, there is no right or wrong choice. It all depends on your personal style and the occasion you're dressing for. Just remember to keep in mind the length of the dress, the color scheme, and your desired level of formality when choosing your shoes and accessories. With these tips in mind, you can confidently rock a leather dress with the perfect pair of shoes! So go ahead and experiment with different shoe styles to find what works best for you and make a statement in your leather dress. Happy styling!
References:
https://shoesoutfitideas.com/what-shoes-wear-with-leather-dress/
https://www.stylight.com/Magazine/Fashion/3-Foolproof-Ways-Style-Leather-Dress/
https://dressedformyday.com/how-to-rock-a-faux-leather-dress/
https://theaestheticedge.com/2022/12/leather-dress-outfits.html
https://www.gon.com.tr/en/blog/icerik/leather-dress-under-how-shoes-wear
https://www.thewardrobeconsultant.com/blog/what-shoes-do-you-wear-with-leather-pants