Leather leggings are a great way to add an edgy touch to any outfit. Whether you're going for a casual look or trying something more sophisticated, leather leggings can be dressed up or down with the right shoes. What are some good outfit options to pair with leather leggings? Here is a guide on which shoes pair best with this fashionable item of clothing. From flats to heels and everything in between, you'll find plenty of stylish options that will help show off your unique style!
How To Style Leather Leggings
For a casual look, flats are the perfect way to go. Paired with a basic t-shirt and leather leggings, you can create an effortless ensemble that's great for running errands or hanging out with friends.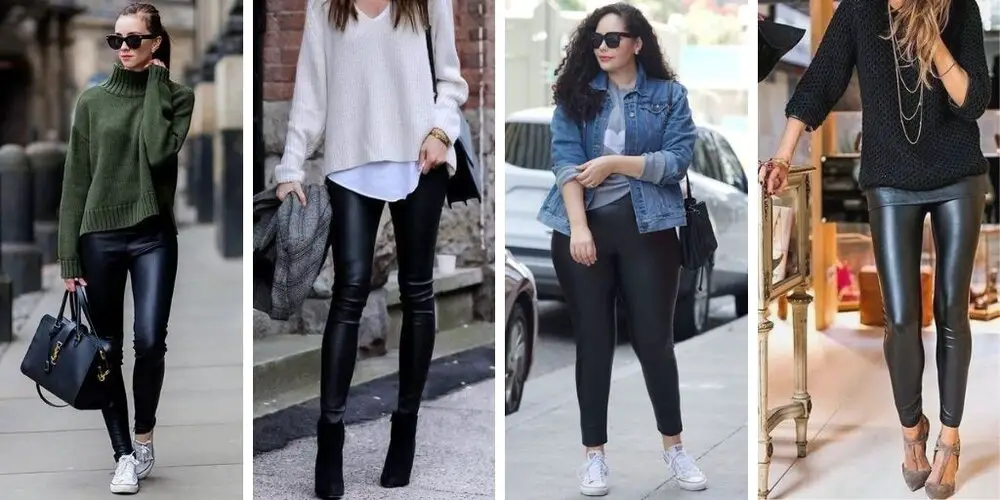 Ballet flats work especially well with this outfit as they're comfortable and stylish without being too attention-grabbing. If you'd like to add a bit of height and glamor, opt for embellished flats with rhinestones or sequins.
Get Comfortable With Faux Leather Leggings And Trainers
Wearing faux leather leggings is a comfortable way to experience the look and feel of leather leggings, without the need to buy genuine leather leggings. They also come at a fraction of the cost of genuine leather, so they're definitely worth considering. Faux leather leggings can be paired with trainers or canvas sneakers to create a casual yet edgy outfit suitable for daytime outings. Ballet flats are another comfortable option that will still keep your outfit looking chic and stylish.
If you want to dress up, try wearing ankle boots or heeled sandals with faux leather leggings. It's a great combination for a night out! Discover the ideal footwear to pair with your beloved leather leggings.
Pair Them With A Tunic-Length Sweater
Tunic-length sweaters are the perfect match for leather leggings. The length of the sweater should hit right below the hips, not too long and not too short. To achieve a stylish yet relaxed appearance, match your leggings with a snug sweater that falls to your mid-thigh in a neutral hue.
Accessorize with some statement jewelry and ankle boots to complete the outfit! If you want to dress it up even more, opt for heels instead of boots. To add more style, consider wearing an oversized sweater that falls past the waistline with your leather leggings.
This is great for colder days when you need that extra layer of warmth! Opt for chunky-heeled ankle boots or booties to maintain balanced proportions. Finish the look with a long pendant necklace for an added touch of glamor. [1]
Style Them With A Shirt Or Blouse
Leather leggings go well with a shirt or blouse as a top. Opt for a tucked-in look to create a sophisticated silhouette, or choose an oversized style for a cool and casual vibe. Lightweight fabrics like silk, chiffon, and cotton keep the overall look breezy, while heavier materials like wool add an element of warmth and texture. You can also experiment with prints and patterns – try stripes, florals, or polka dots for added visual interest! Finish off your outfit with some ankle boots or pumps for an ultra-stylish ensemble.
Alternatively, pair your leggings with some sneakers if you're going for a sporty aesthetic. Don't forget accessories such as jewelry, belts and hats to complete your look. With leather leggings, the possibilities are endless!
Dress Them Up With A Blazer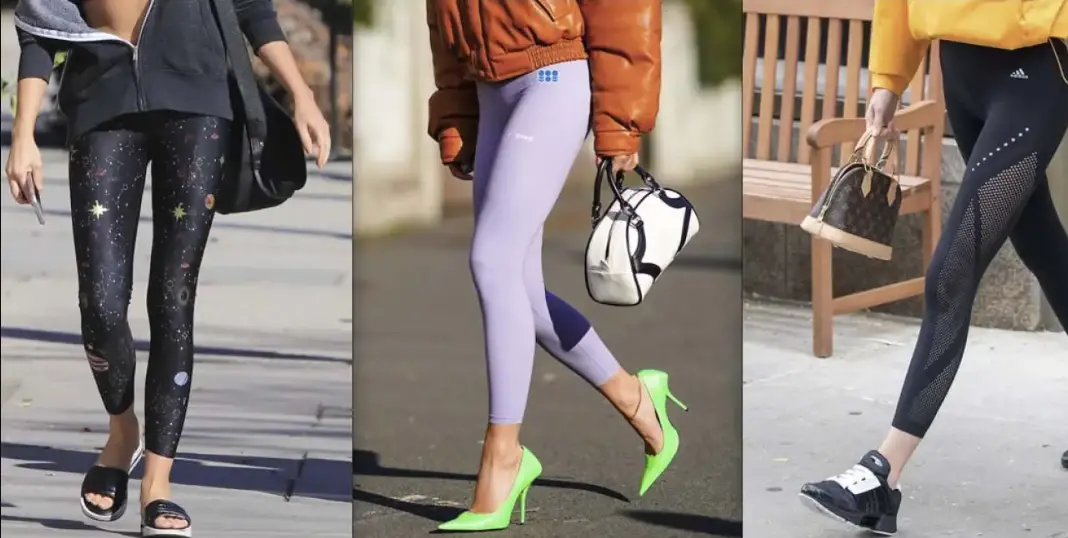 Leather leggings can be dressed up with a blazer for a more professional look. When pairing them with a blazer, you want to choose shoes that are both comfortable and stylish. A great choice is pointed-toe pumps or ankle boots in neutral colors such as black, brown, or gray. By combining these elements, you will achieve a balance that is both edgy and elegant. To complete the look, accessorize with simple jewels like drop earrings or a delicate necklace.
Match Them With A Leather Jacket
Wearing a leather jacket and leather leggings together can give off a cool and fashionable vibe. Choose a classic biker or aviator style in black, brown or tan to pair with your leggings. This look works well for day or night, and will keep you warm when the weather gets cold. For footwear, pick shoes that match the color of your leather jacket – black boots for a black jacket, beige sandals for a light brown one – to complete your outfit.
Alternatively, opt for white sneakers if you're feeling bold! Whatever style you choose to go with, make sure it's comfortable enough to wear all day long so you don't have to worry about any aches or pains later on. [2]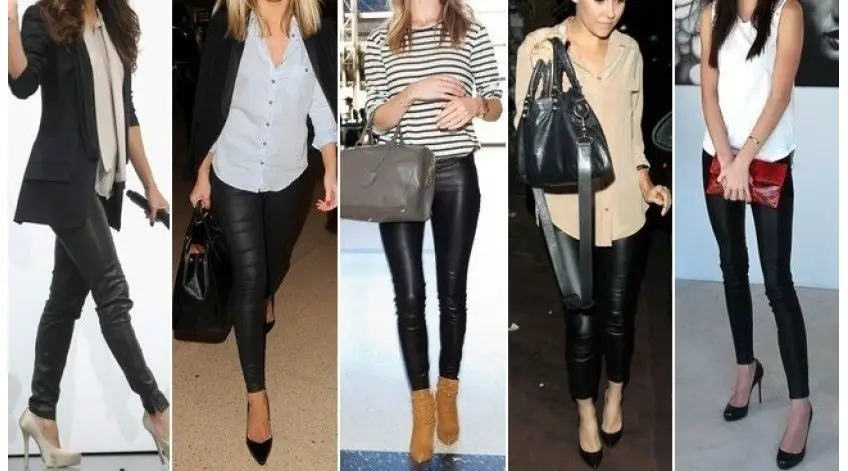 Wear Them With A Shacket
The shacket, or shirt-jacket hybrid, is one of the most versatile items that you can have in your wardrobe. It's perfect for layering and adds just the right amount of texture when teamed with leather leggings. Look for a slightly oversized fit to keep it casual whilst still looking stylish.
Choose a neutral color like gray or navy for an easy look that will go with almost any style of shoe. For this outfit, it would be great to wear either black ankle boots or trainers. Finish off by adding some accessories such as a belt or scarf to complete the look.
Dress Them Down With A Hoodie
Leather leggings can make a great casual look when paired with the right shoes and pieces. For instance, if you want to dress down your leather leggings a bit, try pairing them with a hoodie or oversized t-shirt. Choose sneakers or combat boots as your footwear to complete this laidback look.
Accessorize with chunky jewelry or a crossbody purse for an added touch of style. This is an especially great outfit option during the cooler months, as it will keep you warm while still looking fashionable. Alternatively, if you're feeling bolder and want something more daring, opt for high heels in either black or brown tones. These shoes will elevate your look instantly and give your ensemble a more glamorous vibe.
Don't forget to add some subtle jewelry and a structured bag, you'll be ready for whatever the night brings!
Winter Them Up With A Warm Winter Coat
When the temperature drops, leather leggings can be given cozy winter flair with a warm coat. A knee-length wool coat pairs nicely with leather leggings and makes a great outfit for casual events.
For dressier occasions, opt for an ankle-length tailored wool or cashmere coat that cinches at the waist to create a flattering silhouette. You can consider wearing booties, loafers, or pumps with leather leggings and a winter coat as they make great shoe options. [3]
What Shoes To Wear With Leather Pants?
To achieve both style and comfort while wearing leather leggings, it's important to choose the appropriate footwear. The most important factor to consider when selecting a shoe is whether it compliments your outfit while also providing adequate support. There are several popular shoe options such as pointed-toe flats, heeled sandals, ankle boots, and sneakers. When wearing heeled shoes, be sure to get a style with cushioned soles for added comfort.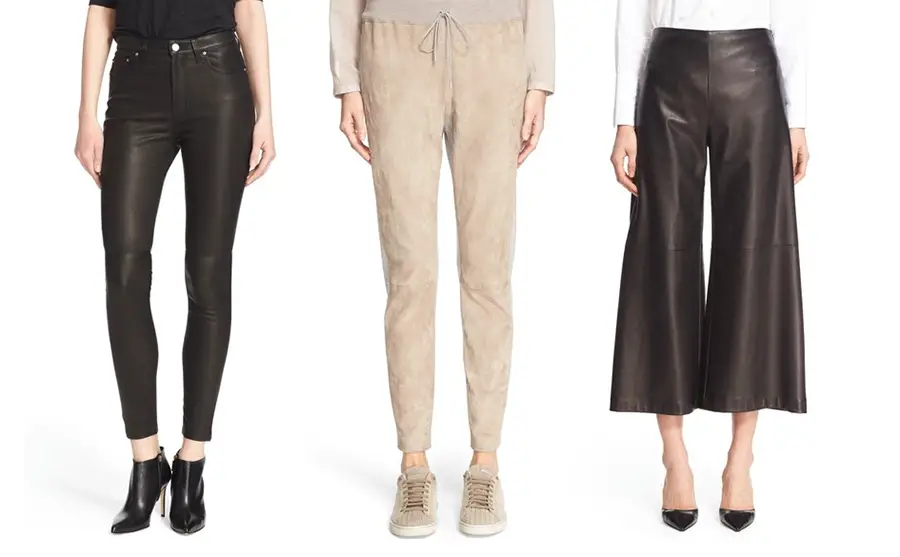 Leather Pants And Sneakers Outfit
Leather leggings and sneakers are the perfect sporty street style look. Whether you're wearing classic black leather pants or a more daring color, a pair of sleek sneakers will make your outfit pop. Avoid anything too clunky or chunky when it comes to footwear pairing with your leggings.
Instead, opt for an athletic-inspired pair of sneakers like slip-ons, low-tops, or even canvas shoes for a more casual look. Pair with a basic tee and denim jacket for an effortless weekend vibe.
Leather Leggings With Leather Boots
Leather leggings can be an excellent way to show off your style. When it comes to footwear, leather boots are a great choice for pairing with leather leggings. Depending on the look you're going for, there are several types of leather boots that will work well with this outfit. For a more edgy, rocker-style look, combat or motorcycle boots are a great option. To achieve a refined and elegant appearance, choose black or brown boots that reach your ankles or knees. To give your outfit some added style, consider pairing leggings with printed leather boots. [4]
Leather Pants And Heels ( Stilettos )
When it comes to leather leggings, you can't go wrong with a pair of heels.Heels will add some extra glamor and sophistication to the outfit and create a more dramatic look. Stilettos are the perfect choice since they have an elegant shape that will be complementary to your leather leggings.
If you're feeling daring, why not go for a pair of metallic or brightly coloured stilettos? You can also opt for heeled ankle boots if you want something more casual. Heels are great for adding height but if you don't feel comfortable in them, flats are the way to go. Flats such as ballet shoes, sandals or espadrilles are all great choices for leather leggings.
They'll create a look that is both stylish and comfortable. You can dress them up with some statement jewelry and accessories, or keep things simple and wear them with a plain top and minimal makeup. Whichever you choose, you're sure to look on-trend in your leather leggings.
Black Leather Pants And Brown Boots
Brown boots are great when paired with black leather leggings. The contrast between the two materials adds an interesting visual dimension to the outfit, while still keeping it classic and timeless. For a casual look, choose a pair of chunky heeled ankle boots or even flat Chelsea boots to complete your ensemble. If you're going for something more dressy, opt for a sleek black pair of classic high-heeled boots.
FAQ
What boots can I wear with leather leggings?
The style you're aiming for will determine which type of boots will complement leather leggings the best. For an edgy, rock-inspired style, consider wearing sturdy heel ankle boots or chunky combat boots. For a more feminine touch, slip into over-the-knee boots or heeled booties. If your goal is to stay comfortable while looking stylish, opt for classic Chelsea or riding boots. No matter what style of boot you choose, make sure they are made out of soft materials such as suede, velvet or felt in order to balance the sleek look of the leather leggings.
What shoes to wear with leather leggings in the summer?
Choosing the right shoes to wear with leather leggings can be challenging in high temperatures.
Luckily, there are a few options that can keep you looking stylish and feeling cool. Flip flops are an easy choice for summer days because they're lightweight and airy. They pair best with loose-fitting tops like tank tops or t-shirts for a casual look. For a dressier option, sandals with straps are great for a touch of sophistication to your leather legging outfit. Heels or wedges also work well and add an additional edge to your ensemble. You can even try wearing sneakers with your leather leggings if you're looking to achieve a relaxed look.
No matter which shoes you choose, make sure they're comfortable enough to keep you standing all day in the summer heat! Finally, be sure to accessorize with a crossbody bag and sunglasses for an extra fun and playful touch.
Can I wear sneakers with leather pants?
Yes, you can definitely wear sneakers with leather pants. This look is both modern and chic. You can opt for a pair of white or black sneakers to go with your dark colored leather leggings. To dress up the outfit, you can choose a pair of fashion sneakers that feature edgy details such as metallic accents or unique designs. For a more laid back look, opt for comfortable canvas shoes that have bright colors or bold prints. Adding the right accessories like scarves and jewelry can also complete your stylish yet comfy look.
How do you wear classy leather leggings?
Wearing leather leggings can enhance your outfit with a modern and daring vibe. To bring out their chic appeal, it's important to pair them with the right shoes. The key is to create balance between the boldness of leather and the elegance of the shoe. When selecting shoes to wear with leather leggings, think about the overall look you want to achieve. To achieve a casual outfit, consider combining leather leggings with ankle boots or sneakers. They work well for everyday wear and offer optimum comfort. Choose styles in neutral colors such as black, brown, white or beige to ensure they don't clash with the leather. For a more formal look, opt for pointed-toe or strappy heels.
These exude sophistication and elegance while still remaining comfortable. Make sure to choose shoes in warmer tones, such as nude or tan, to create a more timeless look. For a glamorous evening out, opt for statement stilettos and heels. These will add instant glamor to leather leggings and ensure you stand out from the crowd. Choose bold colors such as red, blue or green for a unique look. With so many options available, there is a style of shoe suitable for any occasion when it comes to leather leggings. Take into account the event you're attending to decide on the most appropriate shoe.
Ultimately, there is no wrong or right way to wear leather leggings and shoes – as long as you feel confident and comfortable in your outfit!
Are leather leggings warm or cold?
Leather leggings can be both warm and cold depending on the type of material they are made from. Natural leather is often very breathable and makes a great choice for winter wear, while faux leather has a thicker fabric that keeps your body temperature regulated even in colder temperatures. Before choosing which shoes to wear with leather leggings, it is important to consider the season.
In the colder months, you can opt for heeled boots or booties for extra warmth; whereas during warmer weather, sandals or sneakers would work best. Ensure that the style of your shoes matches well with your outfit, regardless of which type you select. As a general rule of thumb, if your leggings have an edgy vibe, try to pick out a pair of shoes with the same attitude.
Is it OK to wear brown boots with black leggings?
Wearing brown boots with black leggings is acceptable. Adding brown boots to a dark and sleek outfit can add a stylish and textured element. When pairing brown boots with black leggings, it's important to make sure that the tones are complementary — for example, avoiding shades of pink or purple in the browns — and that the fit is spot-on.
Additionally, you may want to break up the all-black ensemble by adding a pop of color in your top or jewelry choice. For an edgier vibe, try tucking your top into the waistband of your leggings and wearing over-the-knee (OTK) boots. This will create an eye-catching silhouette that's sure to turn heads!
Can you wear leather leggings in winter?
Yes, leather leggings can be worn in winter. They are perfect for adding a bit of attitude to an outfit and provide warmth and comfort on chillier days. However, it's important to choose the right shoes to wear with them, as the wrong choice can make for an unflattering look. Here are some great options for winter footwear that will complete your look:
Ankle boots – Leather leggings make a great pairing with ankle boots. If you want to have an edgier look, select shoes with laces or buckles. If you prefer a more sophisticated style, go for minimalist and sleek shoes.
Slouchy boots – In recent years, slouchy ankle boots have gained popularity and are a stylish match with leather leggings. If you want to dress up your outfit, choose a pair of heels. For more casual occasions, choose a flat pair.
Chelsea boots – Leather leggings pair perfectly with classic winter wear such as Chelsea boots. Try black Chelsea boots for an all-black ensemble, or choose brown ones to give your look some contrast.
Loafers – Loafers are the perfect choice if you're looking for something stylish but comfortable. If you want to make a bold statement, choose a patent finish. If you prefer something more understated, consider suede or velvet.
Is it OK to wear boots with leggings?
It is absolutely OK to wear boots with leather leggings. The most popular style of boot is the ankle boot, which can be paired with any type of legging. For a more edgy look, opt for over-the-knee boots or combat boots. No matter what kind of boot you choose, make sure the color and silhouette complement your outfit. For a stylish and smooth appearance, tuck your skinny leather leggings into your boots. If you want to show off your curves without looking too sexy, pair wide-legged or flared leather leggings with loafers or oxfords for an understated yet stylish look.
For a more feminine look, consider matching leather leggings with ballet flats. Remember to choose shoes with a neutral color palette so they don't compete with your leather leggings.
Complete the look by adding a blazer and some fun accessories to keep it chic and modern. When selecting shoes to wear with leather leggings, it's important to balance style and comfort. Make your choice wisely!
Useful Video: How to Style Leather Leggings | Leather Leggings Outfits
Conclusion
Leather leggings are a stylish versatile wardrobe staple for any fashionista. Choosing between casual sneakers, dressy pumps, or sexy stiletto boots can elevate your overall look. Choose shoes that reflect your personal style and make sure they complement your leather leggings perfectly. You can never be too stylish when wearing leather leggings! Don't hesitate to try out various types of shoes as you might discover fantastic clothing combinations!
---
References
https://www.thewardrobeconsultant.com/blog/what-shoes-do-you-wear-with-leather-pants
https://chicpursuit.com/what-to-wear-with-faux-leather-leggings/
https://www.purewow.com/fashion/shoes-to-wear-with-leather-pants
https://sewingfeed.com/what-shoes-to-wear-with-leather-pants/
https://topshoesbrand.com/what-shoes-to-wear-with-leather-leggings/