There are many reasons why bikers wear leather, and each rider has their own personal reason for doing so. Some riders prefer the look of leather, while others find that it offers more protection in the event of a crash. Whatever the reason, there is no doubt that leather is the traditional choice for biker gear.
One of the most popular reasons for wearing leather is the protection it offers.
Leather is a tough material that can help to deflect abrasions and impact in the event of a crash. This can mean the difference between minor scrapes and serious injuries, so it is no wonder that many riders choose to wear leather for its protective properties.
In this blog post, we will take a closer look at why bikers choose to wear leather and some of the benefits that come with doing so!
A Brief History of The Leather Motorcycle Jacket
The first motorcycle jackets were made of heavy-duty horsehide. This was because early motorcycles didn't have much in the way of weather protection, so riders needed something that would keep them warm and dry. Horsehide was also tough enough to protect against road rash in the event of a spill.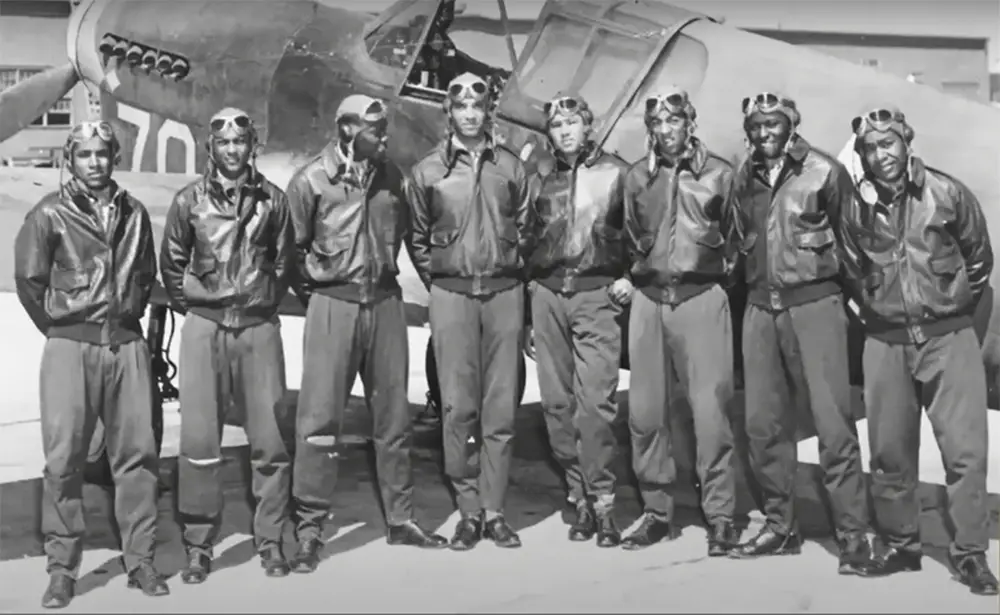 As motorcycles became more sophisticated, so did their jackets.
By the 1950s, leather motorcycle jackets had become a fashion icon, thanks in part to Hollywood films like "The Wild One" and "Rebel Without A Cause".
The first leather motorcycle jacket, however, dates back to the 1920s, according to Motorcyclist. Irving Schott of New York is credited with creating raincoats and motorcycles and was the inventor of this jacket.
He was the first to add a zipper to a jacket in 1925 when he and his brother did so. Schott, on the other hand, had an issue: none of the coats on the market at the time were appropriate for motorcycle riding. Leather jackets from that era didn't have the right fit, and they wouldn't keep closed in strong winds [1].
Today, leather motorcycle jackets are still popular among bikers for their style and function.
Is Leather Still The Best Material For Motorcycle Jackets?
Leather has been the go-to material for motorcycle jackets for as long as anyone can remember. It's tough, it looks good, and it protects riders from the elements and from road rash in the event of a spill. But is leather still the best option for today's bikers?
A few other materials out there that have become popular in recent years, including Kevlar and denim.
Kevlar is a synthetic fiber that's used in bulletproof vests, so it's obviously very strong. Denim is also tough, and it has the added benefit of being comfortable and stylish. So why do bikers still prefer leather?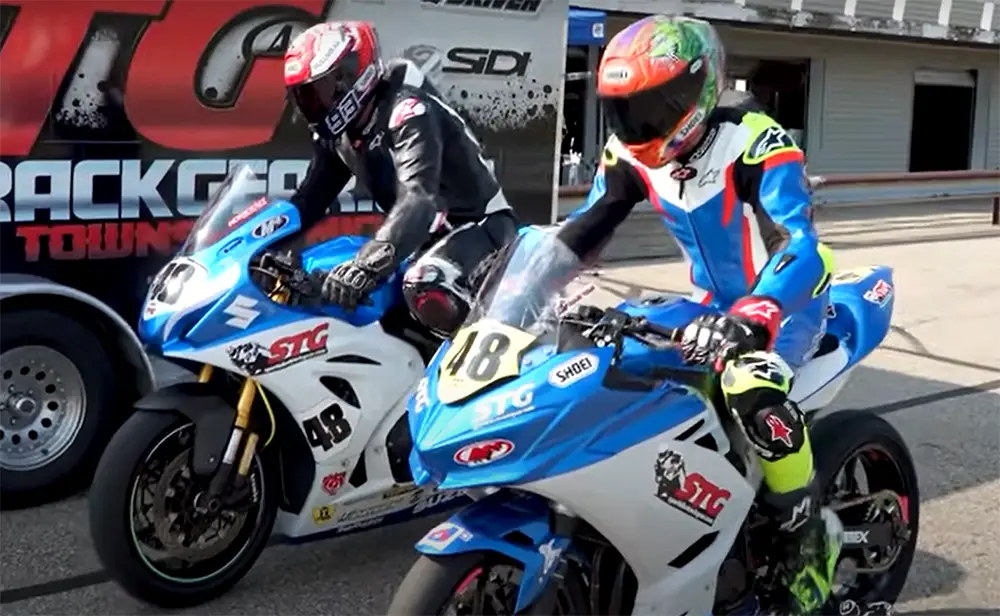 Here are a few reasons:
Leather is more breathable than either Kevlar or denim, so it's more comfortable to wear in warm weather;
Leather conforms to the body better than either Kevlar or denim, so it provides a better fit;
Leather is more abrasion-resistant than either Kevlar or denim, so it offers better protection in the event of a spill;
Benefits of Wearing Leather Jacket On Motorcycle:
1) Superior rider protection
A properly constructed leather motorcycle jacket provides superior abrasion resistance in a slide, offering the rider better protection than most other materials.
Leather is also very tough and can resist tearing better than most other fabrics. In the event of a serious accident, a leather jacket may be the difference between road rash and serious injury.
Leather jackets also offer some level of protection from the elements, providing a barrier against wind, rain, and snow.
2) Style
Wearing a leather motorcycle jacket also projects an image of toughness and experience to other riders on the road. It can be intimidating for new riders to see someone approaching them on a bike wearing all black leather. This can be helpful when trying to assert yourself in traffic.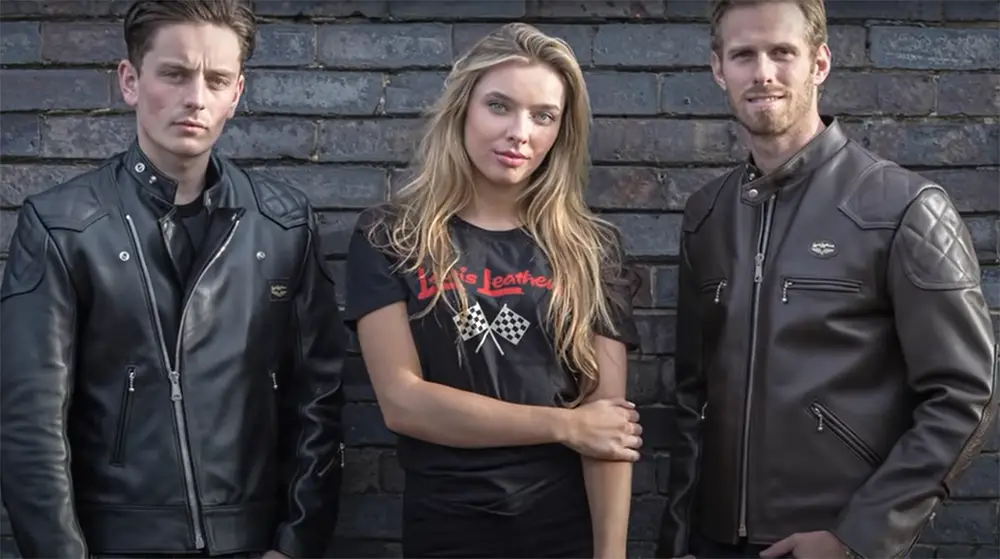 Leather jackets also come in a variety of styles, from the classic cafe racer look to more modern designs. There is a leather jacket out there to fit any rider's personality.
3) Suitable for all-weather use
Bikers also appreciate leather jackets since they can be used in all types of weather. Whether you're on a bike in the summer heat or in the dead of winter, your leather jacket will always be your best friend [2].
As stated previously, a leather jacket can keep you safe from the weather, such as wind, rain, and other elements.
A leather jacket, like all leather products, isn't waterproof. It has excellent water repellent qualities, which means it will keep rainwater from seeping into your clothes or coming into touch with your skin.
We all know that the bulk of the chill comes from wind blowing across our skin and passing through our clothing. The weather, fortunately, puts a cap on this wind, so you don't feel it against your chest while cycling during the winter. When you're out riding in a leather jacket during the winter, you'll be toasty.
Furthermore, its wind-blocking ability translates to less wind buffeting, so you won't get tired after going across a modest distance.
Summer rides are great fun, and you can easily locate specialized leather jackets and vests designed for the heat. They usually have excellent ventilation throughout to keep you cool and dry.
4) Comfort
Leather is a comfortable fabric to wear, especially on long rides. It will conform to your body shape over time and doesn't require much breaking in like other materials such as denim.
Leather also breathes well, so you won't get as sweaty while wearing it in warm weather. This makes it ideal for summer use.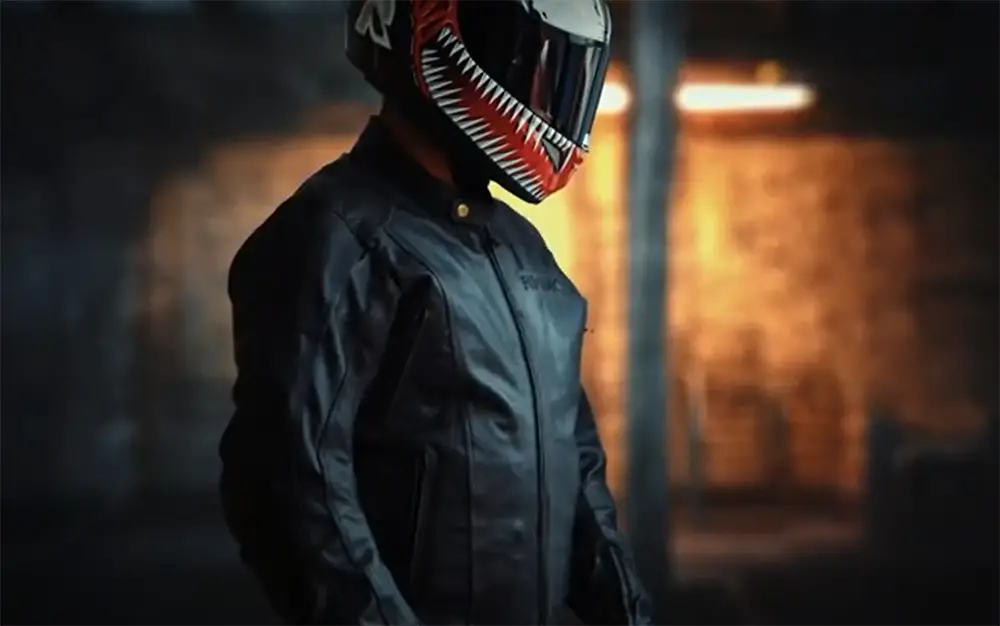 Lambskin leather, on the other hand, is much softer and more pliable, making it more comfortable to wear for extended periods of time.
5) Easy maintenance
You'll appreciate the fact that you can wear your leather coat for years without having to worry about it. Cleaning it is simple, and any strains accrued while riding up there are easily removed.
Leather is a material that only gets better with age. The more you wear it, the more character it will develop.
Caring for your leather motorcycle jacket is easy. You can clean it with a damp cloth and some saddle soap or leather cleaner. If you get into a serious rainstorm, you may need to re-treat it with a waterproofing spray.
You should also invest in a good leather conditioner to keep the material soft and pliable. This will help extend the life of your jacket and make it more comfortable to wear.
6) More storage options
Storing your leather coat properly is also important. Hang it up in a cool, dry place out of direct sunlight to prevent fading and cracking. Many leather jackets include several interior pouches where you may safely store small objects while traveling.
There are many other features to this bag, including external pockets on the outside that can hold even more stuff for you.
Chest pockets, elbow pockets, shoulder pockets, and side pockets provide further storage capacity for your items.
Both the outside and interior pockets are equipped with zippers to guarantee that you don't lose your goods while riding your bike [3].
Are There Any Alternatives To Leather Jackets and Vests?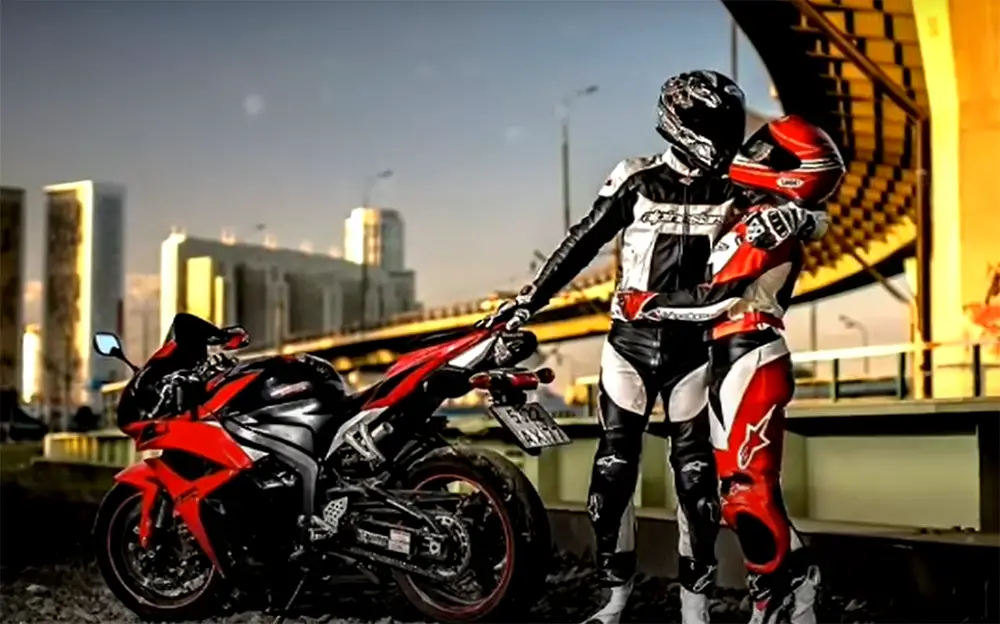 The majority of bikers wear leather jackets and vests because they provide the best protection against road rash in the event of an accident. Leather is also more durable than other materials, so it will last longer. However, there are some synthetic materials that offer similar protection and may be more comfortable for some people to wear.
If you're not interested in wearing leather for ethical reasons, there are a few companies that make vegan motorcycle gear. However, it's important to do your research before purchasing any vegan gear, as not all products on the market are actually made from vegan materials.
Some "vegan" motorcycle gear is actually made from PVC, which is a type of plastic that contains harmful chemicals. So, be sure to check the labels carefully before buying anything.
The Safety Of Wearing Leather
Many people believe that leather is the safest material to wear while riding a motorcycle. Leather is more resistant to tearing and abrasion than other materials, so it offers better protection in the event of an accident.
In addition, leather is also more breathable than other materials, so it can help to keep you cool and comfortable while riding in hot weather [4].
However, it's important to note that no material is completely safe. Even leather can tear or come apart in a serious accident. So, always be sure to wear proper safety gear regardless of what you're wearing.
This includes a DOT-approved helmet, gloves, boots, and protective clothing. By following these safety guidelines, you can help to protect yourself in the event of an accident.
Are there any alternatives to leather jackets and vests? The majority of bikers wear leather jackets and vests because they provide the best protection against road rash in the event of an accident.
FAQ
What is the point of a leather motorcycle vest?
The most important reason for a leather motorcycle vest is protection. Wearing a vest made of thick, durable leather can help shield your body from road rash and other injuries in the event of an accident. Leather is also much more effective than denim at protecting you from abrasion on a slide.
Another reason bikers wear vests made of leather is that it looks cool. There's something about the look of a black leather vest that just oozes attitude and toughness. It's the kind of clothing that makes you look like you are serious, even when you're just out for a leisurely ride on a sunny day.
So, if you're looking for protection or simply want to add an edge to your style, consider investing in a leather motorcycle vest. You won't regret it.
Why did bikers start to wear leather?
Leather is the most frequent material for motorcycle jackets, and it's typically black in hue.
This iconic black leather motorbike jacket has a long history, dating back to the 1950s and 1960s when it was worn by men during WWII [5].
Leather is used for a variety of reasons. For example, it's more practical and safer than synthetic alternatives. It does a considerably better job resisting abrasion than other clothing fabrics made of wool, cotton, or denim. So, as a result of this, motorcycle leathers help to protect bikers' skin when they are dropped. Leather is also windproof and can be zipped up for extra warmth.
Why do people wear leather in heat?
In the summertime, many motorcycle enthusiasts choose to forgo the leather and opt for a lightweight fabric. However, some people do prefer to stick with leather, even when it's hot out.
One of the main reasons for this is that leather offers more protection than other fabrics in the event of an accident. If you're going to be spending any time on the open road, it's always better to err on the side of caution and wear something that will help keep you safe.
Another reason people wear leather in the heat is that they simply like the way it looks. Leather has a classic, cool aesthetic that never goes out of style. It can also be dressed up or down, depending on your needs.
So, if you're looking for a stylish and protective option, leather is always a good choice. Even in the summertime.
Why do bikers always wear black?
The color black is often associated with power, strength, and mystery. It's no wonder that so many bikers choose to wear black leather when they hit the open road. There's something about the look of a black leather jacket that just screams "badass".
Black is very easy to clean and is available in a variety of colors. It also hides stains from oil or dirt. The soft, durable leather is windproof and may be adequately lined to provide added warmth.
But there's more to it than just looking cool or being practical. Black leather is also extremely durable and protective. It's the perfect material for clothing that needs to stand up to the elements (and occasional crashes) [6].
How hot is too hot for leather?
Leather is a natural material, and as such, it is susceptible to damage from extreme heat or cold. Bikers need to be especially careful in the summer months when temperatures can soar. Leather can dry out and crack if it gets too hot, so it's important to keep it hydrated with a good leather conditioner.
The general guideline is to keep your leather jacket between 35 and 45 degrees Fahrenheit, however, this may vary depending on the make and model [7].
In the winter, leather can become stiff and brittle if it gets too cold. It's important to protect your leather clothing from the elements by storing it in a cool, dry place when you're not wearing it.
Are leather motorcycle jackets warm?
Leather motorcycle jackets are not only stylish but also very functional. They provide great protection against the elements and help to keep you warm in cold weather. Leather is a natural material that is both durable and breathable, making it an ideal choice for motorcycle apparel.
Can you wear a leather jacket in the rain?
Of course, you can. In fact, many people believe that leather jackets actually look better when they're wet. Water doesn't damage leather the way it does other fabrics, so there's no need to worry about your jacket getting ruined if you get caught in a storm. Plus, the water will help to bring out the natural color of the leather and make it look even more stylish.
So, next time you see a biker cruising down the road in bad weather, don't feel sorry for them – they're just enjoying the feeling of wearing a great piece of clothing that's designed to withstand anything Mother Nature throws at it.
How long do motorcycle leathers last?
If you wear them properly, a high-quality set of leathers should last 15-20 years and, like me, you're more likely to grow bigger and find yourself unable to fit into them before they become useless [8].
Useful Video: Why Motorcycle Leathers Are The Best Protection You Can Buy (Stream Highlights)
References:
https://www.motorbiscuit.com/why-do-bikers-wear-leather-jackets-and-gear/
https://www.bikersrights.com/why-do-you-wear-a-leather-jacket-when-on-a-motorcycle/
https://www.fjackets.com/blog/reasons-for-wearing-leather-jacket-while-riding-motorcycle/
https://motorcyclehabit.com/heres-why-motorcycle-riders-wear-leather/
https://cruisingape.com/why-motorcyclists-wear-black
https://www.motorbiscuit.com/why-do-bikers-wear-leather-jackets-and-gear/
https://www.quora.com/What-temperature-do-you-wear-a-leather-jacket-in
https://www.motorcyclenews.com/new-rider/choosing-kit/2012/january/jan2012-how-long-should-leathers-last-